Travelling Across the United States: Part I
By Aanchal Tangri
Coming to the U.S. as a student not only had me target the best education in the world but also instilled a spirit of painting my life with a canvas full of some adventurous travel experiences. For a student, it is an expedition in itself right when the transition takes place. The highs and lows of culture shock, adjusting to an absolutely new environment among new people, alteration of accent, familiarity with a brand-new study pattern, and even adaptation to the new weather. But one thing that comes along as a brighter picture is the travel opportunities.
The United States of America offers numerous experiences of travel across each and every state. From city life to beach side, from camping and hiking, to shopping and chilling, from countryside views to skyline shores, from canyons to clubs — there is an enormous variation of unique sites on this paradisiac land. Famous French novelist Gustave Flaubert once quoted, "Travel makes one modest, you see what a tiny place you occupy in the world."
There is so much to see, so much to absorb, so much that leaves you awe-struck with its spectacular uniqueness. Hear me out to know more about my travel tales and don't forget to make a note of those secret tips that I am going to share with you all.
Orlando, Florida: The Subtropical Amusement Park City
I got an opportunity to stay in Orlando for about 6 months when I interned with Walt Disney World back in 2014. Not only is the city very touristy, but it also has an amazing subtropical climate just like we have in India. It gets super hot, but the heat is accompanied by humidity which causes a cooling effect in the evening. It rains very often, and lightning is another frequent sight here.
I have witnessed not one but many reptiles from my apartment's balcony and even on the streets. This is one such city where you can never get bored. There is an array of activities mainly associated with theme and amusement parks such as Disney World, Universal Studios, Busch Gardens, Sea World, Legoland, and Gatorland. We would always venture out on one of the beaches on our days off. Clearwater Beach is one of my favorites. Neighboring cities like Tampa and Jacksonville offer amazing restaurants and cafes. Nevertheless our trips to Miami and Keywest added to the remarkable Floridian experience I had amidst lush green surroundings and pristine beaches located one next to the other.
The best time to visit Florida is April to November but make sure to get the tickets and reservations done well in advance to save yourself extra costs.

New York: The Concrete Jungle of Stock Exchange
New York is a land of dreams. As the plane descended, I felt as if I had entered a whole new world. Those beautifully structured skyscrapers along the Hudson River look flawless from aerial as well as shore view. I have visited New York 3 times, and every time there is something new to explore. Going there for an International Model United Nations Conference, I got to stay in a palatial penthouse where my eyes were fortunate to capture the most stunning views of "The Big Apple." Unforgettable were the scenery at Central Park and those delicious street-style meals sold at the park entrance. New York has a diversity of excellent cuisines that are not only super sumptuous but also very affordable.
I visited Madame Tussauds, the Statue of Liberty, the 9/11 Memorial Museum, the Empire State Building, and Coney Island. The transportation system of subways and buslines offer a great connectivity throughout the city. New York gets super cold during the month of December, but it is decked up so beautifully with all the lights and digital visual effects during Thanksgiving and Christmas. I remember standing for 2 hours to get my photo taken under the famous Rockefeller tree during Christmas, and it was totally worth the wait.
The best time to visit New York City is May through December as the weather mostly stays pleasant (have your jackets out for the colder months though!), and the city has numerous fun activities to do across the year.

San Francisco, California: Typical Spot for Most Bollywood Movies
The famous Golden Gate Bridge sprawling over the Pacific Ocean has always been one of the prime locations for many Hollywood as well as Bollywood movies. California's Silicon Valley is known for being one of the largest technological hubs of the world. A few attractions that you must not miss are Fisherman Wharf, Pier 39, Twin Peaks, Golden Gate Bridge, the Painted Ladies, and Alcataraz.
I have been a frequent visitor here as it is a quick 4-hour drive for me from Reno, Nevada, so it turns out to be an ideal weekend getaway. Biking through Golden Gate Park, taking a cable car across Union Square, or a ferry boat ride to see the skyline, and picnicking at Baker Beach are all great spots for picturesque views and breathtaking experiences. There are a number of restaurants that serve authentic Indian cuisines, so I don't mind a drive to feel at home. There is also a huge Indian Sikh temple in San Jose, a bit further South down the Peninsula.
San Francisco can be visited at any time of the year. January through December it stays pleasant and sometimes chilly but has year-round events and activities to offer.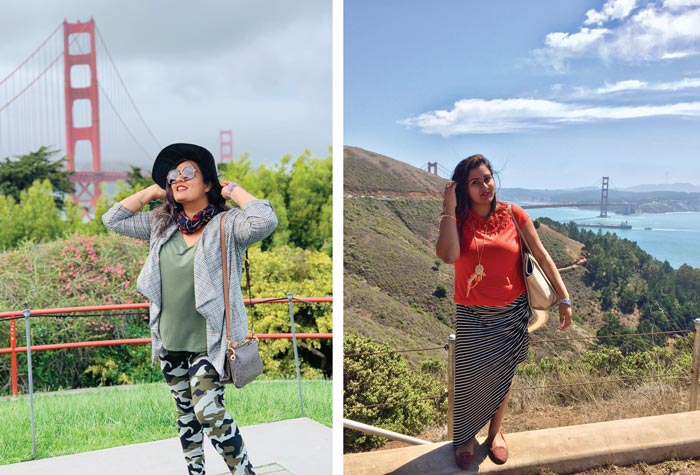 Now you know that you can travel the U.S. even as an international student and experience the country's travel destinations for yourself during school breaks. Don't forget to check out part II next to read the tales of my adventures in the woods of Yellowstone, deserts of Las Vegas, and the mountains of Salt Lake City.
---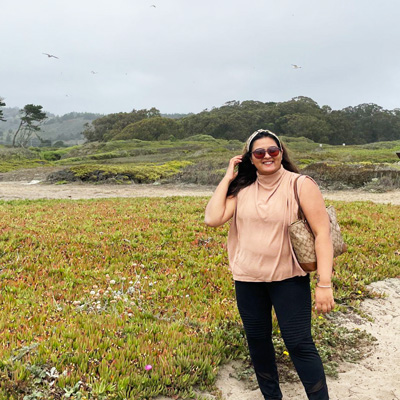 Aanchal Tangri from India is working towards an associate's degree in Communication Studies at Truckee Meadows Community College in Reno, Nevada.
Written by
Aanchal Tangri
Get matched to the best program for you
Let us know what you're looking for so we can find the best school for you.
$5,000—$10,000 Semester
Undergraduate
2yr/Community College - 2+2 Programs
Bachelor Degree
$10,000 — $15,000 Year
Certificate/Short Term
Bachelor Degree
2yr/Community College - 2+2 Programs
$20,000—$25,000 Semester
Secondary/Boarding
Certificate/Short Term
Summer
Start your U.S. adventure with Study in the USA
What's your dream? We can guide, advise, and connect you with your perfect U.S. school. We can also help you with the application process.
Partner Services
Learn About U.S. education financing, housing, and more
TestDEN's Online TOEFL Test Prep is just what you need to quickly and effectively prepare for the TOEFL test. Since 1998, TestDEN has helped tens of thousands of students raise their TOEFL scores.
MPOWER Financing is the top-rated lender offering international student loans without cosigners, collateral, or credit history for global citizens, PLUS international student scholarships & career coaching! Fully online application, 96% customer...
Join over 6 million people and businesses who get a better deal when they send money with the real exchange rate.
Resources
Learn about American culture and education direct from our experts at Study in the USA. Read more