In our effort to bring good content to as many people as possible the text in this blog post has been machine translated so please excuse any mistakes. Thank you!
Por Micaela Baquero
Uma lição de vida que redefine o lar
Tenho certeza de que todos nós já vimos em algum momento de nossas vidas o cafona filme americano Dear John sobre o amor idealizado em relacionamentos que não existem na vida real. No entanto, Dear John é o primeiro filme do gênero romântico que me faz perceber que precisamos considerar a percepção como um fator importante ao assistir TV. Porque uma vez que tive uma percepção mais profunda em relação ao filme, me relacionei com ele, portanto, aprendi lições de vida importantes e agora ele tem um sentido na minha vida.

A vida é imparável
John (interpretado por Channing Tatum ) conhece Amanda (a atriz Amanda Seyfried ) em um momento de suas vidas em que suas responsabilidades ficam suspensas por alguns dias. Além disso, eles são jovens e prontos para amar profundamente, então foi isso que eles fizeram. A magia do amor deles durou intacta até que ele teve que ir servir no Exército, e ela teve que ir para a escola. Quase me senti como quando conheci as pessoas mais incríveis da minha vida quando me formei no colégio na Colômbia, mas a hora de ir para a faculdade bateu à minha porta.
Depois que John e Amanda assumiram suas vidas e objetivos do dia-a-dia, isso os separou; no entanto, eles se comunicaram por cartas a cada duas semanas, até que John recebeu uma dolorosa. Ela ia se casar com outro cara.
Foi como quando olhei para trás, para todas aquelas pessoas incríveis em casa, e elas tinham feito outros amigos e tinham outros interesses. Agora estou morando a 3.829 milhas de onde nasci e fui criado.
E isso me fez perceber que a vida continuará para mim e para todas as outras pessoas que fizeram parte da minha vida, e estar perto ou longe das pessoas que amo, não fará qualquer diferença, porque estamos todos em constante evolução. E é uma coisa ótima, especialmente para mim, porque estou gostando de conhecer toda essa outra cultura.
A casa é o quê ou quem?
John estava servindo no Exército, então ele tinha que estar constantemente em movimento, o que o fazia sentir como se não tivesse um lar até que conheceu Amanda.
Foi como quando me mudei do Equador, meu país natal, para a Colômbia, onde me formei no ensino médio, para os Estados Unidos da América, onde agora estou cursando a faculdade. Todos esses lugares não parecem um lar, mas também não parecem estranhos.
Amanda e John viviam a mesma vida que viviam antes de se conhecerem, mas, por algum motivo, parecia que não pertenciam mais a eles. Algo semelhante a quando me sinto confortável nos Estados Unidos, embora esteja aqui há apenas dois meses.
Como isso é possível, você pode perguntar? Como me sinto tão confortável interagindo em uma cultura totalmente diferente da minha?
Acho que tenho a resposta, para você e para John e Amanda também. Portanto, tive uma vida tão nômade na minha adolescência que agora entendo que lar são as pessoas que vivem na estrutura de quatro paredes que conhecemos como nossa casa ou fazem parte de nosso lugar seguro.
São eles que dão o sentimento de pertencer a cada memória, lugar, música que você lembra com um sentimento. Não apenas sei exatamente quem eles são, mas sei que a maioria deles está a apenas uma ligação de distância. Sem dúvida, é por isso que vivo em paz e não necessariamente vejo a distância como uma coisa ruim.
Você sente falta de alguém? Olhe para a lua
Duas cenas me impactaram enormemente. Ambos deixando uma visão significativa, ocupando um lugar especial em minha vida e influenciando como acredito que devo lidar com a distância de agora em diante.
É a noite do mesmo dia que John e Amanda se encontram pela primeira vez. Estão olhando para o céu, e Amanda enfatiza que é curioso que a lua pareça grande quando nasce, mas pequena quando está no céu.
John ressalta que é apenas uma perspectiva, porque a lua sempre terá o mesmo tamanho do seu polegar, não importa onde você esteja no mundo.
Meses depois, John e Amanda estão separados e atualmente se comunicam por cartas. John escreveu: "É lua cheia aqui esta noite, o que me faz pensar em você. Porque, eu sei que não importa o que eu estou fazendo ou onde estou, esta lua sempre será do mesmo tamanho que a sua, a meio mundo de distância. "
Isso fez muito sentido para mim porque é verdade, sempre será do mesmo tamanho, e quando você está em um lugar diferente de outra pessoa, você não tem nenhuma situação ou espaço físico para vocês dois se relacionarem, mas a lua. Mesmo quando vocês não têm nada familiarizado em suas vidas diárias, pode ser uma lua cheia.
Moral da história
Dizer adeus a uma pessoa que você ama é muito doloroso. Já tive que me despedir várias vezes - para meus amigos, minha família e meus entes queridos. Na verdade, não é uma sensação agradável de forma alguma. É uma coisa muito corajosa de se fazer e nem todos podem fazer isso. De agora em diante, certifique-se de identificar quem é o seu lar em sua vida, e você nunca mais se sentirá sozinho. Porque você provavelmente consegue lidar com alguém longe, mas aposto que é difícil quando alguém se sente distante.
---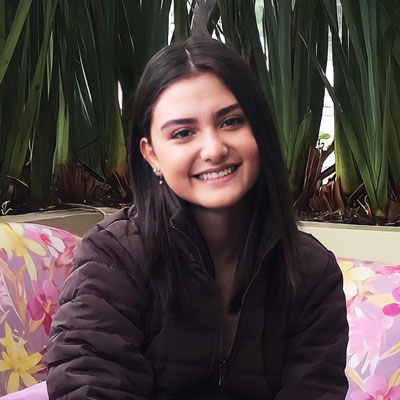 Micaela Baquero tem 19 anos e está atualmente cursando engenharia no Santa Rosa Junior College, na Califórnia.