In our effort to bring good content to as many people as possible the text in this blog post has been machine translated so please excuse any mistakes. Thank you!
Oleh Micaela Baquero
Pelajaran Hidup yang Mendefinisikan Ulang Rumah
Saya yakin kita semua pernah melihat di beberapa titik dalam hidup kita film Amerika klise Dear John tentang cinta ideal dalam hubungan yang tidak ada dalam kehidupan nyata. Namun, Dear John adalah film bergenre romantis pertama yang menyadarkan saya bahwa kita perlu mempertimbangkan persepsi sebagai faktor penting saat menonton TV. Karena begitu saya memiliki persepsi yang lebih dalam terhadap film, saya mengaitkannya dengan itu, oleh karena itu, saya belajar pelajaran hidup yang penting dan sekarang memiliki makna dalam hidup saya.

Hidup tak terhentikan
John (diperankan oleh Channing Tatum ) bertemu Amanda (aktris Amanda Seyfried ) pada saat dalam hidup mereka ketika tanggung jawab mereka ditahan selama beberapa hari. Plus, mereka masih muda dan siap untuk mencintai secara mendalam, jadi itulah yang mereka lakukan. Keajaiban cinta mereka bertahan utuh sampai dia harus pergi untuk melayani di Angkatan Darat, dan dia harus pergi ke sekolah. Rasanya hampir seperti ketika saya bertemu orang-orang paling luar biasa dalam hidup saya ketika saya lulus SMA di Kolombia, tetapi waktu untuk kuliah mengetuk pintu saya.
Setelah John dan Amanda menjalani kehidupan dan tujuan mereka sehari-hari, hal itu membuat mereka terpisah satu sama lain; Namun, mereka berkomunikasi melalui surat setiap minggu sampai John menerima yang menyakitkan. Dia akan menikah dengan pria lain.
Rasanya seperti ketika saya melihat kembali semua orang luar biasa di rumah, dan mereka telah membuat teman lain dan memiliki minat lain. Saya sekarang tinggal 3.829 mil jauhnya dari tempat saya dilahirkan dan dibesarkan.
Dan itu membuat saya sadar bahwa hidup akan terus berlanjut untuk saya, dan untuk semua orang yang telah menjadi bagian dari hidup saya, dan menjadi dekat atau jauh dari orang yang saya cintai, tidak akan membuat perbedaan karena kita semua terus berkembang. Dan itu adalah hal yang hebat, terutama bagi saya, karena saya senang mengenal budaya lain ini.
Apakah rumah adalah apa atau siapa?
John bertugas di Angkatan Darat, jadi dia harus terus bergerak, yang membuatnya merasa tidak punya rumah sampai dia bertemu Amanda.
Rasanya seperti ketika saya pindah dari Ekuador, negara asal saya, ke Kolombia, tempat saya lulus SMA, ke Amerika Serikat, tempat saya sekarang kuliah. Semua tempat ini tidak terasa seperti rumah sendiri, tetapi juga tidak terasa asing.
Amanda dan John menjalani kehidupan yang sama sebelum bertemu satu sama lain, tetapi untuk beberapa alasan, rasanya mereka bukan milik mereka lagi. Agak mirip dengan ketika saya merasa nyaman di Amerika Serikat, meskipun saya baru dua bulan di sini.
Bagaimana mungkin Anda mungkin bertanya? Bagaimana saya begitu nyaman berinteraksi dalam budaya yang sama sekali berbeda dari saya?
Saya pikir saya punya jawabannya, untuk Anda, dan untuk John dan Amanda juga. Jadi, saya memiliki kehidupan nomaden di masa remaja saya sehingga saya sekarang mengerti bahwa rumah adalah orang-orang yang tinggal di struktur empat dinding yang kita kenal sebagai rumah kita atau merupakan bagian dari tempat aman kita.
Merekalah yang memberikan rasa memiliki pada setiap kenangan, tempat, lagu yang Anda ingat dengan perasaan. Saya tidak hanya tahu persis siapa mereka, tetapi saya tahu bahwa kebanyakan dari mereka hanya berjarak satu panggilan. Tanpa ragu, inilah mengapa saya hidup damai dan tidak selalu melihat jarak sebagai hal yang buruk.
Apakah kamu merindukan seseorang? Lihatlah ke bulan
Dua adegan sangat mempengaruhi saya. Keduanya meninggalkan wawasan yang berarti, menempati tempat khusus dalam hidup saya, dan mempengaruhi bagaimana saya percaya saya harus menangani jarak mulai sekarang.
Ini adalah malam di hari yang sama John dan Amanda bertemu untuk pertama kalinya. Mereka melihat ke langit, dan Amanda menekankan betapa penasarannya bahwa bulan tampak besar ketika terbit tetapi kecil ketika naik di langit.
John menunjukkan bahwa itu hanya perspektif karena bulan akan selalu berukuran sama dengan ibu jari Anda di mana pun Anda berada di dunia.
Beberapa bulan kemudian John dan Amanda sekarang terpisah satu sama lain dan saat ini berkomunikasi melalui surat. John menulis, "Ini adalah bulan purnama di sini malam ini, yang membuatku memikirkanmu. Karena, saya tahu bahwa tidak peduli apa yang saya lakukan atau di mana saya berada, bulan ini akan selalu berukuran sama dengan bulan Anda, setengah dunia jauhnya."
Ini sangat masuk akal bagi saya karena memang benar, ukurannya akan selalu sama, dan ketika Anda berada di tempat yang berbeda dari orang lain, Anda tidak memiliki situasi atau ruang fisik apa pun bagi Anda berdua untuk berhubungan, tetapi bulan. Bahkan ketika Anda tidak memiliki sesuatu yang akrab dalam kehidupan sehari-hari Anda satu sama lain, bulan purnama bisa menjadi itu.
Pesan moral dalam cerita
Mengucapkan selamat tinggal kepada orang yang Anda cintai sangat menyakitkan. Saya harus mengucapkan selamat tinggal beberapa kali sekarang — kepada teman-teman saya, kepada keluarga saya, dan orang-orang penting saya. Memang, itu bukan perasaan yang menyenangkan dengan cara apa pun. Ini adalah hal yang sangat berani untuk dilakukan dan tidak semua orang bisa melakukannya. Mulai sekarang, pastikan Anda mengidentifikasi siapa rumah Anda dalam hidup Anda, dan Anda tidak akan pernah merasa sendirian lagi. Karena Anda mungkin dapat mengatasi seseorang yang jauh, tetapi saya yakin sulit ketika seseorang merasa jauh.
---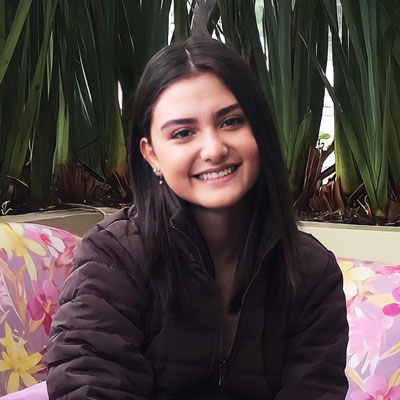 Micaela Baquero adalah seorang gadis berusia 19 tahun yang saat ini sedang mengejar gelar tekniknya di Santa Rosa Junior College di California.