By Micaela Baquero
A Life Lesson that Redefines Home
I'm sure we all have seen at some point in our lives the corny American movie Dear John about idealized love in relationships that do not exist in real life. However, Dear John is the first movie in the romantic genre that makes me realize that we need to consider perception as an important factor when watching TV. Because once I had a deeper perception towards the movie, I related to it, therefore, I learned important life lessons and now it has meaning in my life.

Life is unstoppable
John (played by Channing Tatum) meets Amanda (the actress Amanda Seyfried) at a time in their lives when their responsibilities are on hold for a few days. Plus, they are young and ready to love deeply, so that is what they did. The magic of their love lasted intact until he had to go to serve in the Army, and she had to go to school. It almost felt like when I met the most incredible people in my life when I graduated high school in Colombia, but the time to go to college knocked on my door.
After John and Amanda assumed their day-to-day lives and goals, it drove them apart from each other; however, they communicated through letters every other week until John received a painful one. She was going to marry another guy.
It felt just like when I looked back at all those incredible people back home, and they had made other friends and had other interests. I am now living 3,829 miles away from where I was born and raised.
And that made me realize that life will go on for me, and for everybody else that has been part of my life, and being close or far from the people I love, will not make any difference because we are all constantly evolving. And it is a great thing, especially to me, because I am enjoying getting to know this whole other culture.
Is home a what or a who?
John was serving in the Army, so he had to be constantly on the move, which made him feel like he did not have a home until he met Amanda.
It felt just like when I moved from Ecuador, my home country, to Colombia, where I graduated high school, to the United States of America, where I'm now attending college. All of these places don't feel like home, but they do not feel strange either.
Amanda and John were living the same lives they had before meeting each other, but for some reason, it felt like they did not belong to those anymore. Somewhat similar to when I feel comfortable in the United States, even though I've been here just for two months.
How is that possible you may ask? How am I so comfortable interacting in a whole different culture from mine?
I think I have the answer, for you, and for John and Amanda too. So, I have had such a nomadic life in my teenage years that I now understand that home is the people that live in the four-wall structure we know as our house or are part of our safe place.
They are the ones that give the sentiment of belonging to every memory, place, song you recall with a feeling. Not only do I know exactly who they are, but I know that most of them are just one call away. Without a doubt, this is why I live peacefully and don't necessarily see distance as a bad thing.
Do you miss someone? Look up to the moon
Two scenes impacted me hugely. Both of them leaving meaningful insight, occupying a special place in my life, and influencing how I believe I should handle the distance from now on.
It is the night of the same day John and Amanda meet for the first time. They are looking up to the sky, and Amanda emphasizes how curious it is that the moon seems big when rising but small when it is up in the sky.
John points out that it is just perspective because the moon will always be the same size as your thumb no matter where you are in the world.
Months later John and Amanda are now apart from each other and are currently communicating through letters. John wrote, "It's a full moon here tonight, which makes me think of you. Because, I know that no matter what I am doing or where I am, this moon will always be the same size as yours, half a world away."
This made a lot of sense to me because it is true, it will always be the same size, and when you are in a different place from another person, you do not have any situation or physical space for both of you to relate, but the moon. Even when you do not have anything familiar in your daily lives to one another, a full moon can be it.
Moral of the story
Saying goodbye to a person you love is very painful. I have had to say goodbye multiple times now — to my friends, to my family, and my significant others. Indeed, it is not a pleasant feeling in any kind of way. It is a very brave thing to do and not everybody can do that. From now on, be sure you identify who is your home in your life, and you will never feel alone again. Because you can probably cope with someone being far away, but I bet it is difficult when someone feels distant.
---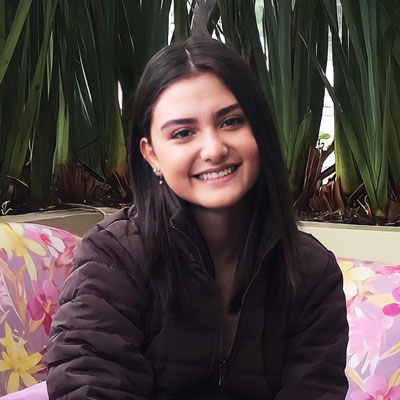 Micaela Baquero is a 19-year-old currently pursuing her engineering degree at Santa Rosa Junior College in California.
Written by
Micaela Baquero
Get matched to the best program for you
Let us know what you're looking for so we can find the best school for you.
$10,000 — $15,000 Year
Bachelor Degree
2yr/Community College - 2+2 Programs
Certificate/Short Term
$5,000—$10,000 Semester
Undergraduate
2yr/Community College - 2+2 Programs
Certificate/Short Term
$1,000—$5,000 Semester
2yr/Community College - 2+2 Programs
Certificate/Short Term
Undergraduate
Start your U.S. adventure with Study in the USA
What's your dream? We can guide, advise, and connect you with your perfect U.S. school. We can also help you with the application process.
Partner Services
Learn About U.S. education financing, housing, and more
MPOWER Financing is the top-rated lender offering international student loans without cosigners, collateral, or credit history for global citizens, PLUS international student scholarships & career coaching! Fully online application, 96% customer...
TestDEN's Online TOEFL Test Prep is just what you need to quickly and effectively prepare for the TOEFL test. Since 1998, TestDEN has helped tens of thousands of students raise their TOEFL scores.
Study in the USA's advisors can work with you to navigate the requirements to study abroad in the USA, UK, Canada, and Australia. We help you find the right school and apply.
Resources
Learn about American culture and education direct from our experts at Study in the USA. Read more