My Struggle with School-Related Anxiety
By Katherine George
Ever since I was young, school has always been a source of stress for me. The pressure to get good grades to get into a good college and figure out what you want to do for the rest of your life is incredibly overwhelming. It's a lot to deal with at 14 years of age. I mean, I started taking high school classes when I was in middle school. My school emphasized focusing on your future and that your neighbor is your competitor, which was a lot of stress at a young age. My middle school was super intense compared to my elementary school. And high school only got worse.
All during high school, I knew I was going to be going to a college, but I was not sure which way to go. Part of me wanted to go to an Ivy League, and part of me wanted to go local. I felt confused. The whole time I was growing and learning and becoming an adult. It felt like I was working towards something, but I didn't know what that something was; I still don't. Over time, it becomes hard to work towards something when you don't know what that something is. You don't know what you want to do or what you should do, or what is practical.
Starting college is even more stressful, especially if you are a person who is still trying to figure their life out. You have to declare a major, or an area of interest, on your applications, because you have to decide what classes you need to take to fulfill the correct requirements for each major. For me, when I decided to go to college, I started at a traditional four-year. However, my anxiety skyrocketed, and I literally could not function. And I thought I could go to an Ivy League, ha! While everyone around me seemed to know exactly what they were doing with their lives, I was overwhelmed by the decisions that I needed to make for my future. I felt that I was wasting time and money while I figured out my life. So, I decided to transfer to a two-year school. It was less stressful, and it brought my anxiety down, but didn't feel right.
My first week of the fall 2019 semester at my new school brought me a lot of stress. I was struggling with the anxiety of starting my first semester and not knowing what to do. I sat down in my English class, fought an anxiety attack the entire time, left class, got to my car and broke down, and attempted my drive home. It was a tough day, and that's when I knew I needed to make a change. The only thing I knew that I could do was drop my English class. This meant that I would have to stay at community college for an extra semester, meaning I would graduate late, but I needed to do this for my own sanity.
In high school, we have strict schedules for our lives, but when we get to college the only schedule we have is for our classes. That is why the biggest thing that I do to keep my mind from running crazy is creating a schedule that keeps me on task. It's not a strict schedule, but rather a general order of what I want to accomplish during the day. This way, I achieve what I need to, and I can make the best use of my time. It helps me balance out my school work, my dog-sitting jobs, and my business job. I also like to write down all of my due dates in my calendar. This helps me prioritize assignments, so that I don't get overwhelmed with having things pile up on me at the last minute. Writing out my due dates takes a lot of stress off me and helps me stay on track when I need to get stuff done. Plus, I can be proactive and discuss topics with my professors if I have any questions. I have found that communicating with my professors, even if it is over communicating, is better than hanging yourself out to dry.
One time I had a professor offer to extend my due date because I was struggling with the assignment, and I had had a death in my family. Most professors are understanding. They are not as mean as high school teachers make them out to be. One thing that helped me was watching other YouTubers and hearing their advice for college students. I tried out different ways of studying, organization, and schedules. I tested each method for a week or so until I implemented it fully into my routine. We are not taught how to study in high school, so I had to spend a semester figuring out what worked for me. Thank you, YouTube, for the advice.
As far as alleviating my generalized anxiety, I found that having a quiet morning where I am off my phone is the best way to set my mind up for the day. I'm not particularly eager to get my mind racing right in the morning, so I may meditate, stretch, or read. Anything to get my mind slowly moving in the morning. I try not to rush, but I also try to be efficient with my time. That way, I'm not already on edge first thing in the morning. Also, I try to eat a good breakfast that will give me what I need to get my day going.
Overall, the way that I tried to balance college with my anxiety is not to overwhelm myself. I try to take things slow and not get in my head. Writing things down and getting my thoughts out of my head helps me organize and alleviate stress. Knowing when I need to take some time to myself and relax helps calm my anxiety.
Katherine George is currently studying mass communications at Hillsborough Community College in Tampa, Florida.
Do you relate with Katherine's experience?
Make sure to share this blog post with your friends and family if you find it helpful. And reach out to our Advising Team if you have any questions about finding the right school without stressing yourself so much about the process.
---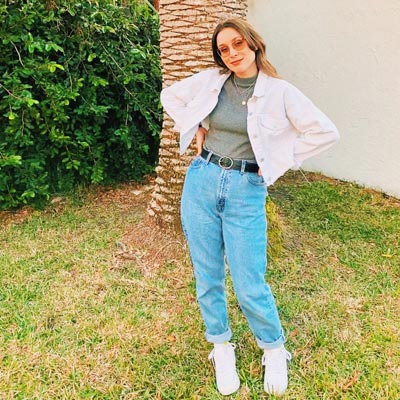 Katherine George is from the United States and is currently studying mass communications at Hillsborough Community College in Tampa, Florida.
Written by
Katherine George
Get matched to the best program for you
Let us know what you're looking for so we can find the best school for you.
$5,000—$10,000 Semester
Undergraduate
2yr/Community College - 2+2 Programs
Certificate/Short Term
$10,000 — $15,000 Year
Bachelor Degree
2yr/Community College - 2+2 Programs
Certificate/Short Term
$1,000—$5,000 Session
Online
English Programs
Certificate/Short Term
Start your U.S. adventure with Study in the USA
What's your dream? We can guide, advise, and connect you with your perfect U.S. school. We can also help you with the application process.
Partner Services
Learn About U.S. education financing, housing, and more
MPOWER Financing is the top-rated lender offering international student loans without cosigners, collateral, or credit history for global citizens, PLUS international student scholarships & career coaching! Fully online application, 96% customer...
TestDEN's Online TOEFL Test Prep is just what you need to quickly and effectively prepare for the TOEFL test. Since 1998, TestDEN has helped tens of thousands of students raise their TOEFL scores.
Study in the USA's advisors can work with you to navigate the requirements to study abroad in the USA, UK, Canada, and Australia. We help you find the right school and apply.
Resources
Learn about American culture and education direct from our experts at Study in the USA. Read more