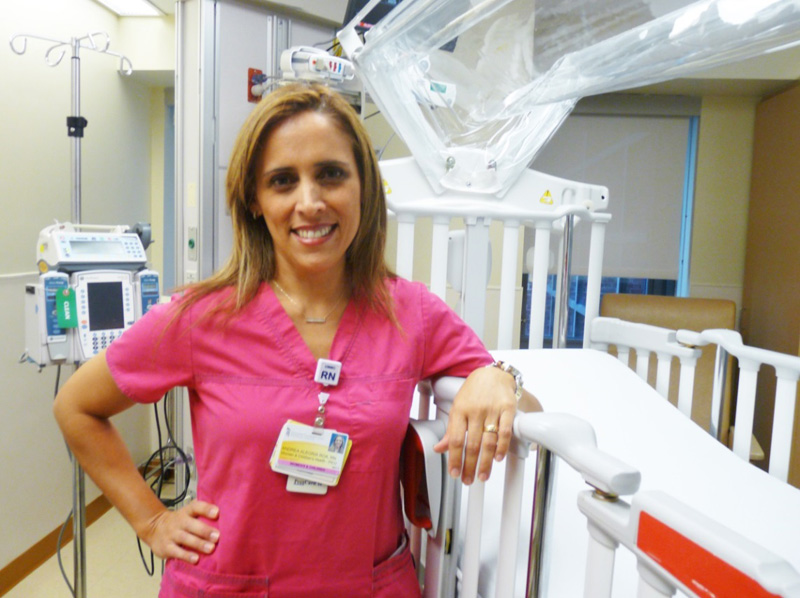 In our effort to bring good content to as many people as possible the text in this blog post has been machine translated so please excuse any mistakes. Thank you!
Andrea Alegria Roa, who strengthened her English skills at the ELC at Howard Community College

From the Howard Community College English Institute:
Andrea Alegria Roa had eight years of experience as a licensed pediatric nurse in her home country of Chile, but when she moved to the state of Maryland in the U.S., she had trouble finding work due to her limited English skills. At that point, she turned to the English Institute at the English Language Center (ELC) at Howard Community College.
"I first took two ESL classes and then I decided that I need to learn English very well because I needed to pursue my life and my career here," she said.
After the English Institute helped prepare her to pass the Test of English as a Foreign Language (TOEFL), she moved on to complete her board exam to be hired as Registered Nurse (RN) for the pediatric intensive care unit at the University of Maryland Medical Center. Today, she's the center's Spanish-RN interpreter.
If you're like Andrea with a college degree, a professional certification, or years of experience working in your chosen field, you could benefit from the ELC at Howard Community College, which helps learners from all over the world learn or improve their English. The ELC offers five levels of English language instruction to learners from over 80 countries. The diverse areas of the world that are represented in the program also help learners develop a new understanding of global cultures as well as American culture. Through short trips offered by the English Institute to New York City, Washington D.C., and other locations close to the Maryland area, learners have a unique opportunity to take in the American experience in a suburban setting ranked as the number one place to live in the United States, according to Money Magazine.

Visit the website or Facebook page to learn more about the ELC at Howard Community College.
To hear more about Andrea's experience, watch the video. To see a virtual campus tour, view this link.