Studying Theatre Arts at Genesee Community College
by Francesca Pieter
From a Caribbean Island to New York
My name is Francesca Pieter, and I am an international student from the Caribbean island of Curaçao. Since I was a child, I always talked about wanting to live in the United States. That dream came true when I moved to Batavia, New York, in the fall of 2019 to study Theatre Arts at Genesee Community College (GCC).
I first heard about Genesee Community College from the annual college fair that my island organizes. There are local colleges and universities and many others from all around the world at the fair to give information about what their schools offer. Out of all of the colleges, I chose GCC.
Location that is conducive for learning
The thing I liked the most about GCC was the location. I wanted to be somewhere where there would not be too many distractions so that I could mostly focus on my studying. But the campus is still close enough to cities like Rochester and Buffalo, where I could go for a weekend and have fun.
Diverse and welcoming community
The staff and students at GCC are very nice and welcoming and always ready to help. There are also a lot of international students from all over the world, so I got to meet people from different backgrounds, and we learned things about each other's cultures and traditions.
A place of growth and independence
Enrolling at GCC has opened my eyes to the world and all it has to offer! I have grown as a person and come out of my shell. In addition to my studies, I have two jobs at the college. I work in the admissions department as a student ambassador, where I make and answer calls, give tours to students interested in possibly attending GCC, and learn about how an office operates. I also work as a resident assistant (RA) in the college's residence halls called College Village. As an RA, I am in charge of a building and its residents. I am usually an introvert, but these two jobs have helped me immensely to be able to talk to people and be more sociable.
When I am not working or studying, I enjoy reading, painting, baking, shopping, and hanging out with my friends. I look forward to sharing with you all the experiences I've had at GCC and why choosing to pursue my education abroad has been the best decision!
---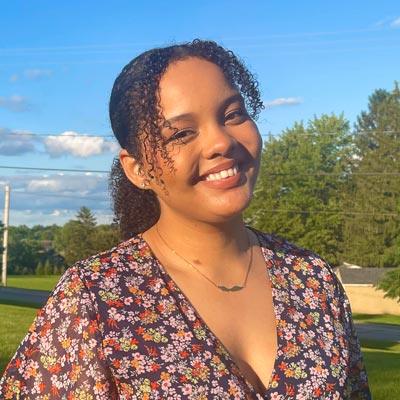 Francesca Pieter, from the Caribbean island of Curaçao, is studying Theatre Arts at Genesee Community College.
Written by
Francesca Pieter
Get matched to the best program for you
Let us know what you're looking for so we can find the best school for you.
$5,000—$10,000 Semester
2yr/Community College - 2+2 Programs
Bachelor Degree
English Programs
$1,000—$5,000 Quarter
Summer
Bachelor Degree
2yr/Community College - 2+2 Programs
Start your U.S. adventure with Study in the USA
What's your dream? We can guide, advise, and connect you with your perfect U.S. school. We can also help you with the application process.
Partner Services
Learn About U.S. education financing, housing, and more
STUDENT.com is the world's leading marketplace for international student housing, helping students find their perfect home abroad. We have the widest and most carefully selected range of rooms that were built and are managed specifically for students...
Choose an entire apartment, a studio, a shared room, or a private room, with 24x7 assistance from Personal Student Advisors. Book Now!
MPOWER Financing is the top-rated lender offering international student loans without cosigners, collateral, or credit history for global citizens, PLUS international student scholarships & career coaching! Fully online application, 96% customer...
Testimonials
I will be attending Stony Brook University this fall. I'm very excited to get started.
Diavion Ebanks Turks and Caicos Islands
I was able connect directly with the college.
Study in the USA supports my dream and lets me know how to achieve my dreams more generally. They suggest not the fastest way but the most helpful way for my future.
Resources
Learn about American culture and education direct from our experts at Study in the USA. Read more