In our effort to bring good content to as many people as possible the text in this blog post has been machine translated so please excuse any mistakes. Thank you!
Miftar Pozhari tarafından
Geçen yıl boyunca, hem uluslararası hem de yerli öğrenciler, her birimiz, "normal zamanlarda" normalde farklı koşullarda bize sunulan fırsatları karşılamak için değişmek ve uyum sağlamak zorunda kaldık. Bu fırsatlardan en çok etkilenenlerden biri de yurt dışında okumak oldu.
Hepimizin bildiği ve tasdik edebileceği gibi, seyahat etmek ve özellikle farklı bir ülkede ve çevrede öğrenmek, bir insanın yaşayabileceği en ödüllendirici deneyimlerden biridir; gerçekten hayat değiştiriyor. Bu deneyim pandemi boyunca değişti, ancak yine de farklı geçmişlerden insanlarla çalışmanın nasıl bir şey olduğunu deneyimlemeniz için en iyi şanslardan biri, özellikle benim gibi işletme veya finans programlarındaki öğrenciler için ödüllendirici.
| | |
| --- | --- |
| | 2021 yazında Bradford Vakfı ve University of Northern Iowa College of Business (UNI) Büyükelçisi olarak seçildim. Hal böyle olunca Avrupa İnovasyon Akademisi'ne girecek ve üniversite için değerlendirecektim. Avrupa İnovasyon Akademisi, dünyanın her yerinden girişimci öğrencileri bir araya getiren ve onlara bir iş kurma konusunda rehberlik eden bir programdır. Bu yıl tüm bunlar çevrimiçi olmak zorundaydı. |

Bunu, birçok ülkeden ve birçok iş alanından öğrencilerden oluşan ekipler halinde toplayarak yaparsınız. Kendi bölgelerinde işlerin nasıl yürütüldüğünü ve bu pazarlara en iyi nasıl yaklaşılacağını göstererek uluslararası ekiplerle çalışma konusunda bana değerli dersler veren Portekiz, Belçika ve İsviçre'den yüksek lisans programı öğrencileriyle çalışma şansına eriştim.
Buna karşılık, UNI İşletme Fakültesi'nde öğrendiklerimi, çeşitli kurslara katılarak ve iş dünyasına yeni bakış açıları kazandırarak paylaşabildim. Finans derslerimde öğrendiğim stratejiler, finansal projeksiyonlar oluşturma ve ulaşabileceğimiz gerçekçi hedefler belirleme açısından ekibime en iyi şekilde hizmet etmeye yardımcı oldu. Yönetim kurslarım ise proje tamamlandıktan çok sonra bağlantı kurabilmemiz için ekiple uyum sağlama değerlerini öğretti. Bir UNI eğitiminin beni getirdiği seviyeyi görebiliyordum ve burada geçirdiğim zamandan gurur duyuyordum. Ne de olsa, bu fırsatlar ömür boyu bir kez gelir ve üniversitenin bana önyargısız bir şekilde raporlama konusunda verdiği güven için minnettarım.
Yıllar boyunca öğrendiklerinin çoğunu paylaşma nezaketini gösterdiler ve birlikte tutkumuzu paylaştığımız bir iş fikri üzerinde çalıştık. Yenilenebilir elektrik üretmek için kullanılabilecek, sürdürülebilir şekilde büyüyen alglere odaklanan bir girişim kurduk. Bu program çevrimiçi olarak yapıldığından, herkesin programını eşleştirmek zordu çünkü hepimiz farklı zaman dilimlerindeydik. Ayrıca, beceri gruplarımızın her birini etkili bir şekilde kullanacak şekilde görevleri iletmek ve devretmek de zordu. Ancak elimizdekinin hakkını vermeliydik ve buna odaklanarak unutulmaz bir deneyim yaşattığımıza inanıyorum. Pek çok farklılığımız olsa da, çok daha fazla benzerliğimiz olduğunu ve işlerin sınırlar arasında en iyi nasıl yürütüldüğünü keşfettik.
---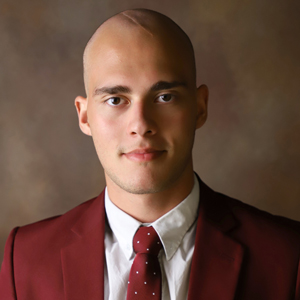 Kosovalı Miftar Pozhari, Kuzey Iowa Üniversitesi'nde kıdemli bir işletme okuyor. Aynı zamanda Bradford Vakfı'nın da elçisidir.