In our effort to bring good content to as many people as possible the text in this blog post has been machine translated so please excuse any mistakes. Thank you!
Por Miftar Pozhari
Durante el año pasado, cada uno de nosotros, estudiantes nacionales e internacionales por igual, hemos tenido que cambiar y adaptarnos para dar cabida a las oportunidades que se nos presentan que normalmente se establecen en diferentes circunstancias en "tiempos normales". Una de estas oportunidades que más se vio afectada ha sido estudiar en el extranjero.
Como todos sabemos y podemos atestiguar, viajar y especialmente aprender en un país y entorno diferentes es una de las experiencias más gratificantes que uno puede tener; es verdaderamente un cambio de vida. Esta experiencia cambió durante la pandemia, pero sigue siendo una de las mejores oportunidades de experimentar cómo es trabajar con personas de diversos orígenes, especialmente gratificante para estudiantes de programas de negocios o finanzas como yo.
| | |
| --- | --- |
| | Durante el verano de 2021, fui elegido embajador de la Bradford Foundation y de la University of Northern Iowa College of Business (UNI) . Como tal, debía asistir a la Academia Europea de Innovación y evaluarla para la universidad. La Academia Europea de Innovación es un programa que reúne a estudiantes emprendedores de todo el mundo y les brinda orientación sobre cómo construir una empresa. Este año todo esto tenía que suceder online. |

Lo hace reuniéndose en equipos formados por estudiantes de muchos países y muchos campos de negocios. Tuve la gran suerte de poder trabajar con estudiantes del programa de maestría de Portugal, Bélgica y Suiza, quienes me enseñaron valiosas lecciones sobre cómo trabajar con equipos internacionales al mostrar cómo se llevan a cabo los negocios en sus respectivas regiones y cómo abordar mejor esos mercados.
A cambio, pude compartir lo que había aprendido en la UNI College of Business, asistiendo a varios cursos y obteniendo nuevas perspectivas sobre el mundo de los negocios. Las estrategias que había aprendido en mis clases de finanzas ayudaron a servir mejor a mi equipo en términos de crear proyecciones financieras y establecer metas realistas que podríamos lograr. Mis cursos de gestión, por otro lado, enseñaron los valores de armonizar con el equipo para que podamos conectarnos mucho después de que se haya completado el proyecto. Pude ver el nivel al que me había llevado la educación de UNI y estaba orgulloso de mi tiempo aquí. Después de todo, estas oportunidades se presentan una vez en la vida, y estoy más que agradecido por la confianza que la universidad ha depositado en mí para informar de manera imparcial.
Tuvieron la amabilidad de compartir gran parte de lo que habían aprendido a lo largo de los años, y juntos trabajamos en una idea de negocio por la que compartíamos nuestra pasión. Creamos una startup que se centró en el cultivo sostenible de algas que podrían usarse para producir electricidad renovable. Dado que este programa se llevó a cabo en línea, fue difícil hacer coincidir los horarios de todos porque todos estábamos en diferentes zonas horarias. También fue un desafío comunicar y delegar tareas de una manera que usara cada uno de nuestros conjuntos de habilidades de manera efectiva. Sin embargo, tuvimos que cumplir con lo que teníamos, y al enfocarnos en eso, creo que lo hicimos para que pudiéramos tener una experiencia inolvidable. Descubrimos que a pesar de que teníamos muchas diferencias, también teníamos muchas más similitudes y la mejor forma de hacer negocios a través de las fronteras.
---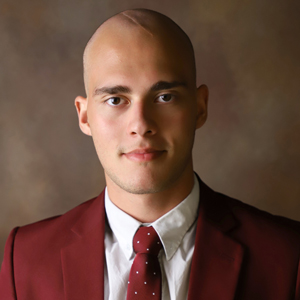 Miftar Pozhari de Kosovo es un estudiante de último año de negocios en la Universidad del Norte de Iowa . También es embajador de la Bradford Foundation.