Being a Business Ambassador During COVID
By Miftar Pozhari
During the past year, every one of us, international and domestic students alike, has had to change and adapt to accommodate the opportunities presented to us that normally are set in different circumstances in "normal times." One of these opportunities that were affected the most has been studying abroad.
As we all know and can attest to, traveling and especially learning in a different country and environment is one of the most rewarding experiences one can ever have; it is truly life-changing. This experience changed over the pandemic, but it is still one of the best chances you might get to experience how it is like working with people from diverse backgrounds, especially rewarding for students in business or finance programs such as myself.
| | |
| --- | --- |
| | Over the summer of 2021, I was chosen as an Ambassador of the Bradford Foundation and the University of Northern Iowa College of Business (UNI). As such, I was to attend the European Innovation Academy and evaluate it for the university. The European Innovation Academy is a program that gathers entrepreneurial students from all over the globe and gives them guidance on building a business. This year all this had to happen online. |

You do so by gathering in teams made up of students from many countries and many fields of business. I was very fortunate to get to work with master's program students from Portugal, Belgium, and Switzerland, who taught me valuable lessons on working with international teams by showing how business is conducted in their respective regions and how to best approach those markets.
In return, I was able to share what I had learned at the UNI College of Business, attending various courses and gaining new perspectives on the world of business. The strategies that I had learned in my finance classes helped best serve my team in terms of creating financial projections and setting realistic goals that we would be able to achieve. My management courses, on the other hand, taught the values of harmonizing with the team in order for us to connect far after the project had been completed. I could see the level that a UNI education had brought me to, and I was proud of my time here. After all, these opportunities come once in a lifetime, and I am beyond grateful for the trust that the university has placed in me to report in a non-biased manner.
They were kind enough to share much of what they had learned over the years, and together we worked on a business idea that we shared a passion for. We built a startup that focused on sustainably growing algae that could be used for producing renewable electricity. Since this program was held online, it was difficult to get everyone's schedules to match up because we all were in different time zones. It was also challenging to communicate and delegate tasks in a way that would use each of our skill sets effectively. However, we had to make due with what we had, and by focusing on that, I believe we made it so we could have an unforgettable experience. We discovered that even though we had many differences, we also had much more similarities and how business is best conducted through borders.
---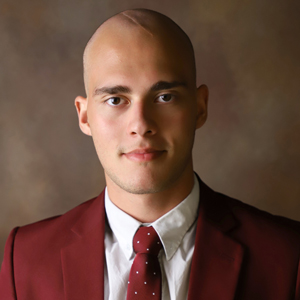 Miftar Pozhari from Kosovo is a senior studying business at the University of Northern Iowa. He is also an ambassador for the Bradford Foundation.
Written by
Miftar Pozhari
Get matched to the best program for you
Let us know what you're looking for so we can find the best school for you.
$5,000—$10,000 Semester
Undergraduate
Bachelor Degree
2yr/Community College - 2+2 Programs
$10,000 — $15,000 Year
Bachelor Degree
Undergraduate
Certificate/Short Term
$5,000—$10,000 Semester
Bachelor Degree
Masters
Undergraduate
Start your U.S. adventure with Study in the USA
What's your dream? We can guide, advise, and connect you with your perfect U.S. school. We can also help you with the application process.
Partner Services
Learn About U.S. education financing, housing, and more
BetterHelp is the world's largest therapy service, and it's 100% online. You get the same professionalism and quality you expect from in-office therapy, but with access to a huge network of therapists, more scheduling flexibility, and at a more affor...
Summer plans suspended because of COVID-19? The deadline's approaching for TheInternGroup's virtual/remote global internship program. Gain professional experience, grow your network and make your resume shine from wherever you are this summer.
MPOWER Financing is the top-rated lender offering international student loans without cosigners, collateral, or credit history for global citizens, PLUS international student scholarships & career coaching! Fully online application, 96% customer...
Resources
Learn about American culture and education direct from our experts at Study in the USA. Read more