In our effort to bring good content to as many people as possible the text in this blog post has been machine translated so please excuse any mistakes. Thank you!
Apple Wong tarafından
"İyi bir kılıcı bilemek için on yıl." Bu, iyi bir beceriye sahip olmanın 10 yıllık bir çaba gerektirdiği anlamına gelir. Bu gerçeği birkaç yıl önce anladım. Ben sabırsız bir insanım, her şeyi sadece üç dakikalık hevesle yapıyorum, bu yüzden herhangi bir yetkin becerim yok. Hızlı tempolu bir yer olan Hong Kong'da yaşarken, her zaman meşguldüm. Bir ilgiyi öğrenmeye çok fazla enerji ve zaman harcamak benim için zor. Bununla birlikte, iyi becerilere sahip olan diğerlerine hayranım, beceri ne olursa olsun. Çocuklarımı yetiştirme deneyimi, sabırlı olma becerimi geliştirdi. Ayrıca İngilizce öğrenme süreci de bana bu gerçeği gösterdi.
Son zamanlarda kızım, ilk kez geçeceğini umduğumuz 10. seviye piyano tarihi sınavına hazırlanıyor. 10. seviye piyano sertifikasını almadan önce, önceki birkaç seviyenin pratik sınavlarını, teori sınavlarını ve tarih sınavlarını geçmesi gerekir. Esasen, her yıl sınav için pratik yaptı ki bu kolay değil. Müzikle pek ilgilenmese de, başka bir gücü olmadığına inanıyor, bu yüzden müziğe devam etmekte ısrar ediyor. Aralık ayında yapılacak olan piyano performans seviyesi sınavına hazırlanmanın yanı sıra çok iyi keman çalmaktadır. Altı yaşında piyano çalmaya başladı ve şimdi on altı yaşında. On yıl boyunca uygulamayı hiç bırakmadı. Bu bana yüksek lisans düzeyinde bir beceriye sahip olmanın on yıl gerektirdiğini söylüyor.
Öte yandan oğlum da geçmişte piyano okudu ama çok farklı bir sonuç elde etti. Oğlum günlük pratiği konusunda bana çok sıkıntı verdi. Dikkatli gözlemim altında bir dakikalık bir şarkının bitmesi en az iki saat sürdü. Piyano hakkında hiçbir şey öğrenmemiş olmama rağmen, piyano derslerinde hiç dikkat etmediği için ona her şarkıyı yeniden öğretmek zorunda kaldım. İronik olarak, piyano seviye 5 şarkı çalabildim ve seviye 5 teori sınavını geçtim. Bu deneyim toleransımı geliştirdi çünkü oğlum antrenmanlarında her zaman çok zaman harcadı. Sonunda piyano öğrenmekten vazgeçebileceğine karar verdim, bu yüzden 5. seviyede durdu. O zamandan beri bir daha piyanoya hiç dokunmadı, ben de dokunmadım. Şimdi ikimiz de piyano çalma becerisini kaybetmiş gibiyiz. Bu durumda bir kılıç uzun süre kullanılmazsa paslanacağını veya işlevini yitireceğini öğrendim.
İngilizce öğrenme sürecinde, bir dilde yetkin olmanın kolay olmadığını fark ettim. Amerika'ya gelmeden önce, üç yıl içinde İngilizceyi iyi öğrenebileceğimi tahmin ediyordum. Ancak yanılmışım. İngilizce seviyem beklediğimden çok daha kötüydü. İngilizce öğrenme yolculuğumda bende de bir şeyler değişti. Birincisi sabır. İlk başlarda kitaba konsantre olamıyordum ya da 15 dakika bir sandalyede oturamıyordum ama şimdi çok daha iyi. İkincisi faiz. Eskiden öğrenmenin sıkıcı olduğunu düşünürdüm ama şimdi öğrenmenin eğlenceli olduğunu düşünüyorum. Dil öğrenmenin yaşam boyu ilgi alanım olacağını düşünüyorum. Vaktim olursa Korece gibi başka bir dil öğrenmek isterim çünkü Kore dizilerini izlemeyi severim. Ancak şimdilik, İngilizcemin profesyonel olduğunu düşündüğüm bir güne kadar İngilizce çalışmaya devam edeceğim; 10 yıl süreceğini tahmin ediyorum.
Hedeflerimize ulaşmak için hayatımızda kaç on yıl var? Sadece ne kadar erken başlarsan o kadar erken bitirirsin diyebilirim.
---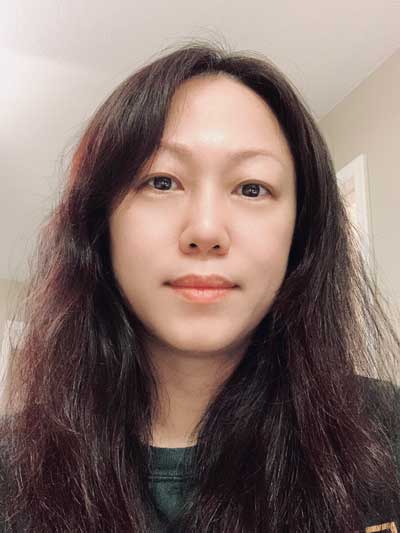 Apple Wong, Florida, Sanford'daki Seminole Eyalet Koleji'nde İngilizce dil öğrencisidir. Aslen 40 yıldır yaşadığı Hong Kong'lu. 8 ve 10 yaşlarındaki iki çocuğuyla birlikte Amerikan eğitimini deneyimlemek için Amerika Birleşik Devletleri'ne gelmeye karar verdi. Çocuklarıyla birlikte üniversitede okumayı planlıyor.