In our effort to bring good content to as many people as possible the text in this blog post has been machine translated so please excuse any mistakes. Thank you!
Por Apple Wong
"Dez anos para afiar uma boa espada." Isso significa que ter uma boa habilidade requer 10 anos de esforço. Eu só entendi essa verdade alguns anos atrás. Sou uma pessoa impaciente, faço qualquer coisa com apenas três minutos de entusiasmo, então não tenho nenhuma habilidade proficiente. Quando eu morava em Hong Kong, que é um lugar agitado, estava sempre ocupado. É difícil para mim colocar muita energia e tempo para aprender um interesse. No entanto, eu admiro outras pessoas que têm boas habilidades, seja qual for. A experiência de criar meus filhos aprimorou minha habilidade de ser paciente. Além disso, o processo de aprendizagem do inglês também me mostrou essa verdade.
Recentemente, minha filha está se preparando para o exame de história do piano de nível 10, no qual esperamos que ela passe na primeira vez. Antes de obter o certificado de piano de nível 10, ela precisa ser aprovada em vários exames práticos, exames teóricos e exames de história do nível anterior. Basicamente, ela praticou para o exame todos os anos, o que não é fácil. Embora ela não esteja realmente interessada em música, ela acredita que não tem outros pontos fortes, então ela insiste em continuar com a música. Além de se preparar para o exame de nível de piano, que será realizado em dezembro, ela também toca violino muito bem. Ela começou a tocar piano aos seis anos e agora tem dezesseis. Ela nunca parou de praticar por dez anos. Isso me diz que possuir uma habilidade de nível de mestre requer dez anos.
Por outro lado, meu filho também estudou piano no passado, mas teve um resultado bem diferente. Meu filho me deu muitos problemas com sua prática diária. Uma música de um minuto levou pelo menos duas horas para terminar sob minha vigilância cuidadosa. Embora eu nunca tenha aprendido nada sobre piano, tive que ensiná-lo todas as músicas novamente porque ele nunca prestou atenção durante suas aulas de piano. Ironicamente, consegui tocar as músicas de nível 5 de piano e passei no exame teórico de nível 5. Essa experiência melhorou minha tolerância porque meu filho sempre perdia muito tempo com sua prática. Finalmente, concordei que ele poderia desistir de aprender piano, então ele parou no nível 5. Desde então, ele nunca mais tocou no piano, e nem eu. Agora nós dois parecemos ter perdido a habilidade de tocar piano. Nesse caso, aprendi que, se uma espada não for usada por muito tempo, ela enferrujará ou perderá sua função.
No processo de aprendizagem do inglês, percebi que ser proficiente em um idioma não é fácil. Antes de vir para a América, estimei que poderia aprender bem inglês em três anos. No entanto, eu estava enganado. Meu nível de inglês era muito pior do que eu esperava. Em minha jornada de aprendizado de inglês, algo também mudou em mim. O primeiro é paciência. No começo, eu não conseguia me concentrar no livro ou sentar em uma cadeira por 15 minutos, mas agora está muito melhor. O segundo é o interesse. Eu costumava achar que aprender era chato, mas agora acho que aprender é divertido. Acho que aprender línguas se tornará meu interesse para toda a vida. Se eu tiver tempo, gostaria de aprender outro idioma, como o coreano, porque gosto de assistir a dramas da TV coreana. Por enquanto, porém, continuarei a estudar inglês até que um dia ache que meu inglês é profissional; Eu estimo que levará 10 anos.
Quantas décadas existem em nossas vidas para realizar nossos objetivos? Só posso dizer que quanto mais cedo você começar, mais cedo terminará.
---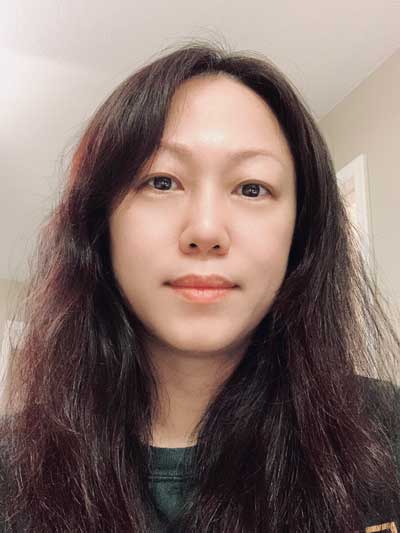 Apple Wong é estudante de inglês no Seminole State College em Sanford, Flórida. Ela é natural de Hong Kong, onde vive há 40 anos. Ela decidiu vir para os Estados Unidos com seus dois filhos, de 8 e 10 anos, para experimentar a educação americana. Ela está planejando estudar na universidade com seus filhos.