In our effort to bring good content to as many people as possible the text in this blog post has been machine translated so please excuse any mistakes. Thank you!
Hamdiatu Yakuba tarafından
Hepinizle nişanlanmayalı epey oldu, ara verdiğimi, hatta vazgeçtiğimi düşünmüş olabilirsiniz. (Çünkü tersine kültürel şok kolay değildir)... sadece sesli düşünmek. Yaşasın, hala buradayım ve hayatta kalıyorum. Genç kadınlar için bir girişimcilik programını kolaylaştırdığım sırada gerçekten ilginç bir şeyle karşılaştım. Beni düşündürdü, iç gözlem yaptı, keşfetti ve sonunda bunun üzerine kara kara düşündü.
Amaç! "Neden, sebep, plan, niyet vb." Anlamına gelen bir kelime veya terim. Şaşırtıcı bir şekilde, üzerine düşündüğümde 'değersiz' ve vizyonsuz hissetmeme neden oldu.
Benimle çok şey konuştu, belki de tüm bu süre boyunca hayatta ne olduğumu bilmediğimi fark etmemi sağladı. Eğitim sırasında, çoğu katılımcıya, amaçlarının ne olduğu sorulduğunda sert bir şekilde vuruldu. Tıpkı benim gibi onlar da bu gezegende yaşayan bireyler olarak amaçlarını bilmiyorlardı ya da bilmiyorlardı. Sizi şaşırtabilir, ancak bu doğru, şaka değil - herkes kendisi için bir şey düşünmez veya bir amaç belirlemez. Yapmaya başladığımız her şey için hedefler, hedefler belirlememiz gerektiğini düşünüyorum. Yaptığımız her eylemin, bizi ona/onlara ulaşmaya yönlendirmek için genel bir amacı olmalıdır.
Çoğu kişi bunu zaten biliyor olabilir ama eminim ki benim katılımcılarım gibi başkaları da bir amaç sahibi olmanın önemini düşünmüyor ve anlamıyor bile.
Bu sefer uzun bir yazı yazmak niyetinde değilim, çünkü amacımı bulmaya devam etmem gerekiyor (bu kulağa tuhaf ya da saçma gelebilir). Ancak, umarım bunu okur ve kendinizi benim yerimde bulursunuz, bunu bir düşünmek için tetiklersiniz ve amaçlarımızın ne olduğunu keşfetmek için bana katılın.
Her zaman olduğu gibi, siz önemlisiniz, mirasınız da önemli, AMACINIZI bilin ve bir iz bırakın.
---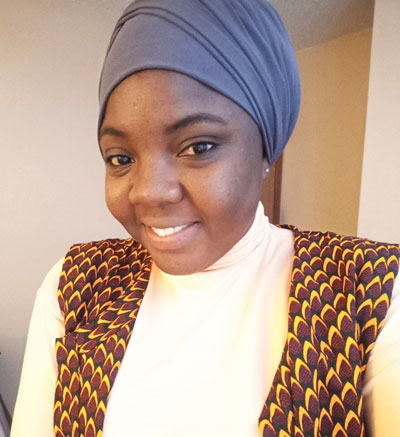 Hamdiatu Yakuba, Gana, Batı Afrika'dan. Kısa süre önce Kirkwood Community College'da İngilizce eğitimini tamamladı ve şu anda ülkesinde bir sivil toplum kuruluşunda iletişim stajyeri ve proje asistanı olarak çalışıyor. Doğayı, yemek yapmayı, film izlemeyi, dilleri, yazmayı ve fotoğrafçılığı seviyor.