In our effort to bring good content to as many people as possible the text in this blog post has been machine translated so please excuse any mistakes. Thank you!
Por Hamdiatu Yakuba
Já faz um tempo que não contratei todos vocês, vocês podem ter pensado que fiz uma pausa ou até desisti. (Porque o choque cultural reverso não é fácil) ... apenas pensar em voz alta. Viva, ainda estou aqui e sobrevivendo. Eu me deparei com algo realmente interessante durante a minha facilitação de um programa de empreendedorismo para mulheres jovens. Isso me fez pensar, introspectar, explorar e acabar pensando nisso.
Propósito! Uma palavra ou termo que significa "razão, motivo, plano, intenção, etc." Surpreendentemente, isso me fez sentir 'inútil' e sem visão quando refleti sobre isso.
Falou muito comigo, me fazendo perceber que talvez eu não soubesse o que estava fazendo na vida todo esse tempo. Durante o treinamento, a maioria dos participantes levou uma pancada forte quando questionados sobre qual era seu propósito. Eles, assim como eu, não tinham ideia ou não conheciam seus propósitos como indivíduos que vivem neste planeta. Pode surpreendê-lo, mas isso é verdade, não é uma piada - nem todo mundo pensa a respeito ou estabelece um propósito para si mesmo. Acho que devemos estabelecer metas, objetivos para tudo o que nos propomos a fazer. Cada ação que realizamos deve ter um propósito geral para nos conduzir a alcançá-los.
Muitos já devem saber disso, mas tenho certeza que assim como meus participantes, outros nem pensam e percebem a importância de ter um propósito.
Não pretendo escrever uma peça longa desta vez, porque tenho que continuar descobrindo meu propósito (o que pode parecer estranho ou absurdo). No entanto, espero que você, lendo isto e se encontrando no meu lugar, seja motivado a pensar nisso e se juntar a mim para explorar quais são os nossos propósitos.
Como sempre, você é importante, assim como seu legado, conheça seu PROPÓSITO e deixe sua marca.
---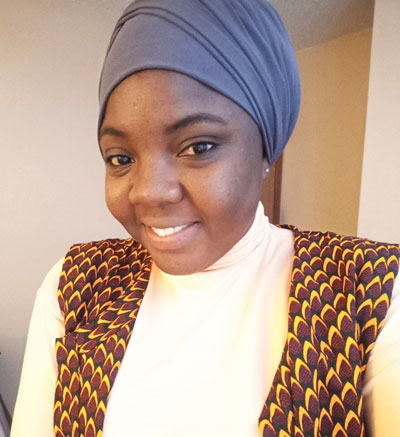 Hamdiatu Yakuba é de Gana, na África Ocidental. Recentemente, ela concluiu seus estudos de inglês no Kirkwood Community College e atualmente está trabalhando como estagiária de comunicação e assistente de projeto em uma organização não governamental em seu país. Ela adora natureza, cozinhar, assistir filmes, idiomas, escrever e fotografia.