In our effort to bring good content to as many people as possible the text in this blog post has been machine translated so please excuse any mistakes. Thank you!
Por Hamdiatu Yakuba
Ha pasado un tiempo desde que los comprometí a todos, es posible que hayan pensado que me tomé un descanso o incluso me di por vencido. (Porque el choque cultural inverso no es fácil) ... solo pensar en voz alta. Hurra, todavía estoy aquí y estoy sobreviviendo. Me encontré con algo realmente interesante durante mi facilitación de un programa empresarial para mujeres jóvenes. Me hizo pensar, introspectar, explorar y terminé cavilando sobre ello.
¡Objetivo! Una palabra o término que significa "razón, motivo, plan, intención, etc." Sorprendentemente, me hizo sentir 'inútil' y sin visión cuando reflexioné sobre ello.
Me habló mucho, haciéndome darme cuenta de que tal vez no sabía de qué se trataba en la vida todo este tiempo. Durante la capacitación, la mayoría de los participantes se sorprendieron cuando se les preguntó cuál era su propósito. Ellos, al igual que yo, no tenían idea o no conocían sus propósitos como individuos que viven en este planeta. Puede que te sorprenda, pero esto es cierto, no es una broma: no todos piensan o se ponen un propósito. Creo que deberíamos establecer objetivos, metas para todo lo que nos propusimos hacer. Cada acción que emprendamos debe tener un propósito general que nos impulse a lograrlas.
Es posible que muchos ya lo sepan, pero estoy seguro de que, al igual que mis participantes, otros ni siquiera piensan y se dan cuenta de la importancia de tener un propósito.
No tengo la intención de escribir un artículo extenso esta vez, porque tengo que seguir averiguando mi propósito (que puede sonar extraño o absurdo). Sin embargo, espero que al leer esto y encontrarse en mi lugar se sienta impulsado a pensarlo y unirse a mí para explorar cuáles son nuestros propósitos.
Como siempre, usted importa, también lo es su legado, conozca su PROPÓSITO y deje una huella.
---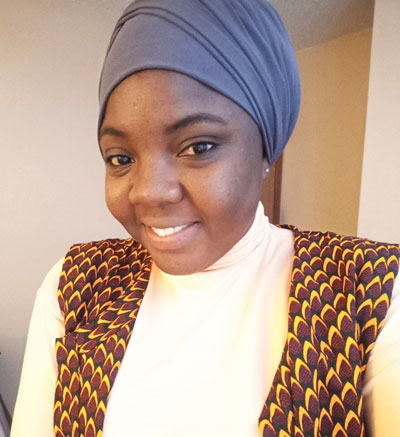 Hamdiatu Yakuba es de Ghana, África occidental. Recientemente completó sus estudios de idioma inglés en Kirkwood Community College y actualmente trabaja como pasante de comunicación y asistente de proyectos en una organización no gubernamental en su país. Le encanta la naturaleza, cocinar, ver películas, los idiomas, la escritura y la fotografía.