In our effort to bring good content to as many people as possible the text in this blog post has been machine translated so please excuse any mistakes. Thank you!
Johnny Nezha tarafından
Söylenmesi Gereken Güzel Gerçekler
İşte bu, bu mini dizinin son makalesi ve bana bakış açımı paylaşmak için platformlarını kullanma fırsatı verdiği için Study in the USA'e teşekkür etmek istiyorum.
Bu son makalede, her birimizin Amerika Birleşik Devletleri veya onun deneyimi için sahip olması gerektiğine inandığım bir gerekliliği paylaşmak istedim.
İnsanlık bencillik ve bencillik içinde boğulur ve biz kendimize sadece bir şeyin bizim için özel olarak ne yapabileceğini, biz düşünmeden onun için ne yapabileceğimizi sorarız.
Merak etmeye başlayın; Amerika'da eğitim almanın yanı sıra Amerika'ya neler ekleyebilirim? Ülkeye ne getiriyorum? Topluluğuma ne ekliyorum? Amerika veya Amerikalılar neden bana ihtiyaç duyabilir? Bu ülkeyi veya insanlarını daha iyi hale getirmek için ne yapabilirim?
Yukarıdaki soruların sizin kavrayış alanınızın üzerinde olduğunu düşünüyorsanız, tekrar düşünün. Her zaman 500'ü hedeflemenizi tavsiye ederim, çünkü onu vurma şansınız, onu hiç hedeflememenize göre daha yüksektir. Vurmazsanız, kesinlikle daha aşağıyı hedeflediğinizden daha yükseğe ulaşırsınız.
İlk yazımda bahsettiğim gibi, bu ülke potansiyel ve yapılacak şeylerle dolu. Derecenizi tamamladıktan sonra kendi ülkenize geri dönmeyi veya başka bir yere gitmeyi planlıyor olmanızın bir önemi yok, her zaman buna değecek bir zaman ayırmanız gerekir.
Geçen yıl evlendiğim için (evet, ikinci Covid dalgası sırasında) hayatımı yeniden değerlendirmeye başladım, bu sefer burada ABD'de kişisel olarak biliyorum ki bu ülkede daha iyi yerleşir kurmaz, istiyorum hükümete lobi yapabilmek.
İnsanların tıbbi faturalarda iflas etmediği evrensel bir sağlık hizmeti olmasını istiyorum. ABD'nin inovasyon, teknoloji ve çeşitli gücünü bir kez daha dünyaya liderlik etmek için komplo kurmak için kullanarak bir kez daha tepedeki parlayan şehir olmasını istiyorum. Belki de eskiden olduğu gibi tek süper güç değil, ama özgür dünyanın lideri olarak ABD'yi övmekten başka bir şeyim yok.
Bir düşünün, Amerika Birleşik Devletleri olmadan demokrasinin dünya çapında uygulanması zordu. Hepimiz serbest piyasa, rekabet ve kapitalizm sayesinde zenginleştik. Dünya, İkinci Dünya Savaşı'ndan sonra ABD'nin liderlik etmeye başlamasından bu yana çok daha barışçıl oldu.
Evet, hıçkırıklar oldu ve ABD hatalarını yaptı ama dürüst olmak gerekirse kim yapmadı? Her zaman tarihin kötü olduğunu söylemişimdir ve hepimiz tekil milletlerimize dönüp bakarsak, bir miktar toprak çaldık, bazı insanları öldürdük ve şimdi birbirimize hakları olan yerliler diyoruz.
Yine de ABD'nin en güzel yanı, daha iyisini yapmak isteyen ve yapmak isteyen çok içe dönük bir ulus olmasıdır. Ve bu konuda en çok sevdiğim şey bu.
Bu tür bir yetenekle, bu ulusun bir kez daha iyi kalpliliğini ve iyilikseverliğini artırabileceğini biliyorum.
ABD'de kalmayı planlıyorsanız, onu geliştirmek için elinizden gelenin en iyisini yapın ve ayrılmayı seçerseniz, deneyiminizden en iyi şekilde yararlanın ve bir evanjelik gibi dünyaya yayın.
ABD'de eğitim görmeyi seçtiğiniz için teşekkür ederiz ve yolculuğunuz mümkün olduğunca uzun sürsün.
Herşey gönlünce olsun,
Johnny Nezha
---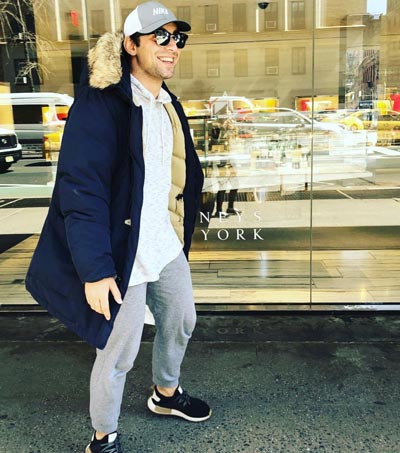 Johnny Nezha, Los Angeles City College'da Arnavut doğumlu, İtalyan yetiştirilmiş bir pazarlama öğrencisidir. Teknolojiyi ve inovasyonun gücünü seviyor ve Khleon adlı bir girişimin kurucusu. Hobileri gökyüzü gözlemciliği ve astronomidir.