In our effort to bring good content to as many people as possible the text in this blog post has been machine translated so please excuse any mistakes. Thank you!
Por Johnny Nezha
Lindas verdades que precisam ser ditas
Bem, é isso, o último artigo desta minissérie, e quero agradecer ao Study in the USA por ter me dado a oportunidade de usar sua plataforma para compartilhar minha perspectiva.
Neste último artigo, eu queria simplesmente compartilhar uma necessidade que acredito que cada um de nós deve ter pelos Estados Unidos ou por sua experiência.
A humanidade se afoga em auto-absorção e egoísmo, e nós apenas nos perguntamos o que algo especificamente pode fazer por nós, sem que pensemos - o que podemos fazer por isso.
Comece se perguntando; Além da oportunidade de estudar nos EUA, o que posso agregar aos Estados Unidos? O que estou trazendo para o país? O que estou adicionando à minha comunidade? Por que a América ou os americanos precisam de mim? O que posso fazer para tornar este país melhor ou seu povo?
Se você acha que as questões acima estão acima do seu reino de concepção, bem, pense novamente. Eu sempre aconselho mirar em 500, porque as chances são maiores de você acertar do que se você não mirar em tudo. Se você não acertar, certamente alcançará mais alto do que se mirasse mais baixo.
Como mencionei no meu primeiro artigo, este país está cheio de potencial e coisas a serem feitas. Não importa se você planeja voltar para seu país de origem ou ir para outro lugar após a conclusão do seu curso, você sempre precisa fazer com que valha a pena.
Como me casei ano passado (sim, durante a segunda onda de Covid), comecei a avaliar minha vida novamente, desta vez, aqui nos Estados Unidos eu pessoalmente sei que assim que me estabelecer melhor neste país, eu quero para ser capaz de fazer lobby junto ao governo.
Eu quero que haja saúde universal, onde as pessoas não vão à falência por conta de contas médicas. Eu quero que os EUA se tornem a cidade brilhante na colina mais uma vez por meio da inovação, da tecnologia e do uso de seu poder diversificado para conspirar para liderar o mundo mais uma vez. Talvez não como a única superpotência que costumava ser, mas não tenho nada além de elogios para os EUA como o líder do mundo livre.
Pense nisso, sem os Estados Unidos, a democracia teria dificuldade para ser implementada em todo o mundo. Todos nós ficamos mais ricos com o livre mercado, a competição e o capitalismo. O mundo está muito mais pacífico desde que os Estados Unidos começaram a liderá-lo após a Segunda Guerra Mundial.
Sim, houve soluços e os Estados Unidos cometeram seus erros, mas, honestamente, quem não cometeu? Sempre disse que a história é desagradável e, se todos olharmos para trás, para nossas nações singulares, provavelmente roubamos algumas terras, matamos algumas pessoas e agora nos chamamos de nativos com direito.
A parte mais bonita dos Estados Unidos, porém, é que é uma nação muito introspectiva que quer e está disposta a fazer melhor. E é isso que eu mais amo.
Eu sei que com este tipo de aptidão, esta nação pode crescer em benignidade e bom samaritanismo mais uma vez.
Se você planeja ficar nos Estados Unidos, faça o possível para melhorá-lo e, se decidir sair, aproveite o melhor da sua experiência e divulgue pelo mundo como um evangélico.
Obrigado por escolher vir estudar nos EUA e que sua viagem dure o máximo possível.
Tudo de bom,
Johnny Nezha
---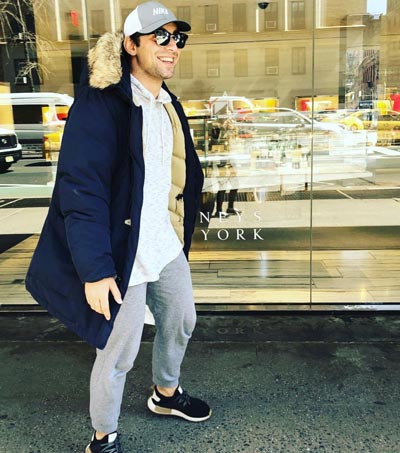 Johnny Nezha é um estudante de marketing nascido na Albânia e criado na Itália no Los Angeles City College. Ele adora tecnologia e o poder de sua inovação e é o fundador de uma startup chamada Khleon. Seus hobbies são observação do céu e astronomia.