In our effort to bring good content to as many people as possible the text in this blog post has been machine translated so please excuse any mistakes. Thank you!
Oleh Johnny Nezha
Kebenaran Indah yang Perlu Dikatakan
Nah, ini dia, artikel terakhir dari mini-seri ini, dan saya ingin berterima kasih kepada Study in the USA karena telah memberi saya kesempatan untuk menggunakan platform mereka untuk berbagi perspektif saya.
Dalam artikel terakhir ini, saya hanya ingin berbagi kebutuhan yang saya yakini setiap orang dari kita harus memilikinya untuk Amerika Serikat atau pengalamannya.
Kemanusiaan tenggelam dalam keegoisan dan egoisme, dan kita hanya bertanya pada diri sendiri apa yang bisa dilakukan sesuatu secara khusus untuk kita, tanpa kita pikirkan — apa yang bisa kita lakukan untuk itu.
Mulailah bertanya-tanya; Selain kesempatan belajar di AS, apa yang bisa saya tambahkan ke Amerika Serikat? Apa yang saya bawa ke negara ini? Apa yang saya tambahkan ke komunitas saya? Mengapa Amerika atau Amerika membutuhkan saya? Apa yang bisa saya lakukan untuk membuat negara ini lebih baik, atau rakyatnya lebih baik?
Jika Anda berpikir bahwa pertanyaan di atas berada di atas wilayah konsepsi Anda, nah, pikirkan lagi. Saya selalu menyarankan untuk membidik 500, karena kemungkinan Anda mencapainya lebih tinggi daripada jika Anda tidak membidiknya sama sekali. Jika Anda tidak memukulnya, Anda pasti mencapai lebih tinggi daripada jika Anda membidik lebih rendah.
Seperti yang saya sebutkan di artikel pertama saya, negara ini penuh dengan potensi dan hal-hal yang harus dilakukan. Tidak masalah jika Anda berencana untuk kembali ke negara asal Anda atau pergi ke tempat lain setelah menyelesaikan gelar Anda, Anda selalu harus membuatnya berharga.
Ketika saya menikah tahun lalu (ya, selama gelombang kedua Covid), saya mulai mengevaluasi hidup saya lagi, kali ini, di sini di AS saya pribadi tahu bahwa segera setelah saya menjadi lebih mapan di negara ini, saya ingin mampu melobi pemerintah.
Saya ingin ada perawatan kesehatan universal di mana orang tidak bangkrut karena tagihan medis. Saya ingin AS sekali lagi menjadi kota yang bersinar di atas bukit melalui inovasi, teknologi, dan menggunakan kekuatannya yang beragam untuk berkonspirasi dalam memimpin dunia sekali lagi. Mungkin tidak seperti satu-satunya negara adidaya dulu, tapi saya hanya memuji AS sebagai pemimpin dunia bebas.
Pikirkanlah, tanpa Amerika Serikat, demokrasi mengalami kesulitan untuk diterapkan di seluruh dunia. Kita semua menjadi lebih kaya melalui pasar bebas, persaingan, dan kapitalisme. Dunia menjadi jauh lebih damai sejak AS mulai memimpinnya setelah Perang Dunia II.
Ya, ada cegukan, dan AS telah melakukan kesalahannya, tapi jujur, siapa yang tidak? Saya selalu mengatakan sejarah itu jahat, dan jika kita semua melihat kembali ke negara kita yang tunggal, kemungkinan kita mencuri beberapa tanah, kita membunuh beberapa orang, dan sekarang kita saling memanggil penduduk asli dengan hak.
Bagian paling indah dari AS, bagaimanapun, adalah bahwa itu adalah negara yang sangat introspektif yang ingin dan bersedia melakukan yang lebih baik. Dan ini yang paling saya suka darinya.
Saya tahu bahwa dengan bakat seperti ini, bangsa ini dapat meningkatkan kedermawanan dan samaritanisme yang baik sekali lagi.
Jika Anda berencana untuk tinggal di AS, lakukan yang terbaik untuk meningkatkannya, dan jika Anda memilih untuk pergi, ambil yang terbaik dari pengalaman Anda dan sebarkan dunia seperti seorang evangelis.
Terima kasih telah memilih untuk datang belajar di AS, dan semoga perjalanan Anda berlangsung selama mungkin.
Semua yang terbaik,
Johnny Nezhan
---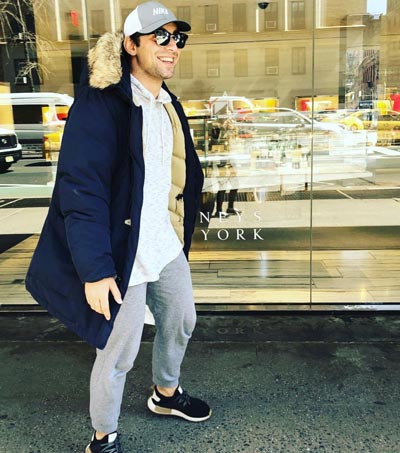 Johnny Nezha adalah mahasiswa pemasaran kelahiran Albania, dibesarkan di Italia, di Los Angeles City College. Dia mencintai teknologi dan kekuatan inovasinya dan merupakan pendiri startup bernama Khleon. Hobinya adalah mengamati langit dan astronomi.