In our effort to bring good content to as many people as possible the text in this blog post has been machine translated so please excuse any mistakes. Thank you!
Por Johnny Nezha
Hermosas verdades que deben decirse
Bueno, este es el último artículo de esta miniserie, y quiero agradecer a Study in the USA por haberme dado la oportunidad de usar su plataforma para compartir mi perspectiva.
En este último artículo, simplemente quería compartir una necesidad que creo que todos y cada uno de nosotros deberíamos tener para los Estados Unidos o la experiencia de los mismos.
La humanidad se ahoga en el egoísmo y el egoísmo, y solo nos preguntamos qué puede hacer algo específicamente por nosotros, sin que pensemos, qué podemos hacer por ello.
Empiece a preguntarse; Además de la oportunidad de estudiar en los EE. UU., ¿Qué puedo agregar a los Estados Unidos? ¿Qué traigo al país? ¿Qué estoy agregando a mi comunidad? ¿Por qué podrían necesitarme Estados Unidos o los estadounidenses? ¿Qué puedo hacer para mejorar este país o su gente?
Si cree que las preguntas anteriores están por encima de su ámbito de concepción, bueno, piénselo de nuevo. Siempre aconsejo apuntar a 500, porque las posibilidades de que lo consigas son más altas que si no lo haces en absoluto. Si no lo golpea, seguramente llegará más alto de lo que lo haría si apuntara más bajo.
Como mencioné en mi primer artículo, este país está lleno de potencial y cosas por hacer. No importa si planea regresar a su país de origen o ir a otro lugar al finalizar su título, siempre debe hacer que valga la pena.
Cuando me casé el año pasado (sí, durante la segunda ola de Covid), comencé a evaluar mi vida nuevamente, esta vez, aquí en los Estados Unidos, personalmente sé que tan pronto como me establezca mejor en este país, quiero para poder presionar al gobierno.
Quiero que haya atención médica universal donde la gente no se declare en quiebra con las facturas médicas. Quiero que Estados Unidos se convierta una vez más en la ciudad brillante de la colina a través de la innovación, la tecnología y el uso de su poder diverso para conspirar para liderar el mundo una vez más. Quizás no como la única superpotencia que solía ser, pero no tengo más que elogios para Estados Unidos como líder del mundo libre.
Piénselo, sin Estados Unidos, la democracia tuvo dificultades para implementarse en todo el mundo. Todos nos hicimos más ricos gracias al libre mercado, la competencia y el capitalismo. El mundo ha sido mucho más pacífico desde que Estados Unidos comenzó a liderarlo después de la Segunda Guerra Mundial.
Sí, ha habido contratiempos y Estados Unidos ha cometido sus errores, pero, honestamente, ¿quién no? Siempre he dicho que la historia es desagradable, y si todos miramos hacia atrás a nuestras naciones singulares, es probable que robemos algunas tierras, matemos a algunas personas y ahora nos llamemos nativos con derecho.
La parte más hermosa de Estados Unidos, sin embargo, es que es una nación muy introspectiva que quiere y está dispuesta a hacerlo mejor. Y esto es lo que más me gusta de él.
Sé que con este tipo de aptitud, esta nación puede volver a crecer en benignidad y buen samaritanismo.
Si planeas quedarte en los Estados Unidos, haz tu mejor esfuerzo para mejorarlo, y si eliges irte, aprovecha lo mejor de tu experiencia y difunde el mundo como un evangélico.
Gracias por elegir venir a estudiar a los EE. UU. Y que su viaje de placer dure el mayor tiempo posible.
Todo lo mejor,
Johnny Nezha
---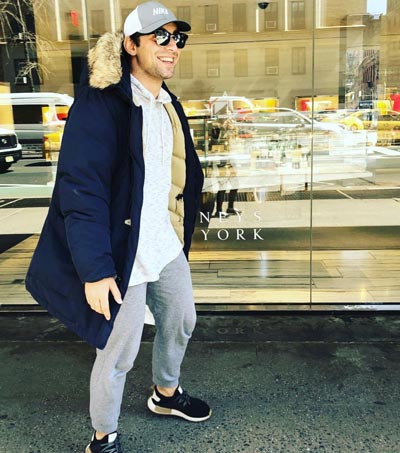 Johnny Nezha es un estudiante de marketing de origen albanés y criado en Italia en Los Angeles City College. Le encanta la tecnología y el poder de su innovación y es el fundador de una startup llamada Khleon. Sus pasatiempos son la observación del cielo y la astronomía.