In our effort to bring good content to as many people as possible the text in this blog post has been machine translated so please excuse any mistakes. Thank you!
Por Apple Wong
Cada história de amor é linda. Temos muitos tipos de amor, como afeto familiar, amizade e amor entre homens e mulheres. Além disso, existe um tipo de amor que é altruísta e não pede recompensa. Vale a pena ser mais querido e apreciado. Aqui está uma história de amor sobre meus vizinhos e uma garota.
Meus vizinhos são um casal de idosos, brancos, sem ninguém morando com eles e estão aposentados há mais de 20 anos. Uma jovem os visita todo Natal, mas eu a vi morando com eles neste verão por muito tempo. Aos poucos, fui me familiarizando com ela e ela me contou sua história.
A jovem tem 35 anos, é solteira e é asiático-americana. Ela imigrou para os Estados Unidos com seus pais quando tinha 12 anos. Seus pais trabalhavam em um pequeno restaurante asiático e suas jornadas de trabalho eram muito longas. Para cuidar dela, seus pais sempre a deixavam comer e fazer os deveres de casa no restaurante. O restaurante atendia principalmente os clientes para pedidos de comida para viagem, e havia apenas alguns clientes que comeriam no saguão, então ela sempre se sentava no saguão. Um dia, ela conheceu um casal lá. Uma vez, quando estava conversando com eles, ela mencionou que tinha interesse em tocar flauta, mas seus pais não tiveram tempo de levá-la para a aula. O que a surpreendeu foi que o casal realmente sugeriu que eles poderiam levá-la para a aula. Depois disso, eles a levaram para a aula todas as semanas e também fizeram anotações cuidadosas sobre os conselhos e comentários do professor para seus pais.
Mais tarde, ela e sua família se mudaram para Nova York, mas mantiveram contato por telefone. Quando ela se formou na universidade, seus pais também não tiveram tempo de comparecer à cerimônia de formatura, então o casal de idosos voou da Flórida para Nova York para comparecer à cerimônia. Eles estavam muito orgulhosos dela porque seus estudos eram muito bons. Após a formatura, ela conseguiu um emprego em Boston como atuário. Desde então, ela tem uma renda, para poder comprar passagens de avião para visitar o casal na Flórida. Ela escolhe principalmente o Natal para visitar o casal de idosos porque o inverno é muito frio em Boston, e o inverno da Flórida é muito bom. Desde a pandemia, ela pode trabalhar em casa, então ela voltou para Nova York para morar com seus pais. No entanto, neste verão, a mão do homem mais velho ficou ferida, então ela veio aqui para cuidar deles.
O que realmente me comoveu é que eles são pessoas completamente independentes e até de raças diferentes, mas o casal ama a menina como se fosse sua própria filha. A menina sempre se preocupou com eles, assim como seus avós, e seus pais também são muito respeitosos com o casal. O casal de idosos é muito carinhoso, fazendo quase tudo junto, todos os dias, o que é tão doce. Eles estão tão felizes que a garota pode vir visitá-los todos os anos. Acho que passar tempo com outras pessoas é a melhor maneira de expressar amor.
---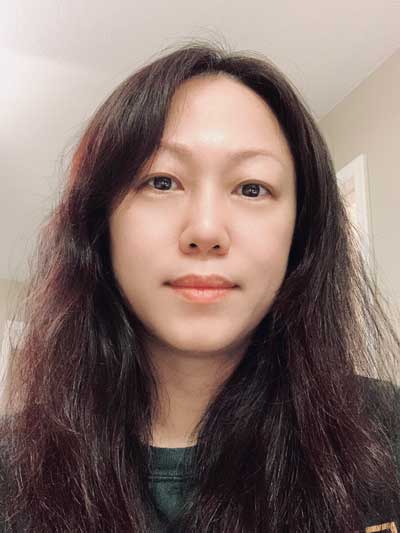 Apple Wong é estudante de inglês no Seminole State College em Sanford , Flórida. Ela é natural de Hong Kong, onde vive há 40 anos. Ela decidiu vir para os Estados Unidos com seus dois filhos, de 8 e 10 anos, para experimentar a educação americana. Ela está planejando estudar na universidade com seus filhos.