In our effort to bring good content to as many people as possible the text in this blog post has been machine translated so please excuse any mistakes. Thank you!
Oleh Apple Wong
Setiap kisah cinta itu indah. Kami memiliki banyak jenis cinta, seperti kasih sayang keluarga, persahabatan, dan cinta antara pria dan wanita. Selain itu, ada jenis cinta yang tidak mementingkan diri sendiri dan tidak meminta imbalan apa pun. Sangat berharga untuk lebih dihargai dan dihargai. Berikut adalah kisah cinta tentang tetangga saya dan seorang gadis.
Tetangga saya adalah pasangan kulit putih tua tanpa ada orang lain yang tinggal bersama mereka, dan mereka telah pensiun selama lebih dari 20 tahun. Seorang wanita muda mengunjungi mereka setiap Natal, tetapi saya melihatnya tinggal bersama mereka musim panas ini untuk waktu yang lama. Perlahan-lahan, saya menjadi akrab dengannya, dan dia menceritakan kisah mereka kepada saya.
Wanita muda itu berusia 35 tahun, lajang, dan keturunan Asia-Amerika. Dia berimigrasi ke Amerika Serikat dengan orang tuanya ketika dia berusia 12 tahun. Orang tuanya bekerja di sebuah restoran Asia kecil, dan jam kerja mereka sangat panjang. Untuk merawatnya, orang tuanya selalu membiarkannya makan dan mengerjakan pekerjaan rumah di restoran. Restoran terutama melayani pelanggan untuk pesanan takeaway, dan hanya ada beberapa pelanggan yang akan makan di lobi, jadi dia selalu duduk di lobi. Suatu hari, dia bertemu dengan pasangan di sana. Suatu kali ketika dia mengobrol dengan mereka, dia menyebutkan bahwa dia tertarik untuk bermain seruling tetapi orang tuanya tidak punya waktu untuk membawanya ke kelas. Yang mengejutkannya adalah pasangan itu benar-benar menyarankan agar mereka membawanya ke kelas. Setelah itu, mereka membawanya ke kelas setiap minggu, dan mereka juga dengan hati-hati menuliskan catatan tentang nasihat dan komentar guru untuk orang tuanya.
Kemudian, dia dan keluarganya pindah ke New York, tetapi mereka tetap berhubungan melalui telepon. Ketika dia lulus dari universitas, orang tuanya juga tidak punya waktu untuk menghadiri upacara kelulusan, sehingga pasangan tua itu terbang dari Florida ke New York untuk menghadiri upacara tersebut. Mereka sangat bangga padanya karena studinya sangat bagus. Setelah lulus, dia mendapat pekerjaan di Boston sebagai aktuaris. Sejak itu, dia memiliki penghasilan, sehingga dia bisa membeli tiket pesawat untuk mengunjungi pasangan di Florida. Dia kebanyakan memilih Natal untuk mengunjungi pasangan tua karena musim dingin di Boston sangat dingin, dan musim dingin Florida sangat baik. Sejak pandemi, dia bisa bekerja di rumah, jadi dia pindah kembali ke New York untuk tinggal bersama orang tuanya. Namun, musim panas ini, tangan lelaki tua itu terluka, jadi dia datang ke sini untuk merawat mereka.
Apa yang benar-benar menggerakkan saya adalah bahwa mereka adalah orang-orang yang sama sekali tidak berhubungan dan bahkan ras yang berbeda, tetapi pasangan itu mencintai gadis itu seperti anak mereka sendiri. Gadis itu selalu peduli dengan mereka, seperti kakek-neneknya, dan orang tuanya juga sangat menghormati pasangan itu. Pasangan tua itu sangat mencintai, melakukan hampir semua hal bersama-sama, setiap hari, yang sangat manis. Mereka sangat senang gadis itu bisa datang mengunjungi mereka setiap tahun. Saya pikir menghabiskan waktu bersama orang lain adalah cara terbaik untuk mengungkapkan cinta.
---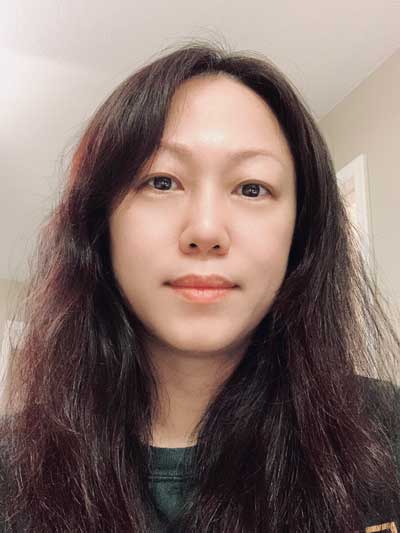 Apple Wong adalah mahasiswa bahasa Inggris di Seminole State College di Sanford , Florida. Dia berasal dari Hong Kong, tempat dia tinggal selama 40 tahun. Dia memutuskan untuk datang ke Amerika Serikat dengan dua anaknya, usia 8 dan 10, untuk mengalami pendidikan Amerika. Dia berencana untuk belajar di universitas dengan anak-anaknya.