In our effort to bring good content to as many people as possible the text in this blog post has been machine translated so please excuse any mistakes. Thank you!
Por Apple Wong
Cada historia de amor es hermosa. Tenemos muchos tipos de amor, como el afecto familiar, la amistad y el amor entre hombres y mujeres. Además, existe una especie de amor desinteresado y que no pide recompensa. Vale la pena ser más apreciado y apreciado. Aquí hay una historia de amor sobre mis vecinos y una niña.
Mis vecinos son una pareja de ancianos blancos sin otros que vivan con ellos, y han estado jubilados por más de 20 años. Una joven los visita cada Navidad, pero la vi viviendo con ellos este verano durante mucho tiempo. Poco a poco me fui familiarizando con ella y me contó su historia.
La joven tiene 35 años, es soltera y asiático-americana. Emigró a los Estados Unidos con sus padres cuando tenía 12 años. Sus padres trabajaban en un pequeño restaurante asiático y sus horas de trabajo eran muy largas. Para cuidarla, sus padres siempre la dejaban comer y hacer los deberes en el restaurante. El restaurante atendía principalmente a los clientes para pedidos de comida para llevar, y solo había unos pocos clientes que comían en el vestíbulo, por lo que siempre se sentaba en el vestíbulo. Un día, conoció a una pareja allí. Una vez, cuando estaba charlando con ellos, mencionó que estaba interesada en tocar la flauta pero que sus padres no tenían tiempo para llevarla a clase. Lo que la sorprendió fue que la pareja sugirió que podían llevarla a la clase. Después de eso, la llevaron a clase todas las semanas, y también tomaron notas cuidadosamente sobre los consejos y comentarios de la maestra para sus padres.
Más tarde, ella y su familia se mudaron a Nueva York, pero se mantuvieron en contacto por teléfono. Cuando se graduó de la universidad, sus padres tampoco tuvieron tiempo de asistir a la ceremonia de graduación, por lo que la pareja de ancianos voló de Florida a Nueva York para asistir a la ceremonia. Estaban muy orgullosos de ella porque sus estudios eran muy buenos. Después de graduarse, consiguió un trabajo en Boston como actuario. Desde entonces, ha tenido ingresos, por lo que puede comprar boletos de avión para visitar a la pareja en Florida. En su mayoría, elige la Navidad para visitar a la pareja de ancianos porque el invierno es muy frío en Boston y el invierno de Florida es muy bueno. Desde la pandemia, puede trabajar en casa, por lo que se mudó a Nueva York para vivir con sus padres. Sin embargo, este verano, la mano del anciano resultó herida, por lo que vino aquí para cuidarlos.
Lo que realmente me conmovió es que son personas completamente desvinculadas e incluso de diferentes razas, pero la pareja ama a la niña como a su propia hija. La niña siempre se preocupó por ellos, al igual que sus abuelos, y sus padres también son muy respetuosos con la pareja. La pareja de ancianos es muy cariñosa, haciendo casi todo juntos, todos los días, que es muy dulce. Están muy contentos de que la niña pueda venir a visitarlos todos los años. Creo que pasar tiempo con los demás es la mejor forma de expresar amor.
---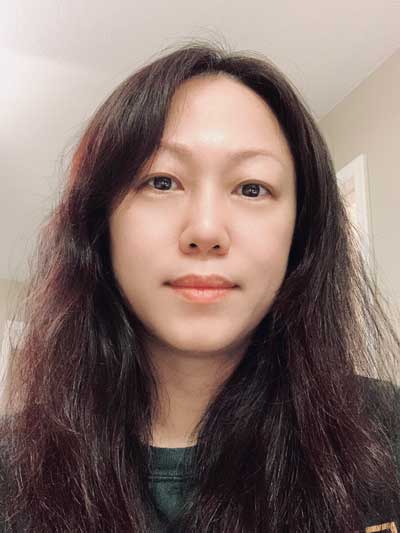 Apple Wong es estudiante de inglés en Seminole State College en Sanford , Florida. Es originaria de Hong Kong, donde ha vivido durante 40 años. Decidió venir a los Estados Unidos con sus dos hijos, de 8 y 10 años, para experimentar la educación estadounidense. Ella planea estudiar en la universidad con sus hijos.