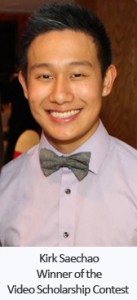 In our effort to bring good content to as many people as possible the text in this blog post has been machine translated so please excuse any mistakes. Thank you!
Our second winner, Daniel Guerriero, had support from his family using the sponsor component of the $40K scholarship. When Daniel was asked how he learned about the GotScholarship he said "I thought it was way too good to be true. However, while I was looking at all of the possible scholarships I was eligible for I figured that I might as well give this scholarship a shot. It was really simple to sign up for the scholarship."
Kirk Saechao won GotChosen's most recent Lights, Camera, Action Video Scholarship. Kirk made a short film about the role-playing video game MapleStory. "The game encourages social networking and interaction between players," says Kirk, "and thus I stumbled upon the foundations of my story; a boy and a girl falling for one another in an online video game. Two days of filming and several hours of editing later, "Maple Love Story" was completed with the help of my roommate and two close friends." 
"But," Kirk says, "perhaps making the short film was the easy part, the hard part was to get people to actually watch and vote for my video. Throughout my college experience, I networked and made a point to meet as many people as possible. I am very deeply involved with many Asian-American groups on campus plus I am a member of a large national fraternity. I went out to these groups and asked them for their support in my endeavor to which they happily obliged." To read the exciting culmination to Kirk's big win go to 
GotChosen/News
. [caption id="attachment_1922" align="aligncenter" width="270"]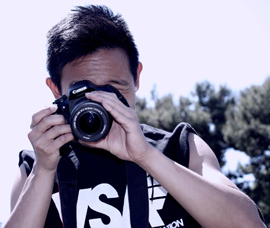 Kirk in action
[/caption]