Next GotScholarship $40K Give Away scheduled for October 2013
Our second winner, Daniel Guerriero, had support from his family using the sponsor component of the $40K scholarship. When Daniel was asked how he learned about the GotScholarship he said "I thought it was way too good to be true. However, while I was looking at all of the possible scholarships I was eligible for I figured that I might as well give this scholarship a shot. It was really simple to sign up for the scholarship."
Kirk Saechao won GotChosen's most recent Lights, Camera, Action Video Scholarship. Kirk made a short film about the role-playing video game MapleStory. "The game encourages social networking and interaction between players," says Kirk, "and thus I stumbled upon the foundations of my story; a boy and a girl falling for one another in an online video game. Two days of filming and several hours of editing later, "Maple Love Story" was completed with the help of my roommate and two close friends." 
"But," Kirk says, "perhaps making the short film was the easy part, the hard part was to get people to actually watch and vote for my video. Throughout my college experience, I networked and made a point to meet as many people as possible. I am very deeply involved with many Asian-American groups on campus plus I am a member of a large national fraternity. I went out to these groups and asked them for their support in my endeavor to which they happily obliged." To read the exciting culmination to Kirk's big win go to 
GotChosen/News
. [caption id="attachment_1922" align="aligncenter" width="270"]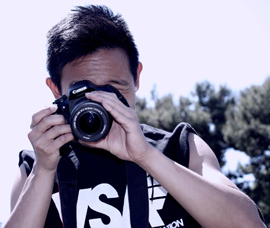 Kirk in action
[/caption]
Get matched to the best program for you
Let us know what you're looking for so we can find the best school for you.
$10,000 — $15,000 Year
Undergraduate
2yr/Community College - 2+2 Programs
Certificate/Short Term
$5,000—$10,000 Semester
Certificate/Short Term
Bachelor Degree
2yr/Community College - 2+2 Programs
$15,000—$20,000 Year
Bachelor Degree
Masters
Undergraduate
Start your U.S. adventure with Study in the USA
What's your dream? We can guide, advise, and connect you with your perfect U.S. school. We can also help you with the application process.
Partner Services
Learn About U.S. education financing, housing, and more
Most U.S. apartments come unfurnished. Make your move easy with a student furniture rental package from CORT. Flexible lease terms. Delivered before you arrive. Starting at $99 per month.* *with a 12-month lease
Study in the USA's advisors can work with you to navigate the requirements to study abroad in the USA, UK, Canada, and Australia. We help you find the right school and apply.
Uniplaces is an accommodation provider with a large choice of verified rooms, entire flats and residences. The platform offers an easy, fast and safe way of booking a place to live. Check out the thousands of properties in the best cities and book a...
Resources
Learn about American culture and education direct from our experts at Study in the USA. Read more