In our effort to bring good content to as many people as possible the text in this blog post has been machine translated so please excuse any mistakes. Thank you!
Por Johnny Nezha
Hermosas verdades que deben decirse
Si ha estado al tanto de mi serie de blogs de "Verdades duras que deben decirse", decidí transformarlo en algo más atractivo y atractivo ahora, y quizás, más inspirador.
Hablemos de las "hermosas" verdades que hay que decir, pero nadie las ha mencionado por no tener ni idea al respecto.
Cómo ganar dinero en los EE. UU. Como estudiante con visa F-1
Lo que voy a transmitir en este momento son todas las formas legales de ganar dinero en los Estados Unidos como estudiante con visa F-1, y requieren una gran diligencia.
Todos sabemos que uno de los peligros de venir a los EE. UU. Como estudiante internacional es que estamos extremadamente limitados en las actividades en las que podemos participar. El gobierno de EE. UU. Es muy prohibitivo y punitivo con los estudiantes que trabajan sin permiso.
Sin embargo, el gobierno dejó cierto margen de maniobra para ganar dinero en los EE. UU., Aunque de formas poco convencionales pero completamente legales.
Para comenzar, el primer día en los EE. UU., Busque un trabajo en el campus y trabaje al menos durante un semestre. Esto le otorgará elegibilidad para solicitar una tarjeta de Seguro Social, que más adelante comprenderá por qué esto es tan relevante.
Trabajar en el campus es de conocimiento común que todos los estudiantes F-1 conocen como una forma segura de obtener ingresos (fuera de CPT y OPT), pero con toda sinceridad, lo siento, amigo, no es suficiente. Si vive en una gran ciudad o en un estado caro, como yo, su empleo en el campus apenas cubrirá su alquiler en Los Ángeles. Eso es. Es una gran ayuda, pero no sorprendentemente.
Opción 1: El mercado de valores
Sin embargo, si realmente quieres ganar ese dinero (porque seamos sinceros, el dinero habla), no debes disculparte por ello. El dinero es poder y el dinero es libertad. Llegaste a un país capitalista, donde todo está a la venta, incluidos los políticos. Luego, debe comenzar a invertir en el mercado de valores.
No estoy brindando asesoramiento financiero aquí, no me he especializado en finanzas ni tengo títulos / títulos / experiencia para respaldar ningún reclamo, ni usted necesita nada de eso.
Hay mucha información de bricolaje en línea además de una gran cantidad de información sobre las existencias calientes. Entonces, ¿por qué las existencias? Porque esta es la mejor forma de generar riqueza para ti. Puede poner $ 500, y si tiene buena intuición y buen ojo para los mercados, eso se puede multiplicar a $ 5,000. Por supuesto, cuanto más ingrese, mejor, sin embargo, también tendrá pérdidas. Todos sabemos que la economía está de mal humor y sube y baja. Tenga cuidado con las estafas y solo compre acciones a través de canales establecidos con credibilidad en los EE. UU. Tenga en cuenta que no verá los resultados de inmediato, y debe estar dispuesto a jugar el largo juego de la paciencia. Además, no podrá comerciar en absoluto sin un número de seguro social. Sin embargo, los dividendos (y los impuestos que paga por sus ganancias en el mercado) son una forma completamente saludable y legal para que los estudiantes con visa F-1 ganen dinero.
Opción 2: poseer una propiedad
Su segunda opción (aunque muy poco probable para la mayoría de los lectores, incluido yo) es la compra de bienes raíces y convertirse en propietario. Nuevamente, ni siquiera tiene que tener ningún estatus en los EE. UU. Para poder comprar una propiedad y alquilarla a los inquilinos, lo que genera ingresos pasivos. Pero esto requiere una gran cantidad de capital inicial y, según mi último artículo sobre puntajes crediticios, los bancos son muy reticentes a prestar hipotecas o préstamos a personas que no son estadounidenses. A menos que tenga familiares en los EE. UU. Que estén dispuestos a responder por usted, pero aún así, ese es un gran compromiso de su parte, no apueste sus velas a eso. A menos que, por supuesto, sea millonario, en cuyo caso, si lo es, vaya a ver a un asesor financiero, ¿por qué está leyendo este artículo? jajaja
Opción 3: inversión ángel y crowdfunding
Su tercera opción sería la inversión ángel y el crowdfunding. Como puede ver, el patrón aquí se basa principalmente en la inversión, porque esa es la única forma de generar riqueza para usted, legalmente, mientras está en el estado F-1 sin poner en peligro su vida con el USCIS. Puede invertir en nuevas empresas emergentes por tan solo $ 1,000 y puede ayudar a las empresas a recaudar sus rondas de fondos con tan solo $ 100 dólares a través del crowdfunding. Claro, podrías perder todo ese dinero, ooooorrr, puedes convertirte en millonario una vez que lo domines y seas consciente del mundo y el futuro que te rodea.
También he visto a personas comprar autos y luego revenderlos o voltear casas, pero todas estas actividades requieren una gran cantidad de dinero en efectivo por adelantado, así que no voy a divulgar mucho sobre ellas.
Espero que este artículo te haya sido de utilidad y te deseo una abundante y próspera estadía en los Estados Unidos de América. ¡Buena suerte!
---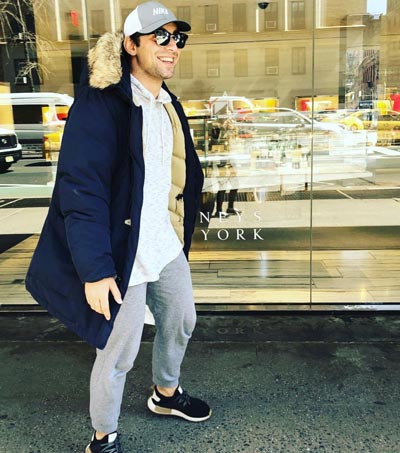 Johnny Nezha es un estudiante de marketing de origen albanés y criado en Italia en Los Angeles City College . Le encanta la tecnología y el poder de su innovación y es el fundador de una startup llamada Khleon. Sus pasatiempos son la observación del cielo y la astronomía.