What Every International Student Should Know in the Time of COVID-19
By Pietro Rossini
The fall semester is approaching, and several international students are going to join the U.S. college community. However, this time is different from others because of the COVID-19 pandemic.
Last year, almost the totality of the U.S. campuses shut down and moved classes online. Some international students remained in the U.S. while others had to fly back to their home countries.
In 2020 scientists had not released any COVID vaccines yet. On the other hand, this year is different. According to the CDC website, 69% of the American population received at least one dose of vaccination against the virus.
The delta variant is threatening lives (mostly in U.S. counties with a low vaccination rate). However, many colleges around the country announced that they will go back to full in-person classes for the fall semester of 2021.
That is why international students should collect their documentation as soon as possible.
The first document international students will need to come to the States is the I-20 form — released by their college or institution. Once they have this document, students will apply for an appointment at the American embassy or consulate in their home country. The consulate, then, will release the visa needed to enter the U.S.
This process is not as easy as it may look. Mostly now, in the time of a pandemic, getting a visa should not be taken for granted. In effect, several embassies and consulates around the globe are shutting down, and they are not making any appointments available for international students.
This was Nini Mtchedlishvili's case, an incoming international student at Boston University (BU) from Georgia (Europe). She received her I-20 on June 20th after a long process.
"The process itself was very complicated," Mtchedlishvili shared with StudyUSA.com. "I needed to give proof of financial coverage for my tuition expenses to get an I-20."
Mtchedlishvili had to ask for a loan in advance to comply with the financial requirement. "The loan took me more than two months," she said.
However, after getting the I-20 at the end of June, Mtchedlishvili had to book an appointment with the American embassy in Georgia. Mtchedlishvili could not believe her eyes when looking on the embassy's website, she saw that no appointment was available for international students.
Mtchedlishvili started calling the U.S. embassy, feverishly, every day. The embassy replied that the first appointment available would have been in February 2022. That was too late for Mtchedlishvili who has to start her master's at BU in September 2021.
"Boston University helped in this process trying to schedule an emergency appointment," said Mtchedlishvili. "However, that also didn't work!"
"That's why I chose to write an open letter to the U.S. ambassador in Georgia," Mtchedlishvili said. "I had nothing left to lose!"
Many of Mtchedlishvili's friends shared the open letter on their social media accounts, and finally, Mtchedlishvili got the appointment and also her F-1 visa needed to come to the States.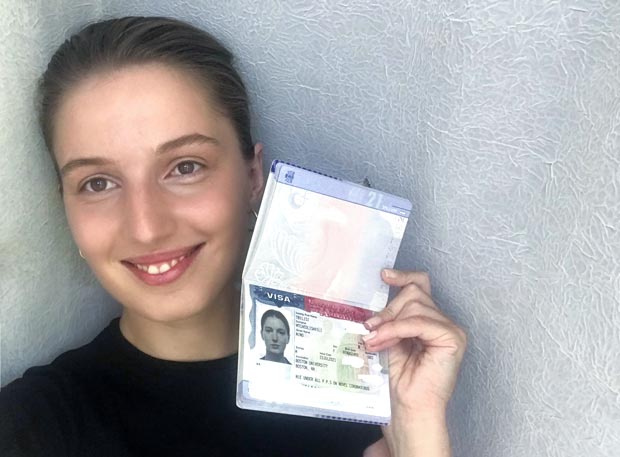 Mtchedlishvili is not the only case. Many other international students worldwide are struggling with getting the needed documentation to enter the U.S. in fall 2021.
That is why if you are one of them, you should take the following into consideration:
If you need a loan to pay for your studies, ask for that ahead of time. It can take even longer than two months as was the case of Mtchedlishvili.

Ask your university to release your I-20 form as soon as possible (to do it you need to have proof that you can pay the tuition for the full term of your studies).

Contact the American embassy and ask for an appointment. If that is denied, contact your school in the U.S. and ask for their assistance in mediating an emergency appointment for you. If that does not work either, you should contemplate the possibility of writing an open letter to the ambassador following the Mtchedlishvili example.

"I would sincerely suggest the students who are facing the same challenges to speak up respectfully," Mtchedlishvili said. "Tell your story, and I am absolutely sure the embassies will consider your requests as well!"

When you get your visa to enter the U.S., you should consider that you cannot enter the States prior 30 days before the starting of classes (you can find the exact date on your I-20 under "EARLIEST ADMISSION DATE").

You should also start collecting your immunization history as soon as possible. Your university health center will require some immunization to admit you to class. Generally, universities allow students to receive the immunizations they need while on campus. However, the best way to be sure to know what you need is to contact your university's health center. Consider also that in the U.S. college requires full-time students to have health insurance to cover every possible medical service while studying.

Housing and commuting are two important factors to take into account before coming to the U.S. The best way to find housing and tips about a better place to live is to join online groups with other students. For instance, Facebook is a great platform for that. In college groups, you will find recommendations from people who already live in the U.S., and you could even try to match with a roommate to share the expenses.

The last but not least tip for you is to try to connect with as many people as you can even before arriving in the U.S. If it's the first time for you to live abroad, you should be ready for what the specialists call "cultural shock." Nobody is exempt from it. You will live in a new culture, speaking a different language from your own and with people whom you've never met before. That's why the more connections you make, the easier and better inclusion you will find in this country during your studies.
Good luck with your visa process. For the U.S. is waiting for you to help you build your career and your future!
---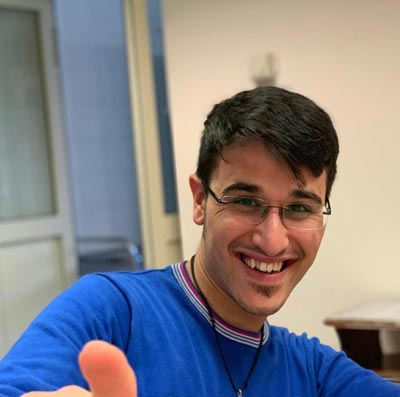 Pietro Rossini is a Xaverian Missionary who will be attending Boston University to study for a masters in journalism. His dream is to collect and share stories of humanity around the globe, making the world a single family.
Written by
Pietro Rossini
Get matched to the best program for you
Let us know what you're looking for so we can find the best school for you.
$5,000—$10,000 Semester
Certificate/Short Term
Bachelor Degree
2yr/Community College - 2+2 Programs
$10,000 — $15,000 Year
Bachelor Degree
English Programs
Certificate/Short Term
$20,000—$25,000 Semester
2yr/Community College - 2+2 Programs
Certificate/Short Term
Bachelor Degree
Start your U.S. adventure with Study in the USA
What's your dream? We can guide, advise, and connect you with your perfect U.S. school. We can also help you with the application process.
Partner Services
Learn About U.S. education financing, housing, and more
Study in the USA's advisors can work with you to navigate the requirements to study abroad in the USA, UK, Canada, and Australia. We help you find the right school and apply.
Let us help you through your U.S. visa application process. GET STARTED NOW!
BetterHelp is the world's largest therapy service, and it's 100% online. You get the same professionalism and quality you expect from in-office therapy, but with access to a huge network of therapists, more scheduling flexibility, and at a more affor...
Testimonials
Study in the USA provides me with information about new colleges. My plan is to transfer, so it gives me more options for choosing my next college.
You are an excellent guide to know the study process and have a successful results. Thanks for everything!
Alberto Luzardo Venezuela
Study in the USA has made interviews with many students that live in the USA.
Resources
Learn about American culture and education direct from our experts at Study in the USA. Read more