In our effort to bring good content to as many people as possible the text in this blog post has been machine translated so please excuse any mistakes. Thank you!
Par Apple Wong
Il y a quelque temps, j'ai essayé un régime spécial pendant deux semaines avec mon camarade de classe pour perdre du poids. En raison de la pandémie, je restais à la maison la plupart du temps, et sans m'en rendre compte, j'avais pris plus de poids parce que je mangeais plus et bougeais moins. Le régime spécial comprenait la consommation d'un demi-pamplemousse à chaque repas, aucune limite de légumes et de viande, mais pas de glucides. Par conséquent, j'ai perdu cinq livres après deux semaines. Cependant, ma camarade de classe, qui est déjà très mince, l'a essayé pendant quelques jours et a abandonné parce qu'elle pensait que le régime n'était pas sain. Moi, cependant, je suis tombé amoureux du pamplemousse de Floride, si doux et juteux.
Quand je suis arrivé aux États-Unis, j'étais gros. Dans le passé, mon poids était assez standard, mais après avoir donné naissance à mes enfants, mon poids n'est jamais revenu. Puis, quand j'ai déménagé aux États-Unis, la nourriture dans les supermarchés et les restaurants était toute nouvelle pour moi. Essayer de nouveaux aliments est devenu mon passe-temps, alors j'ai pris dix kilos de plus en deux mois, et mon fils et ma fille aussi. Malheureusement, mon poids avait déjà commencé à menacer ma santé. J'avais de l'hypertension, du diabète, des douleurs articulaires et d'autres problèmes de santé. J'avais l'impression que ma condition physique était plutôt celle d'une personne de plus de 60 ans, mais j'ai à peine 40 ans. Le médecin m'a conseillé de prendre des médicaments pour contrôler mon diabète, mais je suis un peu résistante. J'ai peur que la quantité de médicaments ne fasse qu'augmenter à mesure que je vieillis. Même si je n'avais pas réussi à perdre du poids plus de 1 000 fois, je pensais toujours que je pouvais le contrôler. Par conséquent, je me suis regardé dans le miroir et je me suis dit que je devais prendre ce problème au sérieux. Si je n'arrive pas à gérer mon poids, comment puis-je gérer ma vie ?
D'abord, je devais soigner mes douleurs articulaires car mes pieds et mes doigts me faisaient mal tous les jours, ce qui affectait mon quotidien. Je ne pouvais pas courir et j'avais du mal à monter les escaliers. J'avais peur d'avoir de la polyarthrite rhumatoïde parce que j'ai ces mauvais gènes. Je pensais que courir serait un bon entraînement pour mes articulations, alors j'ai acheté un tapis roulant et mis en place un programme de course - tous les deux jours pendant une demi-heure. Au début, chaque étape était difficile. J'ai voulu abandonner tellement de fois, mais je me suis encouragé à devoir persister. En conséquence, j'ai continué à courir pendant un mois et toutes mes douleurs articulaires ont disparu. La course à pied a des résultats étonnants.
En plus de l'exercice, j'ai également contrôlé mon alimentation. Certains de mes symptômes inconfortables étaient dus au diabète. Par exemple, une fois que j'avais faim, j'avais des vertiges, des mains tremblantes et des sueurs froides. Par conséquent, j'ai réduit les glucides et le sucre dans mon alimentation. De plus, j'ai fait quelques expériences pour tester la réaction de mon corps aux différents types d'aliments et au moment de manger. Je voulais savoir combien de temps j'étais capable de tenir sans manger de nourriture et seulement boire de l'eau. Je devais généralement manger toutes les deux heures afin d'éviter ces symptômes inconfortables. Cependant, peu à peu, j'ai réalisé que ces symptômes étaient temporaires et que je pouvais les surmonter. Grâce à ces expériences, j'ai mieux compris l'état de mon corps et mis en place un régime alimentaire approprié. Finalement, j'ai perdu 40 livres en un an environ et j'ai également obtenu un bonus auquel je ne m'attendais pas. En raison de mon influence, mon fils a perdu 30 livres et ma fille a perdu 20 livres en trois mois. J'ai inversé ma maladie, je suis resté à 120 kilos pendant deux ans, et courir est devenu mon habitude !
Depuis la pandémie de COVID-19, nous passons tous plus de temps à la maison sans activité et avons donc un risque plus élevé de grossir. Cependant, l'obésité peut tuer notre santé. J'espère que tout le monde reste en bonne santé et continue de faire de l'exercice. Être en bonne santé est notre capital pour lutter pour l'avenir.
---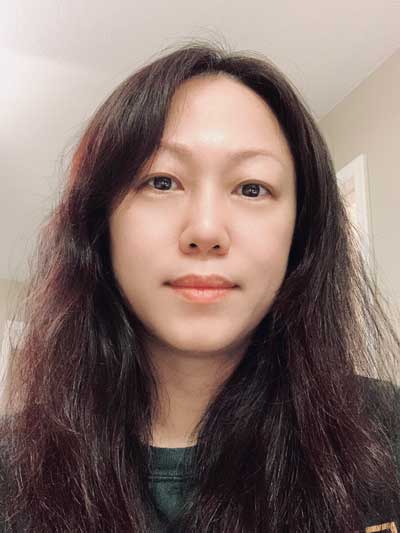 Apple Wong de Hong Kong est une étudiante en anglais au Seminole State College de Sanford, en Floride. Elle a décidé de venir aux États-Unis avec ses deux enfants, âgés de 8 et 10 ans, pour faire l'expérience de l'éducation américaine.