In our effort to bring good content to as many people as possible the text in this blog post has been machine translated so please excuse any mistakes. Thank you!
Johnny Nezha tarafından
Söylenmesi Gereken Acı Gerçekler
İşte buradasınız, ABD'deki yeni uluslararası öğrenci yaşamınızın sevincini yaşıyorsunuz - yeni arkadaşlar ediniyor ve yeni bir kültürü özümsüyor. İstediğin buydu, değil mi? Amerika, hayaller ülkesi, fırsatlar ülkesi, "eğer onu çalıştırmaya istekliysen" ülkesi - neden işe yaramaması için hiçbir sebep yok.
Beklenmedik bir şey olana kadar. Belki de eski benliğinizi kurban edecek kadar çok şey özümsüyor olabilirsiniz. ABD'ye ilk taşındığımda, Avrupa'ya dönerken ailem ve arkadaşlarımla sürekli görüntülü sohbet ettiğimi hatırlıyorum. Amerika'yı çok yargılayıcı bakışlarla ve algılarla eleştiriyordum ve sadece "ev" arkadaşlarımın anlayacağını hissettim. Elbette Avrupa'dan olduğumuz için entelektüel üstünlük kompleksimizle gurur duymamız öğretildi.
Bu strateji ilk yıl işe yarayacak, ikinci yılda yerleşecek ve ABD'deki hayatınızın art arda üçüncü yılında solmaya başlayacak Son yılınızda geri dönüşün olmadığını anladınız. Memleketinizdeki arkadaşlarınızla sohbetleriniz artık eskisi gibi değil. Bu iki nedenden dolayı olur.
Sizin tarafınızda bir zihniyet paradigması değişimi
Bir zihniyet paradigması sonunda (nerede yaşadıklarına bağlı olarak) gecikiyor
Hayatlarınız birbirinden ayrılacak. Bu sadece doğaldır. Sizinle, kendi ülkenizle veya ABD'yle ilgisi yok Sizi en çok cezbeden ve heyecanlandıran şey, şimdi zayıf, sıkıcı ve titrek görünüyor.
Hepiniz sadece geçmiş hakkında konuşabilecek ve mesajlar ertelenene kadar, sohbet etmek için daha az müsaitlik (veya niyet) olacak ve evet, hayat olacak.
ABD'de yaşam size çığ gibi çarpacak. Hızlı tempolu. Bu iddialı. Aşık olabilirsin/düşeceksin. Evlenebilirsin. Çocuklar düşünün. Farklı şeylerden zevk almaya başlayın. Ve tüm bunlarla birlikte, artık eski kalabalığınızla hava almayacaksınız.
En kötü yanı? Tatiliniz eve döndü. Ailenizde 5 yıldan fazla bir süre ayrı kaldığınızda olması muhtemel bir değişimin yanı sıra, ayrıca eski arkadaşlarınızla kahve içmeye çıkmanız gerekecek. Yakalamak için. 18 yaşında aldığın ve son birkaç yıldır kullanmadığın ilk arabana biniyorsun, ara sokaklardan geçiyorsun (biliyorsun, İtalya'da yaşadım, orada her şey minicik) ve nostalji her köşede seni vuruyor. bir çocukluk anısı yaptın. Kahve dükkanına gidiyorsunuz, oturuyorsunuz, arkadaşlarınıza sarılıyorsunuz, şakalaşıyorsunuz, lise profesörünüz hakkında saçma sapan şeyler konuşuyorsunuz, aaaaaa ve sonra garip crack şovunun başlamasına izin veriyorsunuz. Çok yıllık sessizlik. "Onur sistemini" tetiklemek istediğiniz için kendinizi içine soktuğunuz rahatsız edici durumdan kurtulmak için bir ihtiyaç olarak telefonunuzu kontrol etmeye başlıyorsunuz. Amerika'dan yeni gelmiş olmak ve eski arkadaşlarına merhaba dememek istemezdin, değil mi? Ve siz "Vay canına, artık burada hiçbir şey yok"u anlayana kadar sizinle tanışmaya razı olacaklar, evet diyecekler. Hepimiz açıkça değiştik ve şu anda çok fazla ortak noktamız yok, hatta bir kahve sohbetini sürdürmek / sürdürmek için bile.
İşte o zaman anlarsın, ayy, sanırım burada gerçekten işim bitti, değil mi?
Lütfen, vatanınızı terk etmeye karar verdiğinizde, aynı şekilde geri dönmeyeceğinizi unutmayın. Bu sadece hayatın döngüsü. Alınmadım. Ve geride bıraktıkların büyük ihtimalle seni beklemek için orada olmayacak. Tutkular yok olacak. Aynı şekilde, enerjilerimizin uyumu ve yaşam zevklerimiz gibi.
---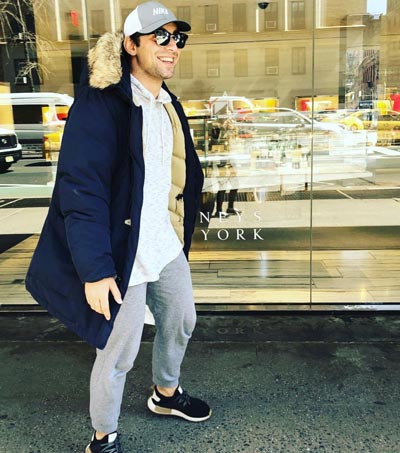 Johnny Nezha, Los Angeles City College'da Arnavut doğumlu, İtalyan yetiştirilmiş bir pazarlama öğrencisidir. Teknolojiyi ve inovasyonun gücünü seviyor, Khleon adlı bir girişimin kurucusudur ve iş dışı hobileri gökyüzü gözlemciliği ve astronomidir.