In our effort to bring good content to as many people as possible the text in this blog post has been machine translated so please excuse any mistakes. Thank you!
Por Johnny Nezha
Verdades difíceis que precisam ser ditas
Aí está você, regozijando-se com sua nova vida de estudante internacional nos Estados Unidos - fazendo novos amigos e absorvendo uma nova cultura. Isso é o que você queria, certo? América, a terra dos sonhos, a terra das oportunidades, a terra "se você tiver a vontade de fazer funcionar" - não há razão para que não funcione.
Até que algo inesperado aconteça. Talvez você absorva muito, a ponto de imolar o seu antigo eu. Lembro-me de quando me mudei para os Estados Unidos, estava constantemente conversando por vídeo com minha família e amigos na Europa. Eu estava criticando a América com olhos e percepções muito críticos, e senti que apenas meus amigos de "casa" entenderiam. É claro que, sendo europeus, fomos ensinados a nos orgulhar de nosso complexo de superioridade intelectual.
Essa estratégia funcionará no primeiro ano, se estabelecerá no segundo ano e começará a desaparecer no terceiro ano consecutivo de sua vida nos Estados Unidos. No seu último ano, você percebeu que não há como voltar atrás. Suas conversas com seus amigos em sua terra natal não são mais as mesmas. Isso ocorre por dois motivos.
Uma mudança de paradigma de mentalidade do seu lado
Um paradigma de mentalidade chega ao fim (dependendo de onde moram)
Suas vidas irão evoluir separadamente. Isso é natural. Nada a ver com você, seu país de origem ou os Estados Unidos. O que mais o seduziu e empolgou, agora parece fraco, enfadonho e vacilante.
Vocês todos só vão conseguir falar do passado e relembrar por um certo tempo, até que as mensagens se atrasem, haverá menos disponibilidade (ou intenção) para bater um papo, e sim, a vida vai acontecer.
A vida nos EUA irá atingi-lo como uma avalanche. É um ritmo rápido. É ambicioso. Você pode / vai se apaixonar. Você pode se casar. Contemple as crianças. Comece a desfrutar de coisas diferentes. E com tudo isso, você simplesmente não vai mais vibrar com sua antiga turma.
A pior parte? Suas férias em casa. Além de uma mudança em sua família, que pode acontecer quando você ficar fora por mais de 5 anos, você também terá que sair para tomar um café com velhos amigos. Para recuperar o atraso. Você entra no seu primeiro carro que comprou aos 18 e que não dirigiu nos últimos anos, dirige por becos (sabe, eu morei na Itália, tudo é minúsculo lá), e a saudade bate em você a cada esquina você fez uma memória de infância. Você chega à cafeteria, senta-se, abraça seus amigos, troca gentilezas, fala merda sobre seu professor do ensino médio, aaaaa e deixa o estranho show de crack começar depois. Silêncio perene. Você começa a verificar seu telefone como uma necessidade para escapar da situação desconfortável em que se coloca porque queria acionar o "sistema de honra". Você não queria ter acabado de chegar da América e não dizer oi para seus velhos amigos, certo? E eles vão cumprir, dizer sim para conhecê-lo, até que você perceba "Nossa, não tem mais nada aqui". Todos nós mudamos claramente e não temos muito em comum agora, nem mesmo para sustentar / manter uma conversa sobre café.
É quando você percebe, opa, acho que realmente terminei aqui, não é?
Lembre-se de que, ao decidir deixar seu país de origem, você não voltará da mesma forma. É apenas o ciclo da vida. Sem ressentimentos. E o que você deixar para trás provavelmente não estará lá para esperar por você. As paixões irão embora. Da mesma forma com nossas energias combinando e as delícias da vida.
---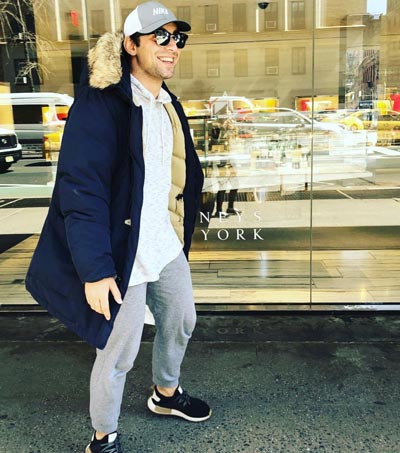 Johnny Nezha é um estudante de marketing nascido na Albânia e criado na Itália no Los Angeles City College . Ele adora tecnologia e o poder de sua inovação, é o fundador de uma startup chamada Khleon e seus hobbies não profissionais são observação do céu e astronomia.