In our effort to bring good content to as many people as possible the text in this blog post has been machine translated so please excuse any mistakes. Thank you!
Par Johnny Nezha
Des vérités dures qui doivent être dites
Vous voilà en train de vous réjouir de votre nouvelle vie d'étudiant international aux États-Unis - de vous faire de nouveaux amis et d'absorber une nouvelle culture. C'est ce que tu voulais, non ? L'Amérique, le pays des rêves, le pays des opportunités, le pays du « si vous avez la volonté de le faire fonctionner » – il n'y a aucune raison pour que cela ne fonctionne pas.
Jusqu'à ce que quelque chose d'inattendu se produise. Peut-être que vous absorbez trop, au point d'immoler votre ancien moi. Je me souviens que lorsque j'ai déménagé pour la première fois aux États-Unis, je discutais constamment par vidéo avec ma famille et mes amis de retour en Europe. Je critiquais l'Amérique avec des yeux et des perceptions très critiques, et je sentais que seuls mes amis « à la maison » comprendraient. Bien sûr, étant originaires d'Europe, on nous a appris à être fiers de notre complexe de supériorité intellectuelle.
Cette stratégie fonctionnera la première année, s'installera la deuxième année et commencera à s'estomper la troisième année consécutive de votre vie aux États-Unis. Dès votre dernière année, vous avez réalisé qu'il n'y a pas de retour en arrière. Vos conversations avec vos amis dans votre pays d'origine ne sont plus les mêmes. Cela se produit pour deux raisons.
Un changement de paradigme de mentalité de votre côté
Un décalage de paradigme de mentalité sur leur fin (selon l'endroit où ils vivent)
Vos vies évolueront à part. Ceci n'est que naturel. Rien à voir avec vous, votre pays d'origine ou les États-Unis. Ce qui vous a le plus attiré et excité semble maintenant faible, ennuyeux et bancal.
Vous ne pourrez tous parler du passé et vous remémorer que si longtemps, jusqu'à ce que les messages soient retardés, il y aura moins de disponibilité (ou d'intention) pour discuter, et oui, la vie arrivera.
La vie aux États-Unis vous frappera comme une avalanche. C'est rapide. C'est ambitieux. Vous pourriez/allez tomber amoureux. Vous pourriez vous marier. Contempler les enfants. Commencez à profiter de différentes choses. Et avec tout cela, vous ne vibrerez tout simplement plus avec votre ancienne foule.
La pire partie? Vos vacances à la maison. Mis à part un changement au sein de votre famille, qui se produira inévitablement lorsque vous serez absent pendant plus de 5 ans, vous devrez également vous emmener prendre un café avec de vieux amis. Attraper. Tu montes dans ta première voiture achetée à 18 ans, et que tu n'as pas conduite depuis quelques années, tu roules dans les ruelles (tu sais, j'ai vécu en Italie, tout est minuscule là-bas), et la nostalgie vous envahit à chaque coin de rue vous avez fait un souvenir d'enfance. Vous arrivez au café, vous vous asseyez, vous serrez vos amis dans vos bras, échangez des plaisanteries, parlez de conneries sur votre professeur de lycée, aaaaa et laissez le spectacle de crack maladroit commencer après. Silence éternel. Vous commencez à vérifier votre téléphone comme un besoin d'échapper à la situation inconfortable dans laquelle vous vous êtes mis parce que vous vouliez déclencher le "système d'honneur". Vous ne vouliez pas être arrivé d'Amérique et ne pas dire bonjour à vos vieux amis, n'est-ce pas ? Et ils se conformeront, diront oui à vous rencontrer, jusqu'à ce que vous réalisiez « Wow, il n'y a plus rien ici. » Nous avons tous clairement changé, et nous n'avons plus grand-chose en commun maintenant, même pas pour soutenir/entretenir une conversation autour d'un café.
C'est à ce moment-là que vous réalisez, oups, je pense que j'en ai vraiment fini ici, n'est-ce pas ?
S'il vous plaît gardez à l'esprit, lorsque vous décidez de quitter votre pays d'origine, que vous ne reviendrez pas le même. C'est juste le cycle de la vie. Pas d'émotions fortes. Et ce que vous laissez derrière vous ne sera probablement pas là pour vous attendre. Les passions auront disparu. De même avec nos énergies qui correspondent et nos délices de la vie.
---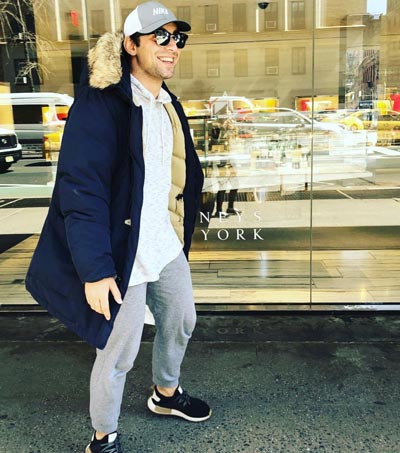 Johnny Nezha est un étudiant en marketing né en Albanie et élevé en Italie au Los Angeles City College . Il aime la technologie et la puissance de son innovation, est le fondateur d'une startup appelée Khleon, et ses passe-temps non professionnels sont l'observation du ciel et l'astronomie.