In our effort to bring good content to as many people as possible the text in this blog post has been machine translated so please excuse any mistakes. Thank you!
Por Johnny Nezha
Verdades duras que deben decirse
Ojalá alguien me hubiera dicho, me hubiera advertido, me hubiera descrito lo que significa crecer. Detesto ser desganado y tenía un montón de perspectivas, sueños y metas tentadoras. Ahora, con toda honestidad, mi estrategia, apuntar a las estrellas, me dio algunos logros importantes. Cuando miro hacia atrás en mi yo más joven y en lo que quería hacer, de hecho he superado mis expectativas. Sin embargo, estoy maldito por un sentimiento perenne de insatisfacción. Cometí algunos errores muy ridículos y patéticos. Me equivoqué allí donde el sentido común me habría instado de otra manera. Y pagué un alto precio por mi ingenuidad ... de hecho, en algunos casos, todavía hasta el día de hoy, pagando algunas consecuencias que no analicé profundamente.
Cuando llegué por primera vez a los Estados Unidos, tenía 21 años, estaba fresco y jugoso como un limón, listo para explorar, aprender y asimilar. Al menos, ese fue mi enfoque. Aunque todavía disfruto mucho programando mi vida hasta el más mínimo detalle, había algo que no preveía que sucediera.
Creciendo y madurando
Ahora agregue un poco de presión a la mezcla viviendo en un país extranjero, sin tener a nadie en quien confiar y experimentando la "adultez" en una variedad de formas desconocidas de su psique. Retrasé mi reacción a los problemas que tenía por primera vez. Los vi como valores atípicos. Hasta que estos valores atípicos comenzaron a acumularse. Estaba confundido. Estaba desconcertado. Estaba desconcertado.
¿Por qué no pude hacer nada bien? ¿Por qué estoy tan perdido? ¿Siempre he sido así de incapaz y estúpido? "Es culpa de mis padres porque me dieron cobijo", pensé. Tiene que ser, ¿estoy en lo cierto? Sí, tiene que serlo.
Este proceso de pensamiento funcionó durante un tiempo. Estaba usando la táctica de victimización y echar la culpa. "Es el mundo que no funciona. Estoy bien. Soy perfecto. Hago lo mejor que puedo, pero el mundo simplemente cae por debajo de mis estándares. La gente está loca."
¿Alguna vez escuchaste el dicho "Si alguna vez conoces a más de una persona grosera en un día, es probable que seas la persona grosera?"
Entonces, después de una metamorfosis catártica y catalizadora, entendí las cosas al final. Fui yo. Me estaba transformando de una infancia sobreprotegida y ese entorno, originado en Italia, a un adulto. Responsabilidades. Compromisos. Facturas. Autosuficiencia. No más mami para recordarme "No lo olvides, tienes que hacer tu examen físico anual" o "Necesitas ir al dentista" o mi papá arreglando mi auto por mí y dándome dinero gratis cada vez que me quede corto.
Yo estaba de rodillas, hecho pedazos, mientras otros vivían su vida en paz (supuestamente). Estaba privado de sus derechos, desencantado, incrédulo. ¿Es esto lo que significa ser un adulto?
Había vivido una vida en exceso y ahogado en derechos, auto-engrandecimiento y derroche, entre otras cosas. Lo peor de todo es que cometí el delito grave de ser ingrato. Había dado por sentado mi tiempo libre. Había dado por sentado el amor incondicional. Había dado por sentado que había que poner comida en la mesa.
Ahora comprendo la frustración de mis padres cuando iban a trabajar todo el día para ganarse la vida, mantener a nuestra familia, lidiar con el estrés omnipresente de los conflictos innecesarios, finalmente regresar a casa después de un viaje diario de 90 minutos y 8 horas sin parar. trabaja. Tuvieron que limpiar la casa, cocinar para la familia, y luego su adolescente (yo) que se quedó en casa sentado sobre su trasero todo el maldito día, "se olvidó" de sacar la carne del congelador y la cena se retrasó horas. ¿Y adivina qué? Aún así, logré hacerlo sobre mí en un momento dado y controlé la narrativa sobre lo "abusivos" que eran mis padres. Tenían problemas de ira. Según yo. También tenía el don de hablar bien y ser muy verboso, por lo que sus mentes cansadas no eran rival para un tonto como yo.
Aaaah, viví para lamentar esto. De hecho, vivo para lamentar esto. Karma no gastó ni un centavo en enseñarme, 1 por 1, segundo por segundo, todo lo que hice mal en mi juventud.
Karma: "¿Crees que eres un tipo duro, eh, Johnny? Bueno, enséñanos ahora amigo…. Fuera con su sistema de apoyo ".
Vivir en los EE. UU., Estudiar en los EE. UU., No solo significa aprender sobre la especialidad que elijas. Ojalá fuera así de simple. No. No. No. No. Bebé. Te espera un viaje que extenderá los rincones más lejanos de tu imaginación. Estudiarás sobre la vida y lo cruel que puede ser. Claro, existen cosas bonitas, y es probable que Estados Unidos sea lo más cercano para que las consigas. Pero Estados Unidos te hará trabajar por ello. Dalo todo o vete a casa. Tenga esto en cuenta antes de regocijarse en declaraciones "¡Ja! Lo logré, me voy a los EE. UU. "
Felicitaciones por sus cartas de aceptación, I-20 y todas las visas que su corazón desea. Pero tenga cuidado con lo que desea, porque puede que lo consiga. Y puede que no te guste.
¡Todo lo mejor!
Hablar pronto
Johnny Nezha
---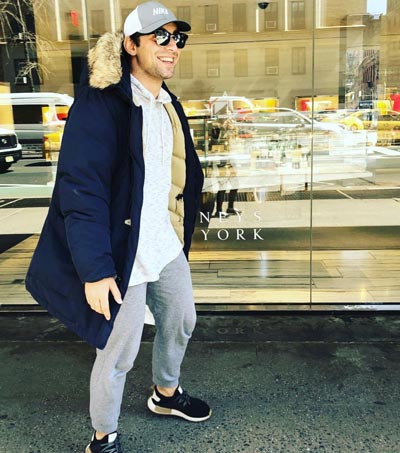 Johnny Nezha es un estudiante de marketing de origen albanés y criado en Italia en Los Angeles City College . Le encanta la tecnología y el poder de su innovación, es el fundador de una startup llamada Khleon y sus pasatiempos no laborales son la observación del cielo y la astronomía.