In our effort to bring good content to as many people as possible the text in this blog post has been machine translated so please excuse any mistakes. Thank you!
Por Johnny Nezha
Verdades duras que deben decirse
No importa cuán fuerte creas que eres y cuán musculoso mentalmente puedas decir que eres. Mudarse a los Estados Unidos sacudirá su vida para bien o para mal. Ahora, por supuesto, debo tener en cuenta sus antecedentes y su sistema de valores, sus ambiciones, inhibiciones y lo que sea que encienda su fuego. No obstante, no soy reticente a admitir que los Estados Unidos lo obligarán a estar en un rincón mental de "zona fuera" para lidiar con toda su búsqueda potencial y eterna del propósito de su vida. Solo imagina; De repente, no tienes padres que te molesten con la visión que previeron para ti, sin familia extendida, prácticamente sin responsabilidad, además de estudiar y mantener actualizado tu estado de F1, y comienzas en una pizarra en blanco.
Todavía no tienes reputación, gente que no te conoce, estás abrumado por hablar un nuevo idioma todos los días, absorbiendo una nueva cultura, luchando contra una crisis de identidad para la que no tienes una fecha de finalización, y podrías encontrar Estadounidenses accesibles o no (se rumorea, son amigables). Después de su entrevista para la visa F1, mucho después de darse una palmadita en la espalda por haber convencido al oficial consular de seguir un camino bien pensado, comienzan a surgir dudas.
¿Deberías reconsiderar tu especialidad? ¿Deberías reconsiderar tus valores? ¿Estados Unidos se está descarrilando moralmente o es emocionalmente liberador? Personalmente, he visto a muchos estudiantes internacionales albergar sentimientos encontrados sobre la "tierra de los libres". Este no es un concepto abstruso que nadie pueda comprender. Al igual que en cualquier otro lugar del mundo, hay trampas y ventajas dentro de los EE. UU. Encontrará una gran cantidad de personas que se quejan de la atención médica, junto con las que se quejan de los tiroteos masivos, los que lamentan la baja calidad de los alimentos y para mis compatriotas europeos, aquellos que se rascan la cabeza por el sentido de la moda estadounidense, aunque podría percibirse como una monstruosidad. Supongo. Mas o menos. Dependiendo de tus niveles de vanidad. A los ciudadanos estadounidenses parece no importarles. Vístase para sentirse cómodo y no para impresionar. ¿SOY RITO?
O puede tener el enfoque de Johnny Nezha. La persona en cuestión soy yo. Cuando aterricé por primera vez en Newark, Nueva Jersey, desde mi primer vuelo internacional solo, a pesar de que, por cierto, era un vuelo a través de continentes, estaba emocionado. Lo primero que pensé cuando pisé suelo estadounidense fue:
¿Por qué este país sabe y se siente libertad? Antes de que "Estados Unidos es un país del tercer mundo con un cinturón Gucci", la gente comienza a decir: SÍ, pero NO MÁS PERFECCIONES, déjame explicarte.
Me crié en Italia, una nación de la Unión Europea que es garante de los derechos humanos y de tantos derechos constitucionales como Estados Unidos; sin embargo, y hay algo GRANDE, siempre lo he dicho, solo porque algo está escrito en papel, no se transmuta en personas que lo viven al máximo. Encuentro que Europa es un continente de museos. Somos el "érase una vez" y "hemos sido". Sí, tenemos atención médica, y sí, no tenemos tantos tiroteos masivos (aunque muchos europeos tienen una "amnesia" incesante sobre, ya sabes, las dos guerras mundiales que causamos, ¡sí, eso!). Creo firmemente en que hay algo que vale la pena intentar en los Estados Unidos. Considero que el problema de la atención médica es un problema que se puede resolver, especialmente porque más estadounidenses están comenzando a exigir más servicios del gobierno. Mientras que con respecto a las armas; Resulta que no temo por mi vida con tanta frecuencia como los medios de comunicación la retratan, si es que lo hacen alguna vez. A decir verdad, me siento más seguro caminando de noche en los Estados Unidos que en mi ciudad natal.
Estados Unidos ha imbuido tal energía vital y propósito en mi alma, y encuentro que el pueblo estadounidense es un pueblo muy absorbente. Puedes sentir la sangre joven que corre por las venas de este país y eso me emociona. Es vivaz. Está lleno de posibilidades, es soberbio y superlativo. Vivo en Los Ángeles, California, y no hay otro lugar en el mundo en el que prefiera vivir. Soy bendecido todos los días con un clima tan idílico y una naturaleza prístina con una miríada de actividades que esperan ser exploradas.
Incluso me comuniqué con mi familia poniendo las condiciones para cumplir conmigo. ¿Quieres verme? ¿Me extrañan? ¡Lo suficientemente justo! Obtenga sus ESTA y venga a conocerme a la "casa de los valientes", porque Europa es demasiado medieval. Ven a ver el futuro, porque ahí es donde se dirige tu hijo.
No, no eran las restricciones de COVID lo que estaba siguiendo cuando decidí omitir nuestros viajes navideños. No tengo ningún interés en recordar la historia de mis antepasados o su tierra, ya que soy completamente capaz de construir mi propia historia y tengo una historia que contar. Por mi cuenta, por mí, por mí y por mí.
Solo porque soy optimista, no estoy insinuando que mi vida en los EE. UU. Haya sido toda o únicamente sobre ruedas de ninguna manera, forma, tamaño o forma. Lejos de ahi. Siga mis próximos blogs en esta serie de "Verdades duras que deben decirse" sobre la vida en los Estados Unidos. Tengo buenas y malas historias, pero así es la vida. Entonces, ¿realmente nos vamos a sorprender?

¡Hablar pronto!
Johnny Nezha
---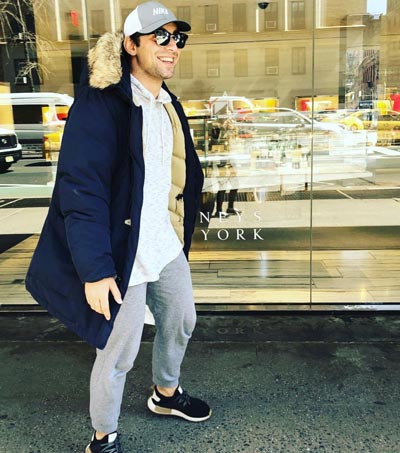 Johnny Nezha es un estudiante de marketing de origen albanés y criado en Italia en Los Angeles City College . Le encanta la tecnología y el poder de su innovación, es el fundador de una startup llamada Khleon y sus pasatiempos no laborales son la observación del cielo y la astronomía.