Blogging and studying ... cool international student blogs (besides this one!)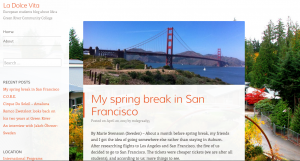 More and more U.S. universities and colleges are giving their international students a platform to share their experience with blogs. I don't know about you, but when I'm researching something—anything—I want to talk to other people and hear about their experience. Aside from learning the basics about a place or school, you end up gathering a bunch of tips and advice. I've come across some really cool blogs by international students lately. Here are a few favorites at the moment ...
La Dolce Vita blog
International Student Ambassadors Blog
International Student Blogs (by a few students!)
Which blogs do you follow?