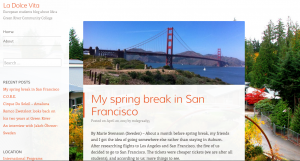 In our effort to bring good content to as many people as possible the text in this blog post has been machine translated so please excuse any mistakes. Thank you!
More and more U.S. universities and colleges are giving their international students a platform to share their experience with blogs. I don't know about you, but when I'm researching something—anything—I want to talk to other people and hear about their experience. Aside from learning the basics about a place or school, you end up gathering a bunch of tips and advice. I've come across some really cool blogs by international students lately. Here are a few favorites at the moment ...
La Dolce Vita blog
International Student Ambassadors Blog
International Student Blogs (by a few students!)
Which blogs do you follow?