In our effort to bring good content to as many people as possible the text in this blog post has been machine translated so please excuse any mistakes. Thank you!
Oleh Hamdiatu Yakuba
Apa yang Anda lakukan ketika Anda merasa stres, lelah, kesepian, terasing, muak, di laut? Pernahkah Anda merasa seperti "Saya butuh pelarian?" Saat itu di mana Anda merasa saya perlu melakukan sesuatu yang lain untuk merasa nyaman atau merasa lebih baik? Semacam cadangan yang Anda sandarkan atau andalkan ketika udara terasa sesak di dada Anda dan pernapasan tampaknya tidak membantu?
Kita semua memiliki jalan keluar yang menjadi tujuan kita ketika keadaan menjadi gelisah dan kita berada di laut. Adalah normal untuk ingin meninggalkan dunia dan menyendiri, ironisnya, itu sangat tidak mungkin. Saat itulah Anda membutuhkan "jendela pelarian," seperti yang disebutkan oleh seorang aktris di acara 40 & Single (yang penciptanya, Leila Djansie, adalah orang Ghana).
Pikiran Anda, jendela pelarian tidak hanya untuk mengalihkan perhatian Anda, tetapi juga cara untuk menginvestasikan energi Anda agar tetap positif. Misalnya, Anda menemukan diri Anda menawarkan kursus yang tidak Anda sukai, namun Anda harus melakukannya, apa gangguan sehat atau jendela pelarian Anda agar tetap positif saat mengikuti kursus. Bagaimana Anda tetap waras dan positif ketika ada kesalahpahaman antara Anda dan orang-orang yang sangat penting dalam hidup Anda? Di mana Anda menginvestasikan energi Anda ketika semuanya tidak baik dan menyerah atau mengamuk bukanlah pilihan? Anda bahkan dapat mengatakan bahwa, masuk ke platform media sosial Anda, mendengarkan musik, tidur siang, berjalan-jalan, menonton video, mengambil gambar, di antara hal-hal lain yang kita lakukan ketika kita bosan adalah semua gangguan sehat yang membantu kita berkonsentrasi. ketika pikiran kita kosong.
Mari kita melihat lebih dalam ke contoh penting lainnya dalam hidup kita seperti yang disebutkan di atas ketika kita akan membutuhkan istirahat. Apa yang Anda lakukan untuk tetap positif, hidup, dan bersemangat? Seorang teman memberi tahu Anda "Saya tidak menyukai pekerjaan saya tetapi saya membutuhkan uang untuk membiayai pendidikan saya." Apa yang Anda katakan kepada mereka? Berhenti? Tidak! Mereka membutuhkan jendela pelarian atau gangguan yang sehat, seperti menulis, menjadi sukarelawan, mengeksplorasi bakat mereka, berjejaring, atau melakukan bisnis sampingan (jika memungkinkan).
Terkadang benar-benar pergi bukanlah pilihan terbaik, ambil napas, jika tidak mungkin untuk melanjutkan, maka investasikan kembali energi Anda di tempat lain. Penting untuk tetap produktif, tetapi kewarasan Anda juga penting. Saya selalu mengunjungi dunia pikiran saya ketika saya menabrak batu, saya membayangkan hidup saya berjalan lancar seperti yang saya harapkan. Saya juga menulis seperti membawa bagian ini keluar, yang mungkin merupakan jendela pelarian seseorang hanya dengan membacanya dan tetap positif dan segar.
Jangan bingung. Tenang. Pikirkan tentang diri Anda dan semua hal yang Anda sukai untuk dilakukan atau dimiliki. Pikirkan tentang mereka dan tetap hidup ketika semuanya tidak baik. Kewarasan Anda penting. Yah, saya menyebutnya ESCAPE WINDOW saya. Apa atau bagaimana Anda menyebut milik Anda? Bagaimanapun, ANDA DATANG PERTAMA!
---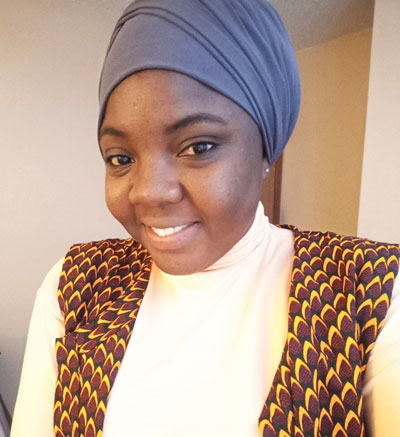 Hamdiatu Yakubu berasal dari Ghana, Afrika Barat. Dia baru saja menyelesaikan studi bahasa Inggrisnya di Kirkwood Community College dan saat ini bekerja sebagai magang komunikasi dan asisten proyek di sebuah organisasi non-pemerintah di negaranya. Dia mencintai alam, memasak, menonton film, bahasa, menulis, dan fotografi.