In our effort to bring good content to as many people as possible the text in this blog post has been machine translated so please excuse any mistakes. Thank you!
Par Hamdiatu Yakuba
Que faites-vous quand vous vous sentez stressé, fatigué, seul, séparé, marre, en mer ? Vous êtes-vous déjà dit « J'ai besoin d'une évasion ? » Ce moment où vous sentez que je dois faire autre chose pour être à l'aise ou vous sentir mieux ? Une sorte de soutien sur lequel vous vous appuyez ou sur lequel vous comptez lorsque l'air est serré contre votre poitrine et que la respiration ne semble pas vous aider ?
Nous avons tous une échappatoire vers laquelle nous nous tournons lorsque les choses deviennent nerveuses et que nous sommes en mer. Il est normal de vouloir laisser le monde derrière soi et d'être seul, ironiquement, c'est tout à fait impossible. C'est à ce moment-là qu'il vous faut « une fenêtre de secours », comme l'a mentionné une actrice de la série 40 & Single (dont la créatrice, Leila Djansie, est ghanéenne).
Attention, une fenêtre de secours n'est pas seulement pour vous distraire, mais aussi un moyen d'investir votre énergie afin de rester positif. Par exemple, vous vous retrouvez à offrir un cours que vous n'aimez pas, mais vous devez le faire, quelle est votre distraction saine ou votre fenêtre d'évasion pour rester positif tout en suivant le cours. Comment rester sain d'esprit et positif lorsqu'il y a des malentendus entre vous et des personnes très importantes dans votre vie ? Où investissez-vous votre énergie lorsque tout ne va pas bien et qu'il n'est pas possible d'abandonner ou de faire des crises de colère ? Vous pouvez même dire que, se connecter à vos plateformes de médias sociaux, écouter de la musique, faire une sieste, se promener, regarder des vidéos, prendre des photos, entre autres choses que nous faisons quand nous nous ennuyons sont autant de distractions saines qui nous aident à nous concentrer quand nos esprits deviennent vides.
Examinons plus en profondeur d'autres moments cruciaux de notre vie, comme mentionné ci-dessus, lorsque nous aurons besoin d'une pause. Que faites-vous pour rester positif, vivant et broyeur ? Un ami vous dit « Je n'aime pas mon travail mais j'ai besoin d'argent pour financer mes études. Que leur dites-vous ? Quitter? Non! Ils ont besoin d'une fenêtre de secours ou de distractions saines, comme écrire, faire du bénévolat, explorer leurs talents, réseauter ou faire une activité parallèle (si possible).
Parfois partir complètement n'est pas la meilleure option, faites une pause, s'il n'est pas possible de continuer, alors réinvestissez votre énergie ailleurs. Il est important de rester productif, mais votre santé mentale est également importante. Je visite toujours le monde de mon esprit lorsque je frappe le rocher, j'imagine que ma vie se déroule sans heurts comme je l'aurais souhaité. J'écris aussi comme faire sortir cette pièce, qui peut être la fenêtre d'évasion de quelqu'un simplement en la lisant et en restant positive et rafraîchie.
Ne soyez pas confus. Calmer. Pensez à vous et à toutes les choses que vous aimez faire ou avoir. Pensez à eux et restez en vie quand tout ne va pas bien. Votre santé mentale compte. Eh bien, je l'appelle ma FENÊTRE D'ÉCHAPPEMENT. Comment ou comment appelez-vous le vôtre ? Quoi qu'il en soit, VOUS VENEZ EN PREMIER !
---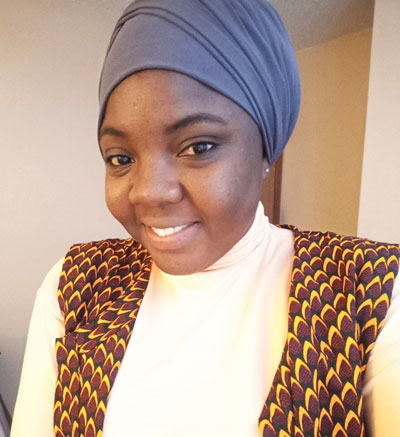 Hamdiatu Yakubu est originaire du Ghana, en Afrique de l'Ouest. Elle a récemment terminé ses études d'anglais au Kirkwood Community College et travaille actuellement comme stagiaire en communication et assistante de projet dans une organisation non gouvernementale de son pays. Elle aime la nature, la cuisine, regarder des films, les langues, l'écriture et la photographie.