In our effort to bring good content to as many people as possible the text in this blog post has been machine translated so please excuse any mistakes. Thank you!
Por Hamdiatu Yakuba
¿Qué haces cuando te sientes estresado, cansado, solo, alejado, harto, en el mar? ¿Alguna vez te has sentido como "Necesito un escape"? ¿Ese punto en un momento en el que sientes que necesito hacer algo más para estar a gusto o sentirme mejor? ¿Una especie de respaldo en el que te apoyas o confías cuando el aire está apretado contra tu pecho y la respiración parece no estar ayudando?
Todos tenemos un escape al que recurrimos cuando las cosas se ponen difíciles y estamos en el mar. Es normal querer dejar el mundo atrás y estar solo, irónicamente, es bastante imposible. Ahí es cuando necesitas "una ventana de escape", como lo menciona una actriz en el programa 40 & Single (cuya creadora, Leila Djansie, es ghanesa).
Eso sí, una ventana de escape no solo es para distraerte, sino también una forma de invertir tu energía para mantenerte positivo. Por ejemplo, te encuentras ofreciendo un curso que no te gusta, pero tienes que hacerlo, cuál es tu distracción saludable o tu ventana de escape para mantenerte positivo mientras realizas el curso. ¿Cómo puede mantenerse cuerdo y positivo cuando hay malentendidos entre usted y personas muy importantes en su vida? ¿Dónde inviertes tu energía cuando no todo está bien y rendirse o hacer berrinches no es una opción? Incluso puedes decir que iniciar sesión en tus plataformas de redes sociales, escuchar música, tomar una siesta, salir a caminar, ver videos, tomar fotografías, entre otras cosas que hacemos cuando estamos aburridos son distracciones saludables que nos ayudan a concentrarnos. cuando nuestras mentes se quedan en blanco.
Echemos un vistazo más profundo a otros casos cruciales en nuestras vidas, como se mencionó anteriormente, en los que necesitaremos un descanso. ¿Qué haces para mantenerte positivo, vivo y molido? Un amigo te dice: "No me gusta mi trabajo, pero necesito el dinero para financiar mi educación". Que les dices a ellos? ¿Dejar? ¡No! Necesitan una ventana de escape o distracciones saludables, como escribir, ofrecerse como voluntarios, explorar sus talentos, establecer contactos o hacer negocios paralelos (si es posible).
A veces, irse por completo no es la mejor opción, tómate un respiro, si no es posible continuar, reinvierte tu energía en otra parte. Es importante mantenerse productivo, pero su cordura también es importante. Siempre visito el mundo de mi mente cuando golpeo la roca, imagino que mi vida transcurre sin problemas de la manera que hubiera deseado. También escribo como sacar este artículo, que puede ser la ventana de escape de alguien con solo leerlo y mantener una actitud positiva y renovada.
No se confunda. Cálmate. Piense en usted mismo y en todas las cosas que le encanta hacer o tener. Piensa en ellos y mantente con vida cuando no todo esté bien. Tu cordura importa. Bueno, yo lo llamo mi VENTANA DE ESCAPE. ¿Qué o cómo llamas el tuyo? De todos modos, ¡USTED ES PRIMERO!
---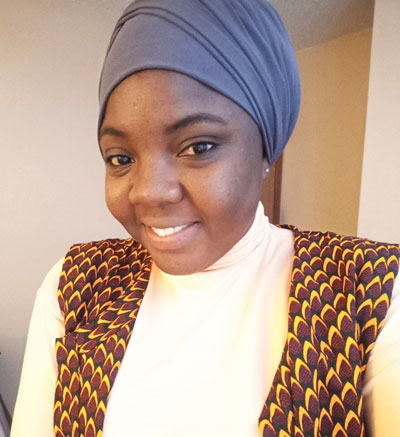 Hamdiatu Yakubu es de Ghana, África Occidental. Recientemente completó sus estudios de idioma inglés en Kirkwood Community College y actualmente trabaja como pasante de comunicación y asistente de proyectos en una organización no gubernamental en su país. Le encanta la naturaleza, cocinar, ver películas, los idiomas, la escritura y la fotografía.