In our effort to bring good content to as many people as possible the text in this blog post has been machine translated so please excuse any mistakes. Thank you!
Maria Eduarda Tarré tarafından
Her şeyin gerektiğinde gerçekleştiğine inanıyorum - bu son blog yazısı farklı olamazdı. Bu konuyu neden sona erdirdiğimi gerçekten bilmiyorum ama son birkaç aydır yaşadığım her şeye dönüp baktığımda; Francis Koleji'nin dönüştürücü fakültesi hakkında yazmak için daha fazla ilham alamazdım.
Pandemi döneminde F-1 vizemi almaya çalışırken bazı zorluklar yaşamam şaşırtıcı değil. Brezilya'daki büyükelçilikler kapandı, ben de vatandaşı olduğum Portekiz'e seyahat etmeye karar verdim, böylece vizemi orada alabildim ama tam zamanlı olarak Portekiz'de ikamet etmediğim için vermeme izin vermediler. Tüm deneyim sınırlarımı test etti. Öğrenci vizesi talebimi reddettikleri anda, nasıl tepki vereceğimi bilemedim, ancak Lizbon'daki büyükelçilikten ayrılır ayrılmaz okulumla konuşmam gerektiğini anladım. Çevrimiçi ilk yılımda, St. Francis Koleji'nden (SFC) profesörler, personel, öğrenciler ve hatta okulumun başkanı ve başkan yardımcısını içeren tüm bu destek ekibine sahiptim, bu yüzden ne zaman istersem bunu biliyordum. Acil bir durum, onlara güvenebilirim.
Okulun ilk yılı boyunca geliştirdiğim bağlantıları düşündüğümde, hiçbirini şahsen görmediğimi düşününce hep şaşırırım. Yıllar önce olsaydı, çoğu insan sadece internette tanıştığın insanlara güvenmenin çok tehlikeli olduğunu düşünürdü. Sosyal etkileşimlerimizin çoğunun çevrimiçi olduğu günümüzde, yanımda olmak için doğru kişileri bulabildiğim için gerçekten mutluyum ve her yere yığıldığımda ayağa kalkmama yardım ettiği için SFC'ye ne kadar teşekkür etsem azdır.
Gerçeği söylemek gerekirse, St. Francis College'daki öğretim üyeleri gerçekten dönüştürücüdür, çünkü tüm personeli ve öğrencileri bir kez tanıdıkça, gerçekten sizi kollayan birine sahip olduğunuzu hissedersiniz. Şahsen, size en uygun okulu seçerken bu değerin son derece önemli olduğuna inanıyorum. Okula gitmek sadece ders almakla ilgili değildir, aslında daha geniş bir deneyimi kapsar. Nerede okumak istediğinizi seçmek üzereyken, bunun önümüzdeki dört yıl içinde en çok zaman geçireceğiniz yer olacağını göz önünde bulundurmalısınız, bu yüzden kendinizi rahat hissedeceğiniz bir yer olmalı. sizi çevreleyen ve olabildiğince çok desteğe sahip olduğunuz yerler. Okul deneyimi, özellikle uluslararası bir öğrenciyseniz zorlayıcı olabilir – spoiler: vatan hasreti çekeceksiniz, arkadaş edinmekte zorlanabilirsiniz ve birçok bürokratik süreçten geçebilirsiniz. Ancak, söz konusu olduğunda, SFC'nin sizi hayal kırıklığına uğratmayacağını garanti edebilirim!
Dönüştürücü fakülte, sıradan okul çalışanlarından daha fazlası olacak, ancak evde olmasanız bile sizi evinizde hissettirebilecek ve harika bir üniversite deneyimi yaşamanız için elinden gelen her şeyi yapacak personele sahip olmakla ilgilidir. Şimdiye kadar, SFC'de yaşadığım şeyin tam olarak bu olduğunu söyleyebildiğim için mutluyum!
---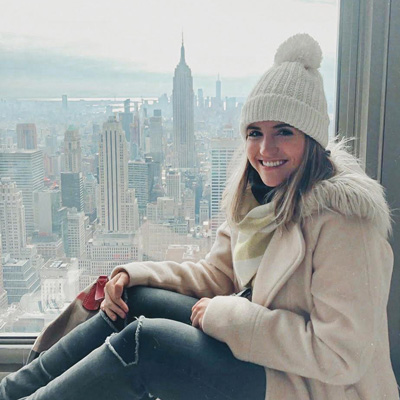 Maria Eduarda Tarré, Brezilya'dan St. Francis Koleji'nde uluslararası bir öğrencidir. Şu anda branşı kararsız ama siyaset bilimine yöneliyor. Ayrıca SFC'deki Uluslararası Af Örgütü ABD Bölümüne katılmaktadır.