In our effort to bring good content to as many people as possible the text in this blog post has been machine translated so please excuse any mistakes. Thank you!
Por Maria Eduarda Tarré
Creo que todo sucede cuando es necesario; esta publicación final del blog no podría ser diferente. Realmente no sé por qué dejé este tema para el final pero mirando hacia atrás a todo lo que he vivido estos últimos meses; No podría estar más inspirado para escribir sobre la facultad transformadora de St. Francis College.
No es de extrañar que haya tenido algunas dificultades mientras trato de obtener mi visa F-1 durante la pandemia. Las embajadas en Brasil estaban cerradas, así que decidí viajar a Portugal, donde también soy ciudadano, para poder obtener mi visa allí, pero como no resido en Portugal a tiempo completo, no me dejaron expedirla. Toda la experiencia ha puesto a prueba mis límites. En el momento en que rechazaron mi solicitud de visa de estudiante, simplemente no supe cómo reaccionar, pero en cuanto salí de la embajada en Lisboa me di cuenta de que necesitaba hablar con mi escuela. Durante mi primer año en línea, tuve todo este equipo de apoyo de St. Francis College (SFC), que incluía profesores, miembros del personal, estudiantes e incluso el presidente y el vicepresidente de mi escuela, así que sabía que siempre que tenía una emergencia, podía contar con ellos.
Cuando pienso en las conexiones que he desarrollado a lo largo de mi primer año de escuela, siempre termino sorprendido considerando que nunca he visto a ninguno de ellos en persona. Si hubiera sido hace años, la mayoría de la gente habría considerado muy peligroso confiar en personas que solo ha conocido en línea. Hoy en día, cuando la mayoría de nuestras interacciones sociales están en línea, me siento muy contento de haber podido encontrar las adecuadas para estar a mi lado y no puedo agradecer lo suficiente a SFC por ayudarme a ponerme de pie todas las veces que fui derribado.
A decir verdad, la facultad de St. Francis College es realmente transformadora, ya que una vez que conoces a todos los miembros del personal y los estudiantes, sientes que realmente tienes a alguien que te está cuidando. Personalmente, creo que este valor es extremadamente importante a la hora de elegir la escuela perfecta para ti. Ir a la escuela no se trata solo de tener clases, sino que en realidad abarca una experiencia más amplia. Cuando estés a punto de elegir dónde quieres estudiar, debes considerar que este va a ser el lugar donde pasarás la mayor parte de tu tiempo en los próximos cuatro años, por lo que debe ser un lugar donde te sientas cómodo con el los que te rodean y donde tienes todo el apoyo que puedas. La experiencia escolar puede ser desafiante, especialmente cuando eres un estudiante internacional - spoiler: extrañarás tu hogar, es posible que te resulte difícil hacer amigos y es posible que pases por muchos procesos burocráticos. Sin embargo, cuando se trata de eso, ¡puedo garantizar que SFC no lo decepcionará!
La facultad transformadora se trata de tener miembros del personal que serán más que empleados comunes de la escuela, pero que podrán hacerte sentir como en casa incluso cuando tú no lo estés y que harán todo lo que esté a su alcance para asegurarse de que tengas una excelente experiencia universitaria. Hasta ahora, me alegro de poder decir que esto es exactamente lo que he estado experimentando en SFC.
---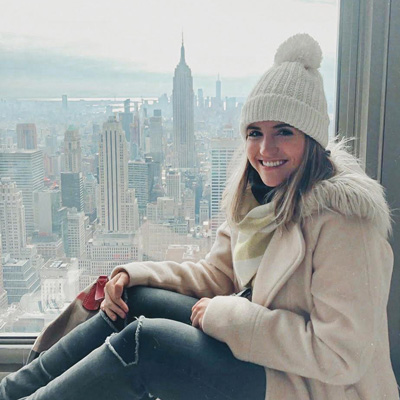 Maria Eduarda Tarré es una estudiante internacional de Brasil en St. Francis College . Actualmente, su especialidad está indecisa, pero se inclina hacia las ciencias políticas. También participa en el Capítulo de Amnistía Internacional USA en SFC.