How the U.S. Permanently Altered My Life
By Johnny Nezha
Hard Truths that Need to Be Said
It doesn't matter how strong you think you are and how mentally brawny you might claim to be. Moving to the United States will shake your life for better or worse. Now, of course I ought to take into account your background and your value system, your ambitions, inhibitions, and whatever sparks your fire. Nonetheless, I am not reticent about admitting that the United States will force you in a mental "zone out" corner to deal with all of your potential and eternal seeking of your life purpose. Just imagine; you all of a sudden have no parents to bug you with the vision they foresaw for you, no extended family, virtually no responsibility — besides that of studying and keeping your F1 status up to date — and you start on a blank slate.
You have no reputation just yet, people that do not know you, you are overwhelmed by speaking a new language every day, absorbing a new culture, battling an identity crisis of which you don't have an end date for, and you might find Americans approachable or not (rumor has it, they are friendly). After your F1 visa interview, subsequently long after you're patting yourself on the back for having convinced the consular officer to be on a well-thought out path, doubts start arising.
Should you reconsider your major? Should you reconsider your values? Is America morally derailing or is America emotionally liberating? I have personally seen many international students harbor mixed feelings about the "land of the free." This is not an abstruse concept to fathom for anyone. Just like anywhere else in the world, there are pitfalls, and there are upsides within the U.S. You'll find a bounty of individuals that complain about healthcare, right alongside those that complain about mass shootings, the low-food-quality lamenters, and for my fellow Europeans, those that scratch their heads over America's fashion sense, although it could be perceived as an eyesore. I guess. Kind of. Depending on your levels of vanity. U.S citizens appear not to care about it. Dress for comfort and not to impress. AM I RITE?
Or, you can have the Johnny Nezha approach. The person in question being me. When I first landed in Newark, New Jersey, from my first international flight alone, in spite of, by the way, it being a flight across continents, I was exhilarated. First thing I thought when I set foot on U.S. soil was:
Why does this country taste and feel like freedom? Before the "America is a third-world country with a Gucci belt" people start saying - YeS bUt No PeRhApS mAyBe — let me explain.
I was raised in Italy, a European Union nation that is a guarantor of human rights and just as many constitutional rights as the U.S.; however, and there is a BIG however, I have always stated, just because something is written on paper, it does not transmute into people living it to the fullest. I find Europe to be a museum continent. We are the "once upon a time" and "have beens." Yes, we have healthcare, and yes we don't have as many mass shootings (although many Europeans have incessant "amnesia" about, you know, the two world wars we caused, yeah, that!). I am a firm believer in there being something worth trying in the United States. I find the healthcare issue to be a solvable issue, especially as more Americans are starting to demand more services from the government. Whilst regarding guns; I happen to not fear for my life as often as the media portrays it, if at all, ever. Truth be told, I actually feel safer walking at night in the U.S. than I did back in my hometown.
The United States has imbued such life energy and purpose in my soul, and I find the American people to be a very absorbent folk. You can feel the young blood pumping through this country's veins, and it excites me. It's vivacious. It is full of possibilities, it is superb and superlative. I live in Los Angeles, California, and there is no other place in the world I would rather live. I am blessed every day with such idyllic weather and pristine nature with a myriad of activities that are waiting to be explored.
I even communicated to my family by putting conditions to meet me. Wanna see me? You guys miss me? Fair enough! Get your ESTAs and come meet me in the "home of the brave," because Europe is just too Middle Ages. Come see the future, because that's where your son is going.
No, it was not COVID restrictions that I was following when I chose to skip our Christmas holiday travels. I have no interest in reminiscing about my ancestors' history or their land, since I am fully able to build my own history and have a story to tell. Of my own, by me, myself and I.
Just because I am optimistic, I am not implying that my life in the U.S. has been all or solely smooth sailing by any way, shape, size, or form. Far from it. Follow my next few blogs in this series of "Hard Truths that Need to Be Said" about living in the U.S. I have good stories and bad stories, but such is life. So really, are we going to be surprised?

Talk Soon!
Johnny Nezha
---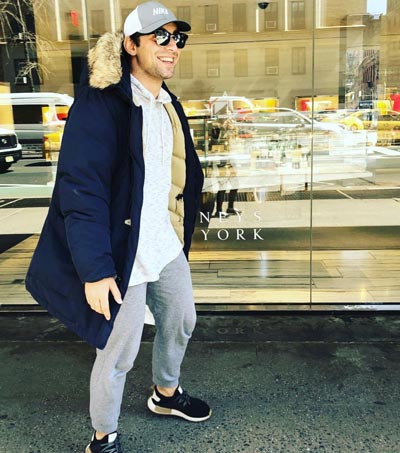 Johnny Nezha is an Albanian-born, Italian-raised, marketing student at Los Angeles City College. He loves technology and the power of its innovation, is the founder of a startup called Khleon, and his non-work hobbies are skywatching and astronomy.
Get matched to the best program for you
Let us know what you're looking for so we can find the best school for you.
$10,000 — $15,000 Year
Bachelor Degree
2yr/Community College - 2+2 Programs
Certificate/Short Term
$5,000—$10,000 Semester
Undergraduate
2yr/Community College - 2+2 Programs
Certificate/Short Term
$40,000—$45,000 Year
Bachelor Degree
Undergraduate
Online
Start your U.S. adventure with Study in the USA
What's your dream? We can guide, advise, and connect you with your perfect U.S. school. We can also help you with the application process.
Partner Services
Learn About U.S. education financing, housing, and more
MPOWER Financing is the top-rated lender offering international student loans without cosigners, collateral, or credit history for global citizens, PLUS international student scholarships & career coaching! Fully online application, 96% customer...
TestDEN's Online TOEFL Test Prep is just what you need to quickly and effectively prepare for the TOEFL test. Since 1998, TestDEN has helped tens of thousands of students raise their TOEFL scores.
Study in the USA's advisors can work with you to navigate the requirements to study abroad in the USA, UK, Canada, and Australia. We help you find the right school and apply.
Resources
Learn about American culture and education direct from our experts at Study in the USA. Read more