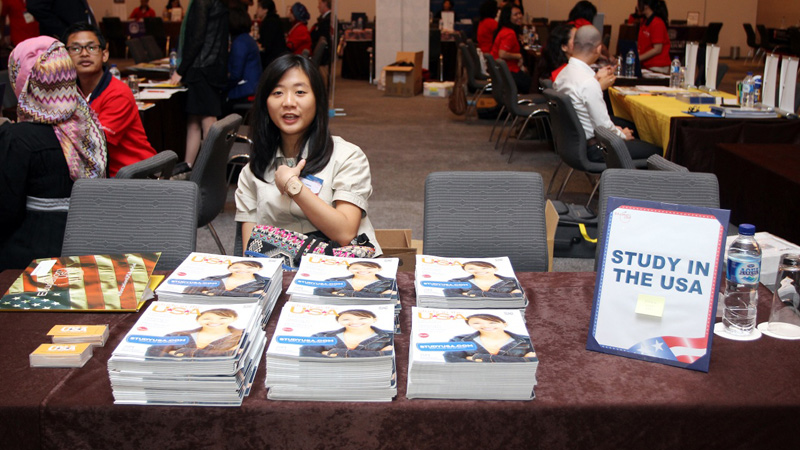 In our effort to bring good content to as many people as possible the text in this blog post has been machine translated so please excuse any mistakes. Thank you!
International Education Fairs: Sept 29 - Oct 12
Below is the list of fairs where Study in the USA® will be present. Come say hello, and pick up a copy of the new edition of Study in the USA Magazine!
Sept 29 Panama City, Panama Linden Boarding Schools Tours
Sept 29 Bogotá, Colombia Linden Boarding Schools Tours
Oct 1 Bogotá, Colombia Linden Boarding Schools Tours
Oct 1-2 Bogotá, Colombia Expo-Estudiante
Oct 1-2 Seoul, Korea American Education Fair-AIEF
Oct 2 HCMC, Vietnam StudyUSA Higher Education Fairs
Oct 4-6 Donestk, Ukraine Fairs Education Abroad
Oct 4 Cali, Colombia Linden Boarding Schools Tours
Oct 6 Mexico City, Mexico Linden Boarding Schools Tours
Oct 8-9 Taipei, Taiwan American Education Fair
Oct 8 Hanoi, Vietnam StudyUSA Higher Education Fairs
Oct 8-9 Taipei, Taiwan International Education Expo
Oct 10 Yangon, Myanmar StudyUSA Higher Education Fairs
Oct 10 Kaohsiung, Taiwan International Education Expo
Oct 11 Taichung, Taiwan International Education Expo
Oct 11 Mandalay, Myanmar StudyUSA Higher Education Fairs
Oct 12 Hsinchu, Taiwan International Education Expo
Please visit the following page for a complete list of fairs, including links to the fair websites: