In our effort to bring good content to as many people as possible the text in this blog post has been machine translated so please excuse any mistakes. Thank you!
Por Alejandra Salas
No hace mucho estaba en Lima, estudiando arquitectura en la universidad, pero sentí que no prestaba mucha atención a lo que hacía ni tenía un plan a largo plazo. Supongo que cuando eres joven y estás en las puertas prematuras de la edad adulta, las cosas parecen tan fáciles y volátiles en todos los aspectos, algo con lo que ahora puedo identificarme, mirando hacia atrás. Aunque mis padres me dieron el privilegio de enfocarme solo en mis estudios y no preocuparme por nada más desde que era un niño, no lo aprecié hasta que me mudé fuera de mi país de origen para estudiar en el extranjero en los EE. una persona independiente. Pronto cumpliré un cuarto de siglo (25 años), y siento que se me acaba el tiempo para todas las metas que quiero alcanzar; aunque lo lograré, considero más lo que mi mamá me ha estado diciendo todo el tiempo: "El tiempo no tiene precio, elige sabiamente". A veces desearía aprovechar más mis viejos tiempos viviendo libremente, con mis padres y mi familia, disfrutando de pasar tiempo con ellos, ya sea en nuestro agitado desayuno en casa o simplemente escuchando sus consejos sobre cómo abordar una vida exitosa sin estresarme. una sola cosa: organización.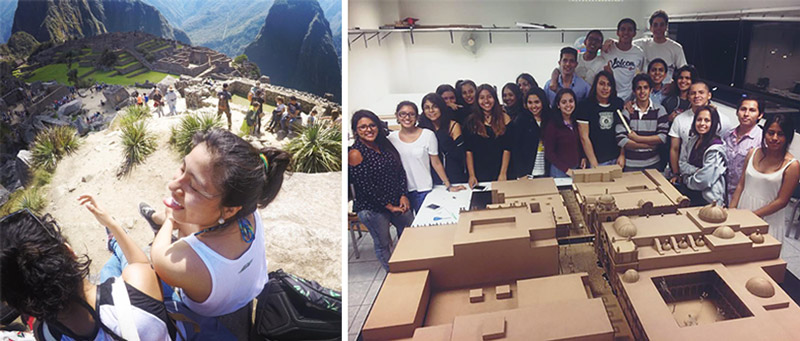 (De izquierda a derecha: Alejandra de mochilero en Cuzco, y el mismo año en su clase de estudio de arquitectura y diseño en Lima-Perú)
Dentro de poco, me graduaré de Truckee Meadows Community College y obtendré mi título de Asociado en Ciencias en Arquitectura, y solo escribir eso me hace sentir feliz de estar un paso más cerca de hacer realidad mi objetivo y hacer que mis padres se sientan orgullosos de su la hija más joven. Sin embargo, si tuviera la oportunidad de viajar a mis viejos tiempos cuando era imprudente y vivía la vida al máximo, le diría a mi yo más joven que se mantuviera tranquilo. Sin embargo, al mismo tiempo, diría que abra los ojos para ver el panorama más amplio, como tu carrera profesional, porque el mundo es tuyo y lo lograrás, pero nunca te rindas, ni siquiera en tus muchas noches de "diseño" sin dormir con muchos café; no te preocupes porque estás llegando, lento pero seguro.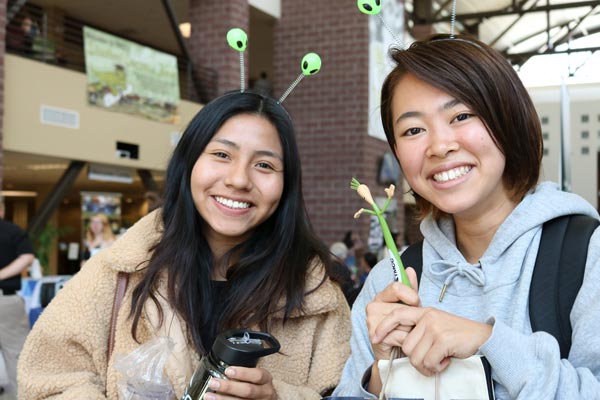 (De izquierda a derecha: Alejandra y su amigo Kokoro en TMCC)
Me gustaría enfatizar que mi viaje como estudiante internacional hasta ahora me ha enseñado la resiliencia y cómo ser independiente y maduro al mismo tiempo. Conseguí mi primer trabajo como mentora de pares, donde pude conectarme con estudiantes de todo el mundo y divertirme escribiendo blogs para compartir mis experiencias y aventuras. Además, creé una sólida red profesional alrededor de la comunidad de Reno al estudiar en TMCC , lo que me hizo sentir listo para aplicar todo lo que aprendí como estudiante de arquitectura y buscar pasantías para transferir a una universidad de cuatro años más tarde para obtener mi título de Arquitectura. . Ya suena desafiante de una manera divertida, y no puedo esperar para lanzarme a esta nueva aventura. Sé que lleva tiempo, pero lo que más importa es la experiencia adquirida a través del proceso de convertirse en un arquitecto exitoso.
En general, un consejo que les daría a los estudiantes a partir de ahora es que vivan la vida al máximo y prueben todas las cosas posibles que han planeado, que pueden llevar un tiempo lograr, pero se trata de organización, perseverancia y aceptación. el viaje. Ha sido lo suficientemente valiente para planearlo; así, da un paso más, nada es imposible si tomas la iniciativa para hacerlo realidad.
---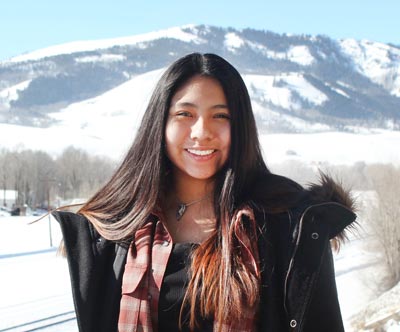 Alejandra Salas de Lima, Perú, es estudiante de arquitectura y mentora internacional en Truckee Meadows Community College .