In our effort to bring good content to as many people as possible the text in this blog post has been machine translated so please excuse any mistakes. Thank you!
Maria Eduarda Tarré tarafından
Francis College (SFC) hakkında konuşmak için eğitim tarzından daha iyi bir şey düşünemedim!
Brezilya, Rio de Janeiro'da Niterói adında orta büyüklükte bir kasabada büyüdüm. Niterói'de olduğu gibi çoğu insan birbirini tanır - ya da en azından birbirlerini duymuşlardır. Birçok ebeveyn, çocukları için bir okula karar verirken, çocuklarının isimleri ve benzersiz özellikleriyle tanınabileceği küçük okulları tercih eder. Benim için de durum farklı değildi. İlk kez okul değiştirdiğimde annem, arkadaş edinmemi kolaylaştırmak için küçük bir özel okula yönlendirilmemi sağladı - o mahallede yeniydim, bu yüzden çok arkadaşım yoktu. O okulda 10 yıl okudum ve tüm okul öğretim üyeleri ve öğrencileri tarafından ismen tanınmak o kadar şaşırtıcıydı ki lisede okul değiştirmek zorunda kaldığımda küçük bir kuruma gitmeye karar verdim. Numara değil, Maria Eduarda Tarré.
Diğer blog yazılarımı okuduysanız, muhtemelen Brezilya'daki bir üniversitedeki deneyimimi biliyorsunuzdur, ancak bilmiyorsanız, kısa bir özet: o kadar iyi değildi. Profesörler beni tanımıyordu, büyüdüğümü hissetmiyordum ve çok fazla arkadaş edinemedim. Tüm bu hayal kırıklığı beni ABD'de eğitim almaya yöneltti SFC'ye kabul edildiğimde, eğitimime başlamayı gerçekten dört gözle bekliyordum. Farklı bir ülkeye taşınmak, dünyanın her yerinden arkadaşlar edinmek ve İngilizcemi daha da geliştirebilmek gerçekten heyecan vericiydi, bu yüzden Amerika'ya taşınacağım 2020 sonbaharını bekleyemedim. Ancak pandemi geldi ve Amerika'ya taşınma planlarım ertelenmek zorunda kaldı.
Her zaman New York'ta eğitim görmeyi hayal eden bir kişinin birinci sınıfını kendi ülkelerinde ve internet üzerinden yapmak zorunda kalacağını öğrendiğinde nasıl hissettiğini hayal edebiliyorsanız, ne kadar perişan olduğumu anlayabilirsiniz. Sadece evde kilitli kalma ve arkadaşlarımdan ve profesörlerden hiçbirini şahsen tanımama fikri beni deli ediyordu. Asıl endişem, kimseyle yüz yüze görüşmeyecek olsaydım nasıl arkadaşlık kurabileceğimdi - eskiden web arkadaşlıklarının uzun sürmediğine inanırdım. Ancak, koşullar göz önüne alındığında, sahip olduğumdan daha iyi bir deneyim yaşayabileceğimi sanmıyorum.
St. Francis Koleji kişiye özel bir eğitim aldıklarını belirtirken hiçbir şekilde yalan söylemiyorlar. İlk yılım gerçekten benim için yapıldı. Uluslararası öğrenciler olarak, diğer birçok öğrenci ve ben, konu İngilizce konuşmaya geldiğinde çok utangaçtık - ki bu genellikle ana dilimiz değildir ve bu nedenle yerlilerle konuşma fikri bizi korkuttu. Ayrıca, çevrimiçi çalıştığımız için arkadaşlık kurmak oldukça zor olurdu, ancak okulumuz tüm bunları düşündü ve sonra bir Uluslararası Öğrenme Topluluğu kurmaya karar verdiler, bu da tüm uluslararası öğrencilerin aynı sınıflara ayrılacağı anlamına geliyor. branşlarına göre kendilerini daha rahat hissetmelerini sağlar. Tüm sınıflar küçüktü ve bu nedenle birbirimizi gerçekten tanıyabildik.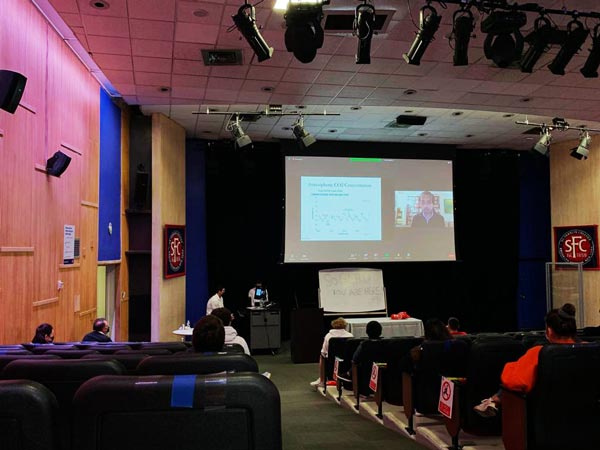 Okulumun herhangi bir personelini veya profesörünü şahsen tanımasam da, hepsi benimle çok ilgilendiler ve durumumun farkındaydılar - Brezilya'daydım ve vizemi veremedim, bu yüzden onlar da benim durumumun farkındaydılar. bana her zaman işlerin nasıl gittiğini ve Brezilya'daki Amerikan Büyükelçiliklerinden bir haber alıp almadığımı soruyorlardı. Kendimi olduğumdan daha fazla kucaklanmış hissedemezdim. Gerçek bir öğrenciden çok bir sayı gibi olduğum Brezilya'daki önceki üniversitemden tamamen farklı bir deneyimdi.
St. Francis Koleji'nde isimlerimizle tanınırız. Herkes kim olduğumuzu biliyor ve nasıl hissettiğimiz ve hayatımızda neler olup bittiği konusunda her zaman güncelleniyorlar. St. Francis Koleji kocaman bir aile ve biz bir aile olarak birbirimizi önemsiyoruz. Bu yüzden, eğer SFC'ye kabul edilirseniz, kendinizi yalnız ve geride bırakılmayacağınıza dair söz verebilirim. Programınızın rutininize uyacağından, hocaların sizi anlayıp ihtiyaçlarınızı karşılayacağından ve arkadaş edineceğinizden emin olabilirsiniz. Küçük kolejlerin en iyi yanı bu - okulumuzun fiziksel yapısından daha büyük bir şeyin parçasıyız!
---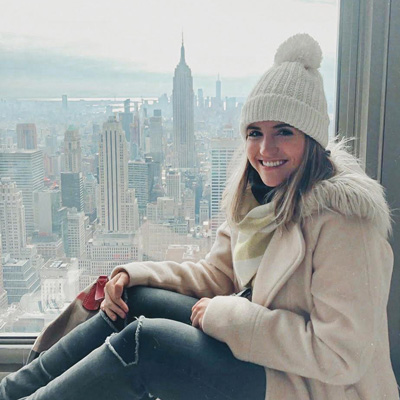 Maria Eduarda Tarré, Brezilya'dan St. Francis College'da uluslararası bir öğrencidir. Şu anda branşı kararsız ama siyaset bilimine yöneliyor. Ayrıca SFC'deki Uluslararası Af Örgütü ABD Bölümüne katılmaktadır.