In our effort to bring good content to as many people as possible the text in this blog post has been machine translated so please excuse any mistakes. Thank you!
Por Maria Eduarda Tarré
¡No podría pensar en algo mejor para hablar sobre St. Francis College (SFC) que su estilo educativo!
Crecí en un pueblo de tamaño mediano en Río de Janeiro, Brasil, llamado Niterói. Como en Niterói, la mayoría de las personas se conocen entre sí, o al menos han oído hablar de los demás. Muchos padres, cuando deciden una escuela para sus hijos, prefieren escuelas pequeñas donde sus hijos pueden ser conocidos por su nombre y sus características únicas. Conmigo, no fue diferente. La primera vez que cambié de escuela, mi madre se aseguró de que me dirigieran a una pequeña escuela privada para que pudiera hacer amigos más fácilmente; era nueva en ese vecindario, por lo que no había tenido muchos amigos. Estudié en esa escuela durante 10 años, y la experiencia de ser conocido por su nombre por todo el cuerpo docente de la escuela y sus alumnos fue tan asombrosa que cuando tuve que cambiar de escuela durante la secundaria, decidí ir a una pequeña institución donde no quería. No será un número, sino Maria Eduarda Tarré.
Si ha leído mis otras publicaciones en el blog, probablemente conozca mi experiencia en una universidad en Brasil, pero si no es así, solo un breve resumen: no fue tan bueno. Los profesores no me conocían, no sentía que hubiera crecido y no podía hacer muchos amigos. Toda esa frustración me llevó a seguir una educación en los Estados Unidos. Cuando me aceptaron en SFC, tenía muchas ganas de comenzar mi educación. Mudarse a un país diferente, hacer amigos de todo el mundo y poder desarrollar mi inglés aún más fue realmente emocionante, así que no podía esperar al otoño de 2020, cuando me mudaría a los Estados Unidos. Sin embargo, llegó la pandemia y mis planes de mudarme a Estados Unidos tuvieron que posponerse.
Si puedes imaginar cómo se sintió una persona que siempre ha soñado con estudiar en Nueva York cuando se enteró de que tendría que hacer su primer año en línea y en su país de origen, puedes comprender lo devastada que estaba. La sola idea de estar encerrado en casa y no conocer a ninguno de mis amigos y profesores en persona me volvía loco. Mi principal preocupación era cómo podría hacer amistades si no iba a conocer a nadie en persona. Solía creer que las amistades en la red no duraban mucho. Sin embargo, no creo que pudiera haber tenido una experiencia mejor que la que tuve, dadas las circunstancias.
Cuando St. Francis College afirma que tienen una educación personalizada, no mienten de ninguna manera. Mi primer año fue realmente hecho para mí. Como estudiantes internacionales, muchos otros estudiantes y yo éramos muy tímidos a la hora de hablar en inglés, que, por lo general, no es nuestro primer idioma y, por lo tanto, la idea de hablar con nativos nos asustaba. Además, debido a que estábamos estudiando en línea, sería bastante difícil hacer amistades, pero nuestra escuela pensó en todo eso, y luego, decidieron hacer una Comunidad Internacional de Aprendizaje, lo que significa que todos los estudiantes internacionales serían asignados a las mismas clases. según sus carreras, lo que les permite sentirse más cómodos. Todas las clases eran pequeñas y por eso pudimos llegar a conocernos realmente.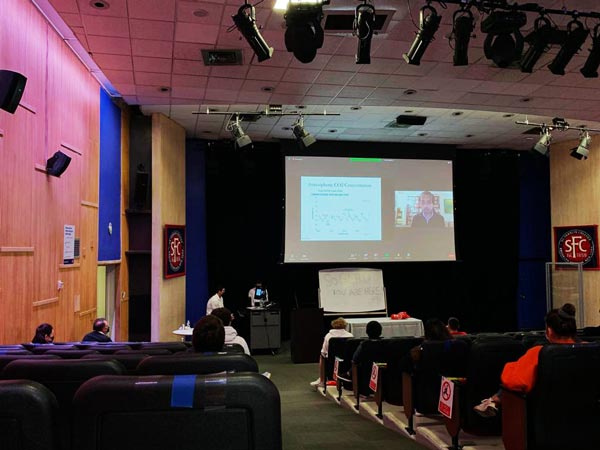 Aunque no conozco a ningún miembro del personal o profesor de mi escuela en persona, todos fueron muy atentos conmigo y estaban al tanto de mi situación, que estaba en Brasil y que no podía emitir mi visa, por lo que Siempre me preguntaban cómo iban las cosas y si tenía alguna noticia de las embajadas de Estados Unidos en Brasil. Simplemente no podía sentirme más abrazado de lo que estaba. Fue una experiencia totalmente diferente a la de mi universidad anterior en Brasil, donde era más un número que un estudiante real.
En St. Francis College , somos conocidos por nuestros nombres. Todo el mundo sabe quiénes somos y siempre están actualizados sobre cómo nos sentimos y qué está pasando en nuestras vidas. St. Francis College es una gran familia y, como familia, nos preocupamos los unos por los otros. Entonces, si alguna vez te aceptan en SFC, puedo darte mi palabra de que no te sentirás solo o abandonado. Puede estar seguro de que su horario se ajustará a su rutina, que los profesores lo entenderán y se adaptarán a sus necesidades, y que hará amigos. Eso es lo mejor de las universidades pequeñas: ¡somos parte de algo más grande que la estructura física de nuestra escuela!
---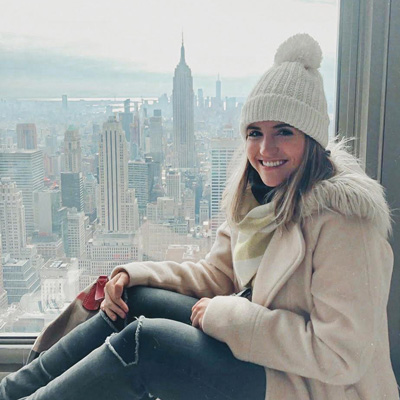 Maria Eduarda Tarré es una estudiante internacional de Brasil en St. Francis College . Actualmente, su especialidad está indecisa, pero se inclina hacia las ciencias políticas. También participa en el Capítulo de Amnistía Internacional USA en SFC.