In our effort to bring good content to as many people as possible the text in this blog post has been machine translated so please excuse any mistakes. Thank you!
Rachel Flum ile Pietro Rossini
Rachel Flum, Massachusetts'in küçük bir kasabasında yaşayan üç çocuk annesidir. (Yukarıdaki fotoğrafta Rachel, kocası ve çocukları ile birlikte en solda olan Paloma ile birlikte görülüyor.)
Salgın ABD'yi vurmadan birkaç ay önce Rachel, o işle meşgulken çocuklarına bakacak birini arıyordu.
Flum, yıllar boyunca her türlü düzenlemeyi denemişti: aile çocuk bakımı, dadı, büyük çocuk bakım merkezleri, "her şeyi denedik" dedi Flum röportajda.
"Birçok ailenin kendileriyle birlikte yaşayan au çiftlerinin olmadığı bir kasabada yaşıyorum, ancak birkaç arkadaşım onları denedi ve deneyimi sevdi" dedi.
Sonunda, 2019'da Rachel, kendisini bir çekim yapmaya ikna eden au pair programı hakkında çok heyecanlı olan bazı arkadaşlarıyla karşılaştı.
Flum, "Bebek bakıcılarını çok pahalı buldum ve daha uygun fiyatlı bir şey arıyordum" dedi. "Ve bir au çiftinin benim için daha iyi bir çözüm olacağını düşündüm."
Ancak, Rachel bu kararı verdiğinde, Massachusetts hükümeti au çifti maaşlarını 4$/saatten asgari ücret olan 13.75$/saate çıkardı.
Flum, Massachusetts'teki au çiftlerinin diğer eyaletlerden daha pahalıya mal olmasına rağmen, "Tam zamanlı bir dadıya sahip olmaktan daha ucuz ve ebeveynler için çok daha kolay" dedi.
Rachel'ın Brezilya'dan au çifti Paloma, sonunda Kasım 2019'da geldi. Neşeli ve dışa dönük bir kız. Ebeveynleri çalışırken Rachel'ın çocuklarına bakar.
Flum, "Evimizde hangi au çiftinin yaşayacağını seçerken, harika bir sürüş deneyimine sahip birini arıyorduk" dedi. "Çocuklarım Rhode Island'da okula gidiyor ve benim onları o kadar uzağa götürecek birine ihtiyacım vardı."
Paloma sadece çocuklara bakmak ve onları okula götürmek için yararlı olmadı, "16 yaşındaki büyük kızım Paloma'yı ablası olarak görüyor," dedi Flum. "Paloma neşeli kişiliğiyle evimize neşe kattı."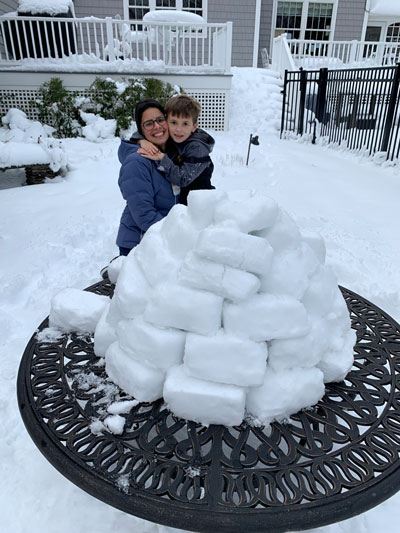 Ancak yurt dışında yaşayan herkes vatan hasreti yaşar. Flum, "Ben de yurtdışında yaşadım" dedi. "Yani, bu anları yaşadığında Paloma'ya sempati duyabilirim."
Üstelik birçok ülkede pandemi devam ederken Paloma Brezilya'ya geri dönemez. Flum, "Ülkeyi terk ederse Amerika'ya geri dönemez" dedi. Bu, ABD'deki uluslararası öğrenciler ve au pairler için işleri daha da zorlaştırıyor
Paloma, Rachel'ın ailesi için salgın sırasında dışarı çıkmak için de "iyi bir bahane" oldu. Flum, "Elma toplamaya gittik ve Massachusetts'te Paloma'ya farklı yerler gösterdik" dedi. Paloma orada olmasaydı, büyük çocuklarım gezilerin çoğuna katılmayı kabul etmezdi.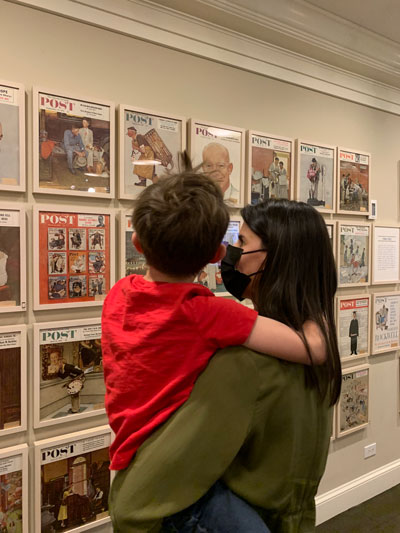 Paloma, Rachel'ın çocuklarından biriyle bir sergide
Paloma ayrıca Rachel'ın ailesinin Brezilya yemeklerini denemesine ve onun kültürü hakkında daha fazla bilgi sahibi olmasına yardımcı oldu. Flum, "Çocuklarıma farklı kültürlerin nasıl olduğu konusunda harika bir anlayış getirdi" dedi. "Böylece, insanların dünyanın başka yerlerinde tamamen farklı hayatlar yaşadıklarını görebiliyorlardı."
Rachel, au pair programını beğendiğini, ancak au pair ajanslarının vize ve göçmenlik ile ilgili tüm belgeleri ele almalarına rağmen, ailelerin iletişim kurmasına ve ağ oluşturmasına yardımcı olmadığını söyledi.
Flum, "Au çiftlerinin topluluklar oluşturma yolları var" dedi. "Ama aileler için böyle bir şey yok. Bu, bu deneyimde geliştirilebilecek bir şey."
Rachel, diğer ailelere bir au çifti olmasını önerirdi, "Sadece bir yıllığına bir au çifti denemeye karar verdik," diye paylaştı Flum. "Şimdi, iki yıl oldu ve bu şimdiye kadar aldığımız en iyi risk!"
---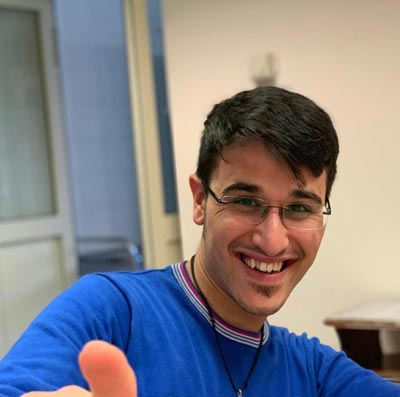 Pietro Rossini, bir Xaveryalı Misyoner ve Framingham Eyalet Üniversitesi'nde ESL öğrencisidir. Bu sonbaharda Boston Üniversitesi'nde gazetecilik alanında yüksek lisans eğitimi alacak. Hayali, dünyanın dört bir yanındaki insanlık hikayelerini toplamak ve paylaşmak, dünyayı tek bir aile yapmaktır.