In our effort to bring good content to as many people as possible the text in this blog post has been machine translated so please excuse any mistakes. Thank you!
Oleh Pietro Rossini dengan Rachel Flum
Rachel Flum adalah ibu dari tiga anak yang tinggal di sebuah kota kecil di Massachusetts. (Pada foto di atas terlihat Rachel bersama suami dan anak-anaknya beserta Paloma yang berada di paling kiri.)
Beberapa bulan sebelum pandemi melanda AS, Rachel mencari seseorang untuk merawat anak-anaknya saat dia akan sibuk dengan pekerjaan.
Selama bertahun-tahun, dia telah mencoba setiap jenis pengaturan: pengasuhan anak keluarga, pengasuh, pusat penitipan anak besar, "kami mencoba segalanya," kata Flum dalam wawancara.
"Saya tinggal di kota di mana tidak banyak keluarga yang memiliki au pair yang tinggal bersama mereka, tetapi beberapa teman saya telah mencobanya dan menyukai pengalaman itu," katanya.
Akhirnya, pada tahun 2019, Rachel bertemu dengan beberapa teman yang sangat bersemangat dengan program au pair yang meyakinkannya untuk mengambil kesempatan.
"Saya menemukan babysitter sangat mahal, dan saya mencari sesuatu yang lebih terjangkau," kata Flum. "Dan saya pikir au pair akan menjadi solusi yang lebih baik untuk saya."
Namun, tepat ketika Rachel membuat keputusan ini, pemerintah Massachusetts menaikkan gaji au pair dari $4/jam menjadi upah minimum $13,75/jam.
Meskipun au pair di Massachusetts lebih mahal daripada di negara bagian lain, "Ini masih lebih murah daripada memiliki pengasuh penuh waktu dan jauh lebih mudah bagi orang tua," kata Flum.
Paloma, au pair Rachel dari Brasil, akhirnya tiba pada November 2019. Dia adalah gadis yang ceria dan ramah. Dia merawat anak-anak Rachel sementara orang tua mereka bekerja.
"Ketika kami memilih au pair mana yang akan tinggal di rumah kami, kami mencari seseorang yang memiliki pengalaman berkendara yang luar biasa," kata Flum. "Anak-anak saya pergi ke sekolah di Rhode Island, dan saya membutuhkan seseorang yang bisa mendorong mereka sejauh itu."
Paloma tidak hanya berguna dalam merawat anak-anak dan mengantar mereka ke sekolah, "Putri saya yang lebih tua, 16 tahun, menganggap Paloma sebagai kakak perempuannya," kata Flum. "Paloma membawa kegembiraan di rumah kami dengan kepribadiannya yang ceria."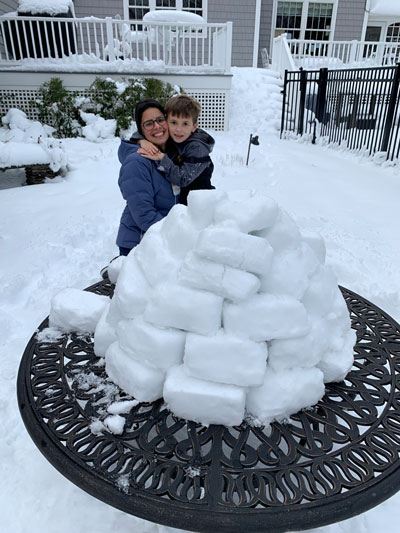 Namun, setiap orang yang tinggal di luar negeri mengalami masa-masa rindu kampung halaman. "Saya juga tinggal di luar negeri," kata Flum. "Jadi, saya bisa bersimpati dengan Paloma ketika dia mengalami momen-momen ini."
Apalagi dengan pandemi yang masih berlangsung di banyak negara, Paloma tidak bisa kembali ke Brasil. "Dia tidak akan bisa kembali ke Amerika jika dia meninggalkan negara itu," kata Flum. Ini membuat segalanya lebih sulit bagi siswa internasional dan au pair di AS
Paloma juga menjadi "alasan yang baik" untuk pergi keluar selama pandemi untuk keluarga Rachel. "Kami pergi memetik apel, dan menunjukkan tempat yang berbeda di Massachusetts ke Paloma," kata Flum. "Anak-anak saya yang lebih besar tidak akan setuju untuk melakukan banyak perjalanan jika Paloma tidak ada di sana."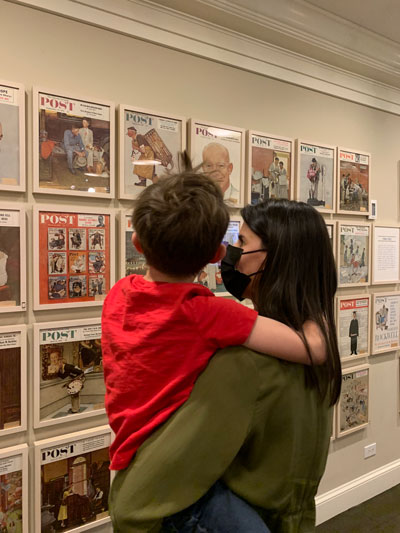 Paloma dengan salah satu anak Rachel di sebuah pameran
Paloma juga membantu keluarga Rachel untuk mencoba makanan Brasil dan mengetahui lebih banyak tentang budayanya. "Dia membawa pemahaman yang luar biasa untuk anak-anak saya tentang betapa berbedanya budaya," Flum berbagi. "Jadi, mereka dapat melihat bahwa orang-orang menjalani kehidupan yang sangat berbeda di bagian lain dunia."
Rachel menyukai program au pair, namun, dia mengatakan bahwa meskipun agen au pair menangani semua dokumen terkait visa dan imigrasi, mereka tidak membantu keluarga untuk berhubungan dan membuat jaringan.
"Au pair memiliki cara mereka sendiri untuk menciptakan komunitas," kata Flum. "Tapi tidak ada yang seperti itu untuk keluarga. Itu adalah sesuatu yang dapat ditingkatkan dalam pengalaman ini."
Rachel akan menyarankan memiliki au pair untuk keluarga lain, "Kami memutuskan untuk mencoba memiliki au pair hanya untuk satu tahun," Flum berbagi. "Sekarang, sudah dua tahun, dan ini adalah risiko terbaik yang pernah kami ambil!"
---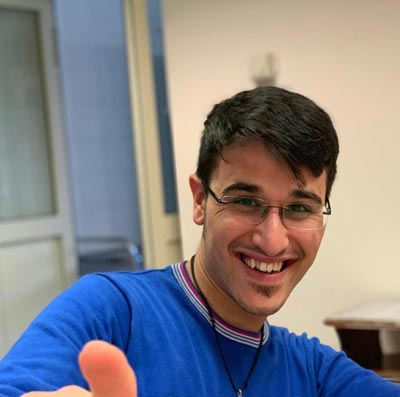 Pietro Rossini adalah Misionaris Xaverian dan mahasiswa ESL di Universitas Negeri Framingham . Dia akan menghadiri Universitas Boston musim gugur ini di mana dia akan belajar untuk master dalam jurnalisme. Mimpinya adalah mengumpulkan dan berbagi cerita kemanusiaan di seluruh dunia, menjadikan dunia sebagai satu keluarga.