In our effort to bring good content to as many people as possible the text in this blog post has been machine translated so please excuse any mistakes. Thank you!
De Pietro Rossini avec Rachel Flum
Rachel Flum est une maman de trois enfants vivant dans une petite ville du Massachusetts. (Sur la photo ci-dessus, on peut voir Rachel avec son mari et ses enfants ainsi que Paloma, qui est à l'extrême gauche.)
Quelques mois avant que la pandémie ne frappe les États-Unis, Rachel cherchait quelqu'un pour s'occuper de ses enfants pendant qu'elle serait occupée par son travail.
Au fil des ans, elle avait essayé toutes sortes d'arrangements : garde d'enfants en famille, nounou, grandes garderies, « nous avons tout essayé », a déclaré Flum dans l'interview.
"Je vis dans une ville dans laquelle peu de familles ont des filles au pair vivant avec elles, mais quelques amis à moi les ont essayées et ont adoré l'expérience", a-t-elle déclaré.
Finalement, en 2019, Rachel a rencontré des amis tellement enthousiasmés par le programme au pair qu'ils l'ont convaincue de tenter leur chance.
"Je trouvais que les baby-sitters étaient très chères et je cherchais quelque chose de plus abordable", a déclaré Flum. "Et je pensais qu'une fille au pair serait la meilleure solution pour moi."
Cependant, juste au moment où Rachel a pris cette décision, le gouvernement du Massachusetts a augmenté les salaires des jeunes au pair de 4 $/h au salaire minimum de 13,75 $/h.
Même si les filles au pair dans le Massachusetts coûtent plus cher que dans d'autres États, "C'est toujours moins cher que d'avoir une nounou à temps plein et beaucoup plus facile pour les parents", a déclaré Flum.
Paloma, la fille au pair de Rachel originaire du Brésil, est finalement arrivée en novembre 2019. C'est une fille joyeuse et extravertie. Elle s'occupe des enfants de Rachel pendant que leurs parents travaillent.
"Lorsque nous choisissions quelle fille au pair vivrait dans notre maison, nous recherchions quelqu'un qui avait une excellente expérience de conduite", a déclaré Flum. "Mes enfants vont à l'école à Rhode Island et j'avais besoin de quelqu'un qui pourrait les conduire jusque-là."
Paloma n'a pas été seulement utile pour s'occuper des enfants et les conduire à l'école : « Ma fille aînée, 16 ans, considère Paloma comme sa grande sœur », a déclaré Flum. « Paloma a apporté de la joie dans notre maison avec sa personnalité joyeuse. »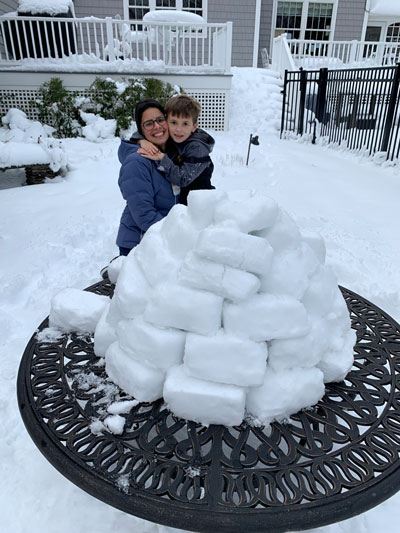 Cependant, tous ceux qui vivent à l'étranger connaissent des périodes de mal du pays. "J'ai aussi vécu à l'étranger", a déclaré Flum. "Donc, je peux sympathiser avec Paloma quand elle vit ces moments."
De plus, avec la pandémie toujours en cours dans de nombreux pays, Paloma ne peut pas retourner au Brésil. "Elle ne pourra pas revenir aux États-Unis si elle quitte le pays", a déclaré Flum. Cela rend les choses encore plus difficiles pour les étudiants internationaux et les filles au pair aux États-Unis
Paloma était aussi une "bonne excuse" pour sortir pendant la pandémie pour la famille de Rachel. "Nous sommes allés cueillir des pommes et avons montré différents endroits du Massachusetts à Paloma", a déclaré Flum. "Mes enfants plus âgés n'auraient pas accepté de faire de nombreux voyages si Paloma n'avait pas été là."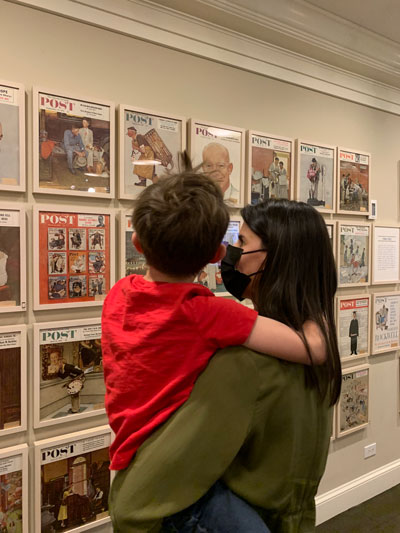 Paloma avec l'un des enfants de Rachel lors d'une exposition
Paloma a également aidé la famille de Rachel à goûter à la cuisine brésilienne et à en savoir plus sur sa culture. "Elle a fait comprendre à mes enfants à quel point les cultures sont différentes", a expliqué Flum. "Donc, ils ont pu voir que les gens vivent des vies complètement différentes dans d'autres parties du monde."
Rachel aime le programme au pair, cependant, elle a dit que bien que les agences au pair gèrent tous les documents concernant les visas et l'immigration, elles n'aident pas les familles à être en contact et à créer des réseaux.
"Les filles au pair ont leur façon de créer des communautés", a déclaré Flum. «Mais il n'y a pas quelque chose comme ça pour les familles. C'est quelque chose qui pourrait être amélioré dans cette expérience.
Rachel suggérerait d'avoir une fille au pair à d'autres familles. "Nous avons décidé d'essayer d'avoir une fille au pair pour un an seulement", a expliqué Flum. « Maintenant, cela fait déjà deux ans, et c'est le meilleur risque que nous ayons jamais pris ! »
---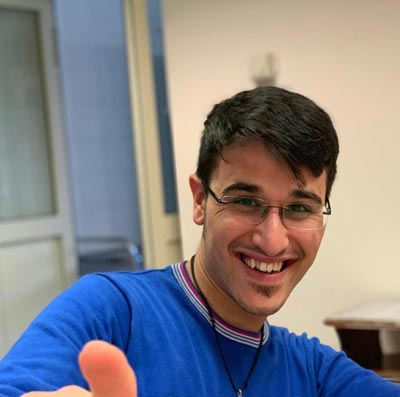 Pietro Rossini est un missionnaire xavérien et un étudiant ESL à l'université d'État de Framingham . Il fréquentera l'Université de Boston cet automne où il étudiera pour une maîtrise en journalisme. Son rêve est de collecter et de partager des histoires d'humanité à travers le monde, faisant du monde une seule famille.