Having an Au Pair: The Story of a Host Mother
By Pietro Rossini with Rachel Flum
Rachel Flum is a mom of three kids living in a small town in Massachusetts. (In the photo above Rachel can be seen with her husband and children along with Paloma, who is on the far left.)
Few months before the pandemic hit the U.S., Rachel was looking for someone to take care of her children while she would be busy with work.
Over the years, she had tried every kind of arrangement: family childcare, a nanny, big childcare centers, "we tried everything," Flum said in the interview.
"I live in a town in which not many families have au pairs living with them, but a few friends of mine had tried them and loved the experience," she said.
Eventually, in 2019, Rachel came across some friends who were so excited about the au pair program that convinced her to take a shot.
"I found babysitters to be very expensive, and I was looking for something more affordable," Flum said. "And I thought that an au pair would be the better solution for me."
However, right when Rachel made this decision, the Massachusetts government raised au pair salaries from $4/hr to the minimum wage of $13.75/hr.
Even though au pairs in Massachusetts cost more than in other states, "It is still less expensive than having a full-time nanny and much easier for parents," Flum said.
Paloma, Rachel's au pair from Brazil, eventually arrived in November 2019. She is a joyful and outgoing girl. She takes care of Rachel's children while their parents are working.
"When we were choosing which au pair would live in our house, we were looking for someone who had a great driving experience," Flum said. "My kids go to school in Rhode Island, and I needed someone who might drive them that far."
Paloma hasn't been just useful taking care of the children and driving them to school, "My older daughter, 16, considers Paloma as her big sister," Flum said. "Paloma brought joy in our house with her cheerful personality."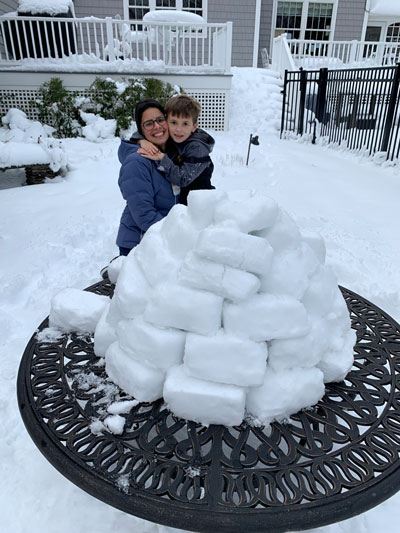 However, everyone living abroad undergoes times of homesickness. "I lived abroad as well," Flum said. "So, I can sympathize with Paloma when she experiences these moments."
Moreover, with the pandemic still ongoing in many countries, Paloma cannot go back to Brazil. "She won't be able to come back to the States if she leaves the country," Flum said. This makes things even harder for international students and au pairs in the U.S.
Paloma was also a "good excuse" to go out during the pandemic for Rachel's family. "We went apple picking, and showed different places in Massachusetts to Paloma," Flum said. "My older children wouldn't have agreed to go on many of the trips if Paloma hadn't been there."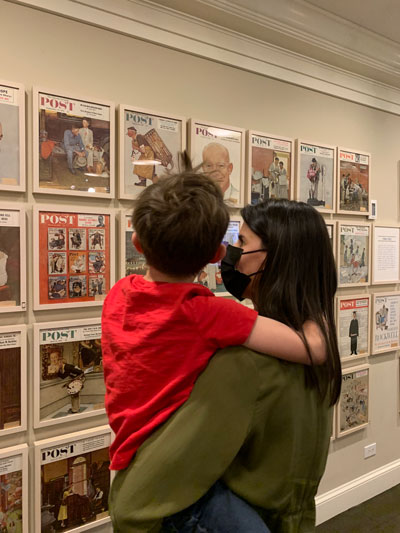 Paloma with one of Rachel's children at an exhibition
Paloma also helped Rachel's family to try Brazilian food and know more about her culture. "She brought a great understanding for my kids about how different cultures are," Flum shared. "So, they could see that people live completely different lives in other parts of the world."
Rachel likes the au pair program, however, she said that although au pair agencies handle all the documents regarding visas and immigration, they do not help families to be in touch and create networks.
"Au pairs have their way to create communities," Flum said. "But there is not something like that for families. That's something that could be improved in this experience."
Rachel would suggest having an au pair to other families, "We decided to try having an au pair for just one year," Flum shared. "Now, it's already been two years, and it's the best risk we ever took!"
---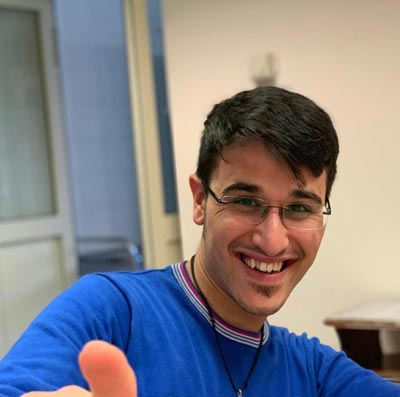 Pietro Rossini is a Xaverian Missionary and an ESL student at Framingham State University. He will be attending Boston University this fall where he will be studying for a masters in journalism. His dream is to collect and share stories of humanity around the globe, making the world a single family.
Written by
Pietro Rossini
Get matched to the best program for you
Let us know what you're looking for so we can find the best school for you.
$10,000 — $15,000 Year
Undergraduate
2yr/Community College - 2+2 Programs
Certificate/Short Term
$5,000—$10,000 Semester
Certificate/Short Term
Bachelor Degree
2yr/Community College - 2+2 Programs
$5,000—$10,000 Session
English Programs
2yr/Community College - 2+2 Programs
Online
Start your U.S. adventure with Study in the USA
What's your dream? We can guide, advise, and connect you with your perfect U.S. school. We can also help you with the application process.
Partner Services
Learn About U.S. education financing, housing, and more
Most U.S. apartments come unfurnished. Make your move easy with a student furniture rental package from CORT. Flexible lease terms. Delivered before you arrive. Starting at $99 per month.* *with a 12-month lease
Study in the USA's advisors can work with you to navigate the requirements to study abroad in the USA, UK, Canada, and Australia. We help you find the right school and apply.
Uniplaces is an accommodation provider with a large choice of verified rooms, entire flats and residences. The platform offers an easy, fast and safe way of booking a place to live. Check out the thousands of properties in the best cities and book a...
Resources
Learn about American culture and education direct from our experts at Study in the USA. Read more