In our effort to bring good content to as many people as possible the text in this blog post has been machine translated so please excuse any mistakes. Thank you!
Apple Wong tarafından
Rüya görmek bazen çok şaşırtıcıdır. Hayallerimden biri gerçekleştiğinde, bunun kaderin sonucu olduğunu düşünüyorum. Nadiren rüya görüyorum. Ancak, birkaç yıl önce bir gece, Amerikan göçmenlik hizmetleri logosunu hayal ettim. Buna karşılık, bu rüya Amerika Birleşik Devletleri'nde okuma kararıma ilham verdi. Hong Kong'dan geliyorum, iki çocuklu mutlu bir ailem var ve aynı zamanda bir işletme sahibiyim.
Geçmiş deneyimlerimden İngilizcenin çok önemli olduğunu anladım. Her zaman İngilizcemi geliştirmek istedim çünkü İngilizcem aşırı derecede zayıftı, ancak çoğu zaman İngiliz sözleşmeleri imzalamam gerekiyordu. Çeviri yazılımımla ilgili bir sözleşmenin tamamını ne zaman çevirsem, çoğu kez anlamını tam olarak anlayamadığımı fark ettim. Kalın İngilizce belgelerinden korktum. İşimi kolayca halledebilmek için İngilizcemin yeterince iyi olmasını istedim. Ayrıca yüksek bir eğitimim yok ama çocuklarımın da alacağını umuyorum. Çocuklarıma öğretmek ve çocuklarım için iyi bir rol model olmak için yeterince iyi yeteneklere sahip olmak istiyorum. Bu nedenlerden dolayı öğrenme yoluma birkaç yıl önce başladım.
Amerika Birleşik Devletleri'nde çocuklarımla çalışmaya karar verdim çünkü yurtdışında İngilizce öğrenmek daha etkili. Aile üyelerim deli olduğumu düşündü. Hayatımda uzun yıllar çok çalıştığımı ve zaten iyi bir sonuç aldığımı düşündüler, bu yüzden emekli olmamı ve hayatımdan zevk almamı önerdiler. Bununla birlikte, her zaman kendimi geliştirmek istemişimdir ve şimdi bir üniversite diploması kazanmak ve kendime meydan okumak istiyorum. Hafızam zayıf olduğundan ve asla kitap okumadığım için ders çalışmanın zayıflığım olduğunu biliyorum. Araba kullanmak başka bir korkum. Ancak, daha fazlasını başarabilmek için bu korkunun üstesinden gelmek istiyorum. Bu nedenle, araba kullanmam gereken bir yerde okumaya karar verdim. Yaşam maliyetini, öğrenim ücretini ve okul ortamını karşılaştırdıktan sonra, Florida'daki Seminole Eyalet Koleji'ni (SSC) seçtim.
SSC English Language Institute Programı (ELI) benim için çok uygun. Programda yedi seviye vardır. Temel seviyeden başladım ve şimdi üniversite öncesi seviyedeyim. Buradaki küçük sınıflar nedeniyle profesörler herkese bakabilir. Program yöneticisi her zaman ihtiyaçlarımızı anlar ve kursu bize uyacak şekilde tasarlar. ELI benim için büyük bir aile ve burada okuyabildiğim için mutluyum. Sınıf arkadaşlarım her yaştan ve dünyanın her yerinden geliyor. Herkes çok iyi. Sınıf arkadaşlarımdan farklı kültürler ve farklı ülkeler hakkında bilgi edinebiliyorum ki bu çok ilginç. Üstelik bu programda tanıştığım birçok annenin asıl amacının benim gibi çocukları için İngilizce öğrenmek olmasına şaşırıyorum. Bu büyük ELI ailesinde birçok arkadaş edindim ve bu nedenle bu garip ülkede kendimi yalnız hissetmiyorum.
Bir sonraki adıma geçmeyi planlıyorum - üniversiteye gitmek. Üniversiteden çocuklarımdan daha erken mezun olmayı dört gözle bekliyorum. Daha sonra üniversitede olduklarında, kocamla birlikte dünyayı dolaşabilir ve gelecekte iyileşmiş hayatımı keşfedebilirim. Bu benim küçük hayalim.
---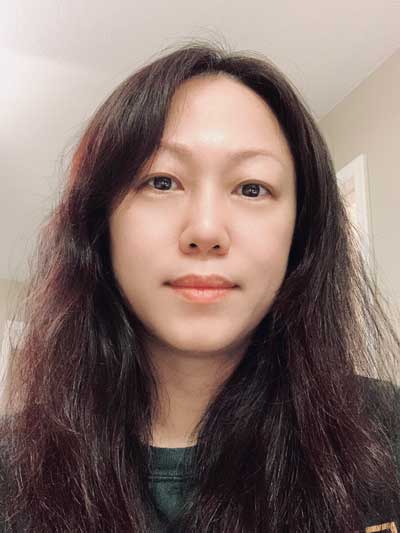 Apple Wong şu anda Florida, Sanford'daki Seminole Eyalet Koleji'nde İngilizce öğrencisidir. Aslen kırk yıldır yaşadığı Hong Kong'lu. Amerikan eğitimini deneyimlemek için 8 ve 10 yaşlarındaki iki çocuğuyla Amerika'ya gelmeye karar verdi. Çocuklarıyla birlikte üniversitede okumayı planlıyor.