In our effort to bring good content to as many people as possible the text in this blog post has been machine translated so please excuse any mistakes. Thank you!
Por Apple Wong
Sonhar às vezes é muito incrível. Quando um dos meus sonhos se torna realidade, acho que é o resultado do destino. Raramente sonho. No entanto, uma noite, vários anos atrás, sonhei com o logotipo dos serviços de imigração americanos. Por sua vez, esse sonho inspirou minha decisão de estudar nos Estados Unidos. Venho de Hong Kong, tenho uma família feliz com dois filhos e também sou empresário.
Com minha experiência anterior, percebi que o inglês é muito importante. Sempre quis melhorar meu inglês porque meu inglês era extremamente pobre, mas muitas vezes precisava assinar contratos de inglês. Sempre que traduzi um contrato inteiro em meu software de tradução, muitas vezes descobri que não conseguia entender totalmente o significado. Eu temia os grossos documentos ingleses. Eu queria que meu inglês fosse bom o suficiente para que eu pudesse lidar com meus negócios facilmente. Além disso, não tenho um alto nível de escolaridade, mas certamente espero que meus filhos tenham. Quero ter habilidades boas o suficiente para ensinar meus filhos e ser um bom modelo para eles. Por esses motivos, iniciei meu caminho de aprendizado há alguns anos.
Decidi estudar nos Estados Unidos com meus filhos porque estudar inglês no exterior é mais eficaz. Os membros da minha família achavam que eu era louco. Eles pensaram que eu havia trabalhado muito na minha vida por tantos anos e já tinha um bom resultado, então sugeriram que eu me aposentasse e curtisse minha vida. Mesmo assim, sempre quis me aprimorar e agora quero tentar me graduar e me desafiar. Eu sei que estudar é minha fraqueza por causa da minha memória fraca e nunca ler livros. Dirigir é outro medo meu. No entanto, quero superar esse medo para poder alcançar mais. Portanto, decidi estudar em um local onde tenho que dirigir. Depois de comparar o custo de vida, a mensalidade e o ambiente escolar, escolhi o Seminole State College (SSC), na Flórida.
O programa do SSC English Language Institute (ELI) é muito adequado para mim. Existem sete níveis no programa. Comecei do nível fundamental e agora estou no nível pré-universitário. Por causa das turmas pequenas aqui, os professores podem cuidar de todos. O gerente do programa sempre entende nossas necessidades e projeta o curso que se adapta a nós. O ELI é como uma grande família para mim e estou feliz por poder estudar aqui. Meus colegas vêm de todas as idades e de todo o mundo. Todo mundo é muito legal. Posso aprender sobre diferentes culturas e diferentes países com meus colegas, o que é muito interessante. Além disso, estou surpresa que o principal objetivo de muitas mães que conheci neste programa seja aprender inglês para seus filhos, como eu. Nesta grande família do ELI, fiz muitos amigos e, portanto, não me sinto sozinho neste país estranho.
Estou planejando ir para a próxima etapa - ir para a universidade. Estou ansioso para me formar na universidade mais cedo do que meus filhos. Então, quando eles estiverem na universidade, posso viajar ao redor do mundo com meu marido e explorar minha vida melhor no futuro. Este é o meu pequeno sonho.
---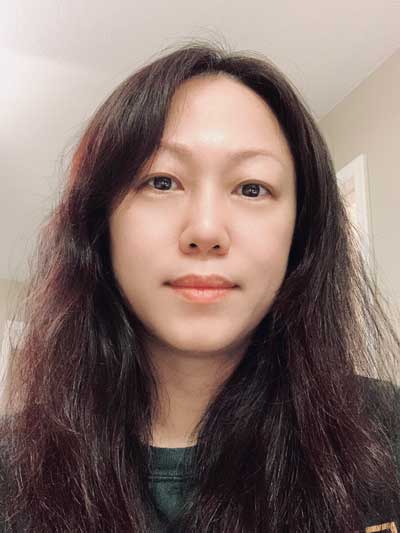 Apple Wong é atualmente um estudante de inglês no Seminole State College em Sanford, Flórida. Ela é originária de Hong Kong, onde viveu por quarenta anos. Ela decidiu vir para os Estados Unidos com seus dois filhos, de 8 e 10 anos, para experimentar a educação americana. Ela está planejando estudar na universidade com seus filhos.