In our effort to bring good content to as many people as possible the text in this blog post has been machine translated so please excuse any mistakes. Thank you!
Par Apple Wong
Rêver est parfois très étonnant. Lorsqu'un de mes rêves se réalise, je pense que c'est le résultat du destin. Je rêve rarement. Cependant, une nuit il y a plusieurs années, j'ai rêvé du logo des services d'immigration américains. À son tour, ce rêve a inspiré ma décision d'étudier aux États-Unis. Je viens de Hong Kong, j'ai une famille heureuse avec deux enfants et je suis également propriétaire d'une entreprise.
De mon expérience passée, j'ai réalisé que l'anglais est très important. J'ai toujours voulu améliorer mon anglais car mon anglais était extrêmement médiocre, mais j'avais souvent besoin de signer des contrats en anglais. Chaque fois que je traduisais un contrat entier sur mon logiciel de traduction, je trouvais souvent que je ne pouvais pas totalement comprendre le sens. J'avais peur des gros documents anglais. Je voulais que mon anglais soit assez bon pour que je puisse gérer mes affaires facilement. De plus, je n'ai pas un niveau d'éducation élevé, mais j'espère certainement que mes enfants l'auront. Je veux avoir des capacités assez bonnes pour enseigner à mes enfants et être un bon modèle pour mes enfants. Pour ces raisons, j'ai commencé mon parcours d'apprentissage il y a quelques années.
J'ai décidé d'étudier aux États-Unis avec mes enfants car étudier l'anglais à l'étranger est plus efficace. Les membres de ma famille pensaient que j'étais fou. Ils pensaient que j'avais travaillé dur dans ma vie pendant tant d'années et que j'avais déjà obtenu un bon résultat, alors ils m'ont suggéré de prendre ma retraite et de profiter de ma vie. Néanmoins, j'ai toujours voulu m'améliorer, et maintenant je veux essayer d'obtenir un diplôme universitaire et me mettre au défi. Je sais qu'étudier est ma faiblesse à cause de ma mauvaise mémoire et de ne jamais lire de livres. La conduite automobile est une autre de mes craintes. Cependant, je veux surmonter cette peur afin de pouvoir faire plus. Par conséquent, j'ai décidé d'étudier dans un endroit où je dois conduire. Après avoir comparé le coût de la vie, les frais de scolarité et l'environnement scolaire, j'ai choisi Seminole State College (SSC) en Floride.
Le programme SSC English Language Institute (ELI) me convient parfaitement. Il y a sept niveaux dans le programme. Je suis parti du niveau fondamental et maintenant je suis au niveau pré-universitaire. En raison des petites classes ici, les professeurs peuvent s'occuper de tout le monde. Le responsable du programme comprend toujours nos besoins et conçoit le cours qui nous convient. ELI est comme une grande famille pour moi et je suis heureux de pouvoir étudier ici. Mes camarades de classe viennent de tous âges et du monde entier. Tout le monde est très gentil. Je peux en apprendre davantage sur différentes cultures et différents pays auprès de mes camarades de classe, ce qui est tellement intéressant. De plus, je suis surpris que le principal objectif de nombreuses mères que j'ai rencontrées dans ce programme soit d'apprendre l'anglais à leurs enfants, comme moi. Dans cette grande famille ELI, je me suis fait beaucoup d'amis, et donc, je ne me sens pas seule dans cet étrange pays.
J'ai l'intention de passer à l'étape suivante - aller à l'université. J'ai hâte de terminer mes études universitaires plus tôt que mes enfants. Ensuite, quand ils sont à l'université, je peux voyager à travers le monde avec mon mari et explorer ma vie améliorée à l'avenir. C'est mon petit rêve.
---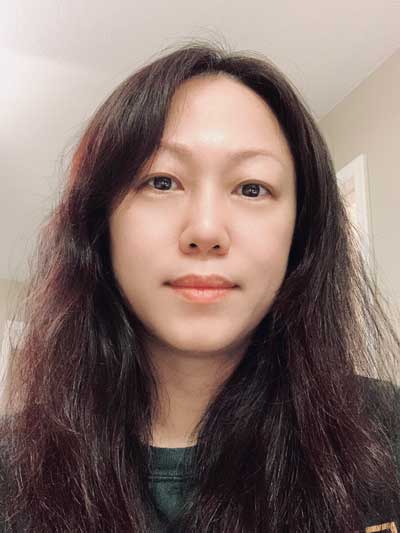 Apple Wong est actuellement étudiant en anglais au Seminole State College de Sanford, en Floride. Elle est originaire de Hong Kong, où elle vit depuis quarante ans. Elle a décidé de venir aux États-Unis avec ses deux enfants, âgés de 8 et 10 ans, pour faire l'expérience de l'éducation américaine. Elle envisage d'étudier à l'université avec ses enfants.