Living in the U.S. to Go to China
By Pietro Rossini with Diego Acosta Chávez
Diego Acosta had to spend 15 days in quarantine when his flight from Mexico landed in Milwaukee, Wisconsin, in October 2020, right in the middle of the pandemic.
Diego came to the U.S. to study English but, "my plan is not to stay here for long," he said.
In fact, Diego is a Xaverian Missionary, a Catholic missionary family present in 25 countries worldwide. His missionary community sent Diego to the States to learn English and then fly to Taiwan where he will study theology in Mandarin.
"I'm not afraid of studying a new language, I always have had the dream to live my mission in Asia," Diego said. "I feel like my dreams are becoming real."
Before joining the Xaverians, Diego was a lawyer in Mexico, and he decided to leave everything behind to follow this new path.
Diego Acosta before traveling to the U.S.
"My vocation was born during my studies to become a lawyer," said Diego. "I joined some meetings with the Xaverians, and I felt that that was my place."
However, Diego didn't leave everything behind overnight. "In the beginning, I was living in the missionary community while still working as a lawyer," he said.
But at a certain point, "I had to choose whether to continue with my career as a lawyer or to join this new path," shared Diego.
Diego made his choice when he realized that being a lawyer was not enough for him. "I was looking for something different, a family and a community," he shared in the interview.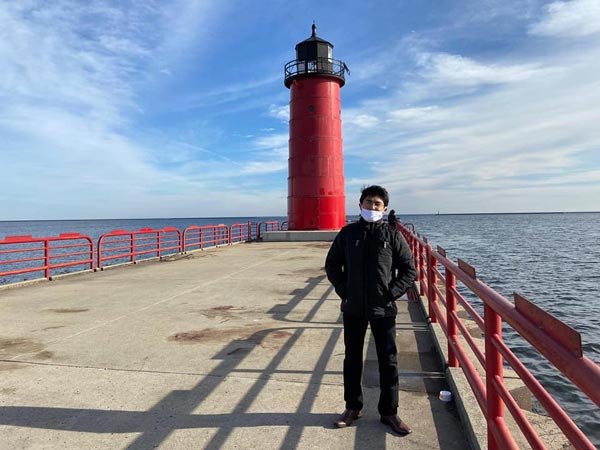 Diego in Wisconsin
Diego met the family he was looking for in the Xaverian Missionaries, and now he is going to join a community in Taiwan in which he will live with other missionaries from many different countries.
"This will be my first experience living in a community with such a cultural diversity," Diego said. "And also, all of us will have to study a new language, Mandarin Chinese."
Currently, there are 8 Xaverians living between Taiwan and China's mainland. And another 4, including Diego, are expecting to arrive.
Diego's missionary community is sending new missionaries to China because when people turn 65, the Chinese government doesn't release work visas for them anymore.
Most of the missionaries living there are in their 60s. Therefore, in a few years many of them must leave the country. That's why Diego's community wants to train young missionaries to take their place.
Nevertheless, access to Taiwan is still closed due to the pandemic. For this reason, Diego's future is uncertain. "Maybe I'll start my theology here in the States, or I have to go back to my country," Diego commented.
"But this pandemic has taught me many things," Diego said. "I learned to trust in God and in His plans for us!"
---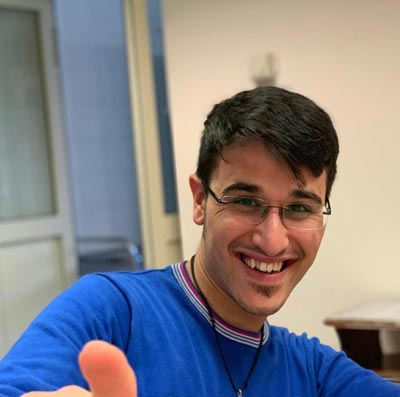 Pietro Rossini is a Xaverian Missionary and ESL student at Framingham State University. He came to the U.S. in January 2020 with the purpose of studying for a master of arts in journalism at Boston University. His dream is to collect and share stories of humanity around the globe, making the world a single family.
Written by
Pietro Rossini
Get matched to the best program for you
Let us know what you're looking for so we can find the best school for you.
$5,000—$10,000 Semester
2yr/Community College - 2+2 Programs
Bachelor Degree
Certificate/Short Term
$5,000—$10,000 Semester
2yr/Community College - 2+2 Programs
Certificate/Short Term
Bachelor Degree
$5,000—$10,000 Year
Certificate/Short Term
2yr/Community College - 2+2 Programs
English Programs
Start your U.S. adventure with Study in the USA
What's your dream? We can guide, advise, and connect you with your perfect U.S. school. We can also help you with the application process.
Partner Services
Learn About U.S. education financing, housing, and more
Let us help you through your U.S. visa application process. GET STARTED NOW!
Introducing the College/University Inbound Tuition Insurance Plan – safeguarding tuition, housing, and travel costs for international students studying in the U.S. Features include tuition protection, housing coverage, travel reimbursement, streamlin...
MPOWER Financing is the top-rated lender offering international student loans without cosigners, collateral, or credit history for global citizens, PLUS international student scholarships & career coaching! Fully online application, 96% customer...
Testimonials
Study in the USA helped me by providing information regarding fees and courses of the various universities I was interested in.
Sai Madhav Raju Goriparthi India
StudyUSA helped me prepare the right documents for the various interviews, and to know what to expect in terms of travel and navigating the American academic system.
I regularly find information regarding the best university for me and which is available on StudyUSA.com
Andi Firman Muhibuddin Indonesia
Resources
Learn about American culture and education direct from our experts at Study in the USA. Read more